Hong Kong Jockey Club
If you come to Hong Kong, it is a very worthwhile experience to enjoy the fierce horse races at a great racecourse, which can be exciting. Horse racing sport in the city commenced in 1841, after the arrival of the British. In 1884, the Jockey Club was founded. Then in 1971, it was changed to a professional horse racing institution from an amateur one. Today, the club is ranked as one the biggest and leading horse racing clubs in Asia. It has won respect and popularity among all sectors of Hong Kong by its illustrious history and fine traditions.
Generally speaking, a racing season lasts for about eleven months, from early September to mid July of the next year. During that period, more than 700 races are held. Daytime races usually take place on Saturdays or Sundays at Sha Tin Racecourse, while night races are often held on Wednesdays at Happy Valley Racecourse, unless a certain day happens to be a holiday. International first-class races are held at both racecourses, including Audemars Piguet Queen Elizabeth II Cup, Longines HK International Races, and the Champions Mile Race, which are all targeted at world-famous horses.
In addition to hosting horse racing events and providing lottery activities, the Jockey Club has long been engaged in donating to charitable causes. It devotes the surplus each year to charity and community projects, for example, Hong Kong University of Science and Technology,
Victoria Park
,
Hong Kong Ocean Park
, and HK Stadium are all constructed under the investment of the club, successfully combining horse racing sports with public welfare undertakings.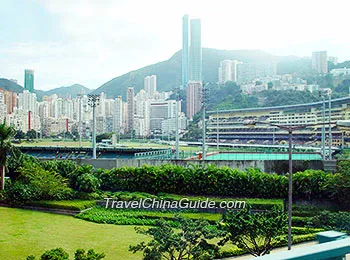 Happy Valley Racecourse

Happy Valley Racecourse
Located between
Wan Chai
and
Causeway Bay
, it has a history of more than one hundred years. As soon as the British arrived at Hong Kong, they set about draining a marsh at Happy Valley and transforming it into a racecourse. Since then, the racetrack has been in constant use, with the exception of being closed for a few years during World War II. As the first racecourse in Hong Kong, it saw the first formal horse race held in HK on December of 1846. Having been expanded, the racecourse can now accommodate over 20,000 spectators. Surrounded by skyscrapers, Happy Valley racing is so popular that thousands of racegoers will come and enjoy the thrilling races.
Admission Fee
Public Enclosure: HKD 10
Member's Enclosure:
HKD 130 for normal horse racing days
HKD 190 for major horse racing days
Admission Time
Night with 8 races: 17:15
Night with 7 races: 17:30
Transportation
1. Take MTR Island Line, get off at Causeway Bay station, and then get out from Exit A - Times Square. Walk for about 15 minutes to Wong Nai Chung Road.
2. Take bus line 1, 5S, 8S, 8X, 10S, 37B, 37X, 72, 72A, 75, 76, 77, 90, 92, 96, 109, 113, 117, 170, 592, 629S, or Island minibus line 26, 39M, 40, or KMB line 101R, 102R, or NWFB bus line 15B, 19, 23B, 38, 42C, 42, 590A, 65, or H2 and get off at Happy Valley Racecourse station.
3. You can hop on a tram marked "Happy Valley" anywhere in the north of HK Island and arrive at the racecourse. The fare is HKD 2.3.

Racing Museum
Situated on the second floor of Happy Stand, in Happy Valley Racecourse, the Racing Museum is 6,000 square feet (557 square meters) in size and composed of eight exhibition halls and a small cinema, which can hold an audience of 84. The themes of each hall include HK's horse racing evolution and history, development of Happy Valley and Sha Tin racecourses, and material about a few renowned horses, for example, the skeleton of Silver Lining, the three-time HK Horse of the Year. In addition, short videos about horse racing are often shown in the cinema, through which visitors can acquire more detailed horse racing knowledge. A special point of the museum is that it exhibits vivid mini models to simulate the scenes of feeding and training horses. Apart from the models, some certificates, trophies, and tools are displayed. Shoes specially designed for horses to walk are a practical invention. This kind of shoes can protect horses from falling down and reduce the noises made by metal horseshoes as well. In the museum, there is a place to design jockey's costume by computer. Visitors can design a jockey shirt for themselves and take photos wearing the shirt to feel the horse racing culture.
Admission Fee
Free
Opening Hours
Ordinary Days: 12:00 to 19:00
Night Race Days: 12:00 to 21:00
Transportation
Same as that of Happy Valley Racecourse.

Sha Tin Racecourse
Sha Tin Racecourse, at
Shatin District
in the east of
New Territories
, was built in 1978 by reclaiming land from the sea. With the capacity of holding more than 60,000 spectators, it is universally acknowledged as a world-class racetrack. The business hall of Sha Tin Racecourse consists of two floors and is provided with a large number of ticket windows for punters. Rows of fluorescent displays are arranged in the hall for people to watch real-time situation in the racecourse.
Admission Fee
Public Enclosure: HKD 10
Member's Enclosure:
HKD 130 for normal horse racing days
HKD 190 for major horse racing days
Admission Time
Daytime with 10 races: 11:00
Daytime with 9 races: 11:30
Transportation
1. Take MTR East Rail Line and get off at Racecourse station (only available on race days).
2. Take MTR East Rail Line, get off at Fo Tan station and then walk for about 15 minutes.
3. Take KMB line 802,848, 868, 869, 872, 885, 886, 887, 888, 889, 891, 893, or NWFB 811 and get off at Sha Tin Racecourse.

Note:
1. Races on Wednesdays often take place in Happy Valley, while race meetings on Saturdays (or Sundays) are often held in Sha Tin.
2. No person under 18 is allowed to bet or enter premises where gambling is permitted.
3. No person under 18 is allowed to enter the racecourses.