Sha Tin (Shatin)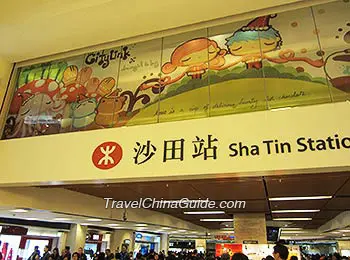 Sha Tin, a fast growing new town in New Territories, is a recreational, shopping, gourmet and cultural center of Hong Kong. It is renowned for horseracing, intriguing shopping malls, delicious local delicacies and unique local culture.

Horseracing is a great allure of Hong Kong. Sha Tin has the second largest racecourse in Hong Kong. Possessed by the
Hong Kong Jockey Club
, Sha Tin Racecourse is located near the Fo Tan Railway Station. The racecourse is well equipped, and one of the best in the world. It has a seating capacity of over 85,000. The color-TV screen in the racecourse is the largest in the world, allowing the audience to have a clear view of the race from any seating position. In the racing season (from September to June), on every Wednesday, Saturday and Sunday, tens of thousands of punters congregate to watch the days events. For those tourists who are not interested in horseracing, fun can be found in the Penfold Park, which is situated in the middle of the racecourse. It is open to the public without charge when there is no horseracing. The park also provides a natural habitat for many birds.
Situated at the heart of Sha Tin, New Town Plaza is a great place for shopping. It is a flagship shopping center of Sung Hung Kai Properties. Encompassing an area of 200,000 sq meters (239,198 sq yards), it is one of the largest shopping centers in Hong Kong. As it is close to KCR Station, customers flood into the shopping center at weekends. Shatin New Town Plaza consists of three parts: Phase One, Phase Three and Grand Central Plaza. New Town Plaza Phase One is composed of eight floors, where many famous shops sell a great variety of commodities. The renowned shops include the British department store 'Marks & Spencer' and Mega Lifestyle Specialty Store 'city'super'. New Town Plaza Phase Three accommodates numerous toyshops and children's clothes shops. With many cosmetics shops, it is also a shopping paradise for trendy youngsters. Grand Central Plaza is home to interior design companies and domestic furnishing shops. With the largest IKEA flagship store in Hong Kong, it is no doubt an ideal place for home decoration and furnishing.
Located on the third floor, on the podium of the New Town Plaza, Snoopy's World is a paradise for Snoopy fans. Covering an area of 40,000 sq meters (47,840 sq yards), it is the first Snoopy outdoor playground in Asia and only the second in the world. There are over 60 cartoon figures of Peanuts of different sizes, among which is the world's largest outdoor Snoopy figure. Visitors can get in close contact and take photos with the characters. Indulged in Snoopy's World, tourists will feel relaxed and joyful.
Sha Tin is also a paradise for gourmets. Shatin Roasted Pigeon is popular with visitors from home and abroad. The dish is very tender, fresh and delicious. The chefs cook the pigeons with a special secret recipe everyday. Many tourists are drawn here to have a taste of roasted pigeons.
To understand the unique culture of Hong Kong, Hong Kong Heritage Museum in Sha Tin is your best choice. It is a comprehensive museum, which demonstrates the unique local culture of Hong Kong. The museum is a combination of traditional Chinese courtyard and modern architecture design. It consists of twelve exhibition galleries covering a variety of themes ranging from history to art to culture.
Other cultural facilities include Sha Tin Town Hall and Public Library. The two buildings are the center of cultural activities in the eastern area of New Territories. Various cultural activities such as ballet performances, concerts, painting and sculpture exhibitions are often held here.
A world-class racecourse, intriguing shopping malls, fabulous local delicacies, and brilliant recreational and cultural facilities make Shatin a charming place and a fascinating tourist resort.
How to get to Sha Tin
1. Take
East Rail Line
to Sha Tin;
2. Take bus 47x, 48p, 48x, 49p, 49x, 72, 80k, 80m, 81, 81k, 83k, 798, 798a, 798b, or n170 to Shatin Central.
More about Hong Kong Heritage Museum in Sha Tin
The Hong Kong Heritage Museum, located in Tai Wai, Sha Tin, the New Territories, is designed using the layout of a traditional Chinese compound. It has a number of exhibition halls, which hold not only long-term but also short-term theme exhibitions.
The museum preserves both historical and art collections. The historical collection can be divided into five types – the local historical, natural historical, performance art, folk art and prevalence cultural (playthings and caricatures); and the art collection includes art of the present age, designs and Chinese art (Chinese paintings, calligraphy and cultural relics).
The museum through its various exhibitions and vivid explanations is an educational resource for visitors. It also provides activities designed for the general public, children, school groups and families.
How to get to Hong Kong Heritage Museum
1. Take
Ma On Shan Line
to Che Kung Temple and then walk northwest for 10 minutes to the museum;
2. Take
East Rail Line
to Sha Tin and walk southwest for 15 minutes to get there;
3. Take bus 72a, 80m, 86, 89, 240x, 282, 288, 288a, a41, n42, n271, or r42 to Heritage Museum.
Entrance Fee
Free
Opening Hours
Mon. & Wed. - Fri.: 10:00 -18:00;
Weekends & Holidays: 10:00 - 19:00;
Christmas Eve & Chinese Lunar New Year's Eve: 10:00 - 17:00;
Closed on Tuesdays (Except Public Holiday) and the first two days of the Lunar New Year.
- Last updated on Jul. 31, 2019 -
Questions & Answers on Sha Tin (Shatin)
Asked by Ms Edward from MALAYSIA | Mar. 02, 2014 22:17

Reply
Since the FREE shuttle bus to Shatin is only provided during weekends, how much is the fare during weekdays?
Answers (2)
Answered by Coral from USA | Mar. 03, 2014 03:47

2

0

Reply
Actually, I did not find the free shuttle bus and I take the bus line 80M from Kowloon Tung MTR Station to reach HK Heritage Museum Station. It is easy to find the museum than taking bus from Sha Tin Station. I suggest you to do so.
Answered by Ms Edward from MALAYSIA | Mar. 03, 2014 04:59

1

0

Reply
Thanks a lot!
Asked by guest from PHILIPPINES | Mar. 13, 2013 21:19

Reply
is this restaurant only located in Shatin Mall Plaza? where is it exactly located?
thanks!
Answers (2)
Answered by Ellen from PAKISTAN | Mar. 13, 2013 22:06

1

0

Reply
Hi, I know a restaurant nearby - Yuecui Restaurant, which lies at no. 107 store, 1st Floor, New City Square, No. 18, Sha tin Street, New Territories.
Answered by guest from PHILIPPINES | Mar. 14, 2013 00:17

1

1

Reply
oops sorry i was actually asking for the nearby Roast Pigeon
Asked by guest from PHILIPPINES | Mar. 13, 2013 21:17

Reply
how long will the trip be from causeway bay to shatin bound? and how do i get there? approximately how much fare?
will it be too expensive to take taxi? coz i'm going with my mom who might have a problem with too much walking involved

is it right that shuttles to the museum are only available on weekends and holidays?
Answers (1)
Answered by Cissy from CHINA | Mar. 18, 2013 03:15

0

0

Reply
If you travel by bus, it takes about 55min; if you travel by MTR, it takes about 40min and if you travel by taxi, it takes about 20min or a little longer.

For this journey, bus fare is 14.8HKD; MTR fare is 13.7HKD and taxi fare is much higher, nearly 120HKD.

That's right. The free shuttle busesw running between Shatin Railway Station and the museum only operate on Saturdays, Sundays and holidays.
Asked by gilda carandang from PHILIPPINES | Dec. 05, 2012 19:26

Reply
i will be coming from cosmo hotel in tai kok tsui, mongkok. how do i get to shatin by mtr?
thank you
Answers (2)
Answered by Iris | Dec. 08, 2012 03:27

0

0

Reply
From the hotel, you can go to Mongkok metro station to take MTR Kwun Tong Line and transfer to East Rail Line at Kowloon Tong. Then get off at Sha Tin.
Answered by gilda from PHILIPPINES | Dec. 12, 2012 20:48

1

0

Reply
thanks..