Hong Kong Weather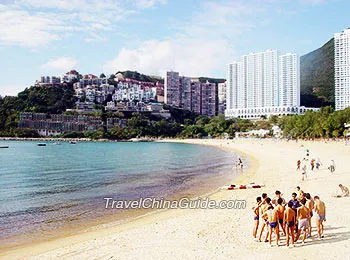 Repulse Bay Beach in Summer

Subtropical Hong Kong has four distinguishable seasons - warm and humid spring, hot and rainy summer, pleasant and sunny autumn, cool and dry winter. On the whole, the weather means that the city is a year round destination.

However, due to the tropical cyclones of varying strengths and occasional squally thunderstorms between May and November and the typhoons in September, the ideal travel season is late autumn, from October to around Christmas time. Should you happen to visit Hong Kong in the typhoon season, you should not venture out too far when the typhoon warning is level 3 or less, but stay indoors when it is higher. All shops and banks are closed when a level 8 typhoon warning is given.

Hong kong Weather


Introduction to Hong Kong Climate
Belonging to oceanic subtropical monsoon climate, the city has an average annual temperature of 23

C (73

F). From May to November, it may be attacked by tropical cyclones of various strengths and occasional squally thunderstorms. The typhoon season is possible in September.

Spring
The city's weather in spring from March to mid-May tends to be warm and humid, accompanied by fog and drizzle. Sometimes air and ferry services are halted due to reduced visibility. The average temperature is 18

C (64

F) to 25

C (77

F). As it turns a little bit cold at night, travelers should take a light overcoat, a sweater as well as rainwear.

Summer
The summer from late May to the mid-September is extremely hot and humid, with frequent thunderstorms and occasional typhoons. Average temperature is 28

C (82

F). The hottest is in July and August when the mean daytime temperature often exceeds 32

C (90

F). However, the Discount Season is also attractive, in addition to the aquatic activities in Ocean Park and Disneyland. Bring an umbrella, and light weight cotton shorts and dresses. Always pay attention to the weather forecast to avoiding being caught out by the rain.

Autumn
Autumn in the city is cool, dry and with plenty of sunshine, from late September to the end of November. It's rather comfortable to stroll along the wide and charming Victoria Harbour or go on an excursion to Lamma Island or Lantau Island. At this time in the city, you may just wear short-sleeved shirts/T-shirts plus a thin overcoat to for wear during the cooler hours of darkness.

Winter
Dry and cool winter usually comes in December and ends in February, having an average temperature of 17

C (63

F). It's an ideal time to do shopping, since most stores, malls and markets will make sales promotions to sell out-of-season clothes. The temperature then is changeable – when a cold front comes, the cold and dry north wind brings a sudden drop in temperature down to less than 10

C (50

F) suddenly, and the temperature may fall below zero in the northern New Territory and Tai Mo Shan area; when it clears, the temperature will again rise up to 20

C (68

F) or above. You need a wool sweater and heavy coat this time.

Hotels in the city are booked solid during April and October due to expositions and conventions. Horse races are usually held between September and the next June. Christmas sales attract many visitors; hotel prices skyrocket, especially at weekends. Make reservations at least one week in advance to avoid disappointment, while budget travelers are advised to stay away.