Hong Kong Weather in November
In late autumn, the Hong Kong weather in November is cool and dry. With an average high temperature of 24°C (75°F) and average low temperature of 19°C (66°F), the weather during this month is pleasant, a perfect time for traveling.
It seldom rains in this month, and the average total precipitation volume in November is a low 35 mm. It may just drizzle in some cases.
In late November, the temperature between day and night may differ a lot, so tourists should be careful not to catch a cold.
Averages for Hong Kong Weather in November
Temperature: 21°C / 70°F
High Temperature: 24°C / 75°F
Low Temperature: 19°C / 66°F
Humidity: 76%
Rainfall: 35 mm
Rainy Days: 4 days
Sunrise: 06:27 ~ 06:45
Sunset: 17:39 ~ 17:46
What to Wear in Hong Kong in November
Long-sleeved shirts, dresses or thin jeans are suitable for going out in sunny weather for the climate in Hong Kong in November. In late this month, tourists can wear T-shirts under sportswear, coats, or wind jackets to keep warm, especially at night.


Where to Go in Hong Kong in November
Hong Kong is known as a prosperous place where tourists cannot only have fun at many famous attractions, such as
Ocean Park
,
Disneyland Resort
,
Victoria Peak
and Wong Tai Sin Temple, but also go shopping happily.
Mong Kok
might be unfamiliar to most travelers, but is still a place you can't miss. Some of the oldest streets in Hong Kong can be found in Mong Kok, where tourists can roam to explore a different side of this city. Many shopping malls, open-air markets, boutiques and delicious food can be found there. If interested in a more traditional Hong Kong, visitors can go to
Yau Ma Tei
, where the Tin Hau Temple, Temple Street and the Yau Ma Tei Theater are all worth a visit.
Top 10 Things to Do in Hong Kong
Other Tips
When shopping, beware of the traps of some unscrupulous traders. Tourists can dial 999 in any emergency. When crossing the road, you must strictly obey the traffic rules, or you might be prosecuted and fined.
What is the temperature in Hong Kong in November?
High/Low Temperatures of Hong Kong in November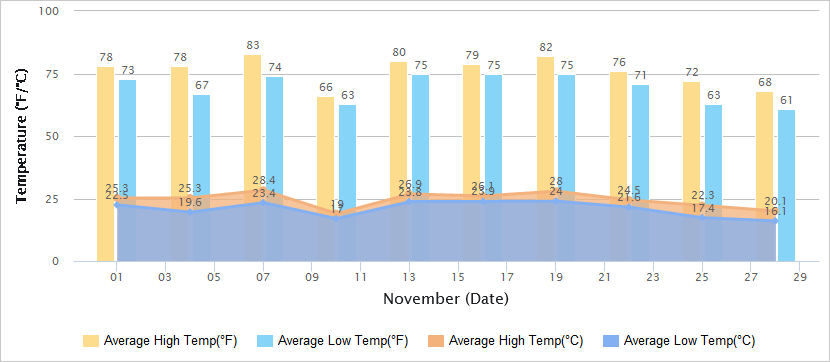 Historical Hong Kong Weather in November
Nov
Temperature
Sunrise / Sunset
Humi-
dity
(%)
High
Low
1
25.3°C / 77.5°F
22.5°C / 72.5°F

06:27

/

17:46

69
2
24.8°C / 76.6°F
21.0°C / 69.8°F

06:28

/

17:46

68
3
24.8°C / 76.6°F
20.1°C / 68.2°F

06:28

/

17:45

66
4
25.3°C / 77.5°F
19.6°C / 67.3°F

06:29

/

17:45

68
5
26.9°C / 80.4°F
21.7°C / 71.1°F

06:29

/

17:44

77
6
26.9°C / 80.4°F
22.4°C / 72.3°F

06:30

/

17:44

79
7
28.4°C / 83.1°F
23.4°C / 74.1°F

06:31

/

17:43

81
8
28.1°C / 82.6°F
22.1°C / 71.8°F

06:31

/

17:43

80
9
22.1°C / 71.8°F
19.0°C / 66.2°F

06:32

/

17:42

81
10
19.0°C / 66.2°F
17.0°C / 62.6°F

06:32

/

17:42

82
11
22.3°C / 72.1°F
17.1°C / 62.8°F

06:33

/

17:42

80
12
25.1°C / 77.2°F
21.6°C / 70.9°F

06:34

/

17:41

84
13
26.9°C / 80.4°F
23.8°C / 74.8°F

06:34

/

17:41

85
14
28.1°C / 82.6F
23.8°C / 74.8°F

06:35

/

17:41

83
15
29.2°C / 84.6°F
23.8°C / 74.8°F

06:35

/

17:40

81
16
26.1°C / 79°F
23.9°C / 75°F

06:36

/

17:40

81
17
27.5°C / 81.5°F
23.6°C / 74.5°F

06:37

/

17:40

78
18
26.8°C / 80.2°F
23.5°C / 74.3°F

06:37

/

17:40

83
19
28.0°C / 82.4°F
24.0°C / 75.2°F

06:38

/

17:39

78
20
26.8°C / 80.2°F
25.0°C / 77°F

06:39

/

17:39

78
21
25.3°C / 77.5°F
24.0°C / 75.2°F

06:39

/

17:39

85
22
24.5°C / 76.1°F
21.6°C / 70.9°F

06:40

/

17:39

95
23
21.6°C / 70.9F
16.7°C / 62.1°F

06:41

/

17:39

93
24
19.8°C / 67.6°F
15.0°C / 59°F

06:41

/

17:39

76
25
22.3°C / 72.1°F
17.4°C / 63.3°F

06:42

/

17:39

78
26
21.1°C / 70°F
13.3°C / 55.9°F

06:43

/

17:39

89
27
19.9°C / 67.8°F
12.8°C / 55°F

06:43

/

17:39

83
28
20.1°C / 68.2°F
16.1°C / 61°F

06:44

/

17:39

68
29
20.5°C / 68.9°F
17.5°C / 63.5°F

06:45

/

17:39

66
30
22.0°C / 71.6°F
17.4°C / 63.3°F

06:45

/

17:39

64
- Last updated on Jun. 20, 2022 -