Yau Ma Tei
Yau Ma Tei is a part of the most prosperous Yau Tsim Mong District in
Kowloon
, connected to
Mong Kok
in the north. Yau Ma Tei has a long history. Compared with Mong Kok and
Tsim Sha Tsui
, attractions here are more traditional. Most people still maintain their traditional living style. If you are interested in old Hong Kong, you should not miss this place.
Where to Go in Yau Ma Tei
Tin Hau Temple
Tin Hau Temple is located in the middle of urban Yau Ma Tei, which was once on the waterfront before massive land reclamation. This temple enshrines the Goddess of the Sea, Tin Hau. It is said that Tin Hau, also named Lin Mo, had been able to predict the weather and to save many people from shipwrecks and therefore was worshiped as a goddess. In front of this temple is a pair of stone lions made in 1865, and inside is a bronze bell made in 1888. With the Tin Hau Hall in the center, Tin Hau Temple has several pavilions and temples on both sides, each enshrining a different god.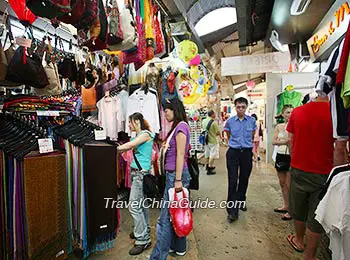 Temple Street
Most visitors come to Yau Ma Tei in order to visit Temple Street. It is a typical Hong Kong old street. If you are a Hong Kong movie fan, this place will feel familiar as many old movies were shot here including C'est la vie, mon chéri, and The God of Cookery. Vendors start selling cheap electronics, clothing, watches, jewelries and toys on the streets at dusk, lightening up the whole street. Guests and tourists flock to buy cheap items making the quiet street suddenly busy. You can begin with the Market Street near Tin Hau Temple. Cantonese opera fans and street performers gather here to give some impromptu shows. You may even find fortunetellers here. Temple Street is also a good place to eat. You can have a cup of sago cream in the dessert store, or taste fish balls at the stalls along the streets when shopping here. Stewed beef brisket in soup and pot rice are also very delicious.
Yau Ma Tei Police Station
Yau Ma Tei Police Station was a primary police station before 1998 and showed itself in many classical TV series for its special architecture style and splendid appearance. It has an Edwardian architecture comprised of three storeys and two wings, showing the authority of police.
Yau Ma Tei Theater
Yau Ma Tei Theater, built in 1930, is the only prewar theater remaining in HK. The Red Brick Building, built in 1895 as a water engineer's office, is the oldest water facility in HK now. Both these spots have now become performing venues to develop Hong Kong's Cantonese opera culture.
Other Streets and Markets
Go to Shanghai Street to buy cooking tools. The whole street is filled with kitchenware wholesalers and retailers, including tableware, kitchen knives, bakeware, steamers and tools to make snacks.
The famous jade market locates at Kansu Street and Canton Road, where you might choose a small jade ornament as a souvenir or a gift.
How to get to Yao Ma Tei
Take metro
Tsuen Wan Line
or
Kwun Tong Line
and get off at Yau Ma Tei Station. There are convenient buses from other parts of Hong Kong too.
- Last updated on May. 20, 2019 -