Hong Kong Weather in October
Along with late summer lingering and early autumn coming to the city, the Hong Kong weather becomes cooler in October. The average temperature is 28°C (82°F) during the day and 23°C (73°F) at night. There are fewer rainy days in October and the average total precipitation falls to about 145 mm. With dry and warm climate, October is a perfect time for visiting Hong Kong. On sunny days, tourists had better apply sunscreen products to keep skin from sunburn.
Chinese National Day
usually lasts from October 1st to 7th. Hong Kong celebrates this holiday with fireworks at
Victoria Harbour
. In order to occupy a good location for the grand fireworks show, many people may get there 4 or 5 hours beforehand, so tourists are also advised to go there in advance.
Averages for Hong Kong Weather in October
Temperature: 25°C / 77°F
High Temperature: 28°C / 82°F
Low Temperature: 23°C / 73°F
Humidity: 71%
Rainfall: 145 mm
Rainy Days: 6 days
Sunrise: 06:15 ~ 06:27
Sunset: 17:47 ~ 18:11
What to Wear in Hong Kong in October
In sunny weather, tourists are advised to wear breathable clothes including cotton and linen T-shirts, dresses, shorts or thin pants, as well as sandals. In the early morning or evening, or on rainy days, it is suitable to wear long-sleeved shirts, jackets, coats and pants.


Where to Go in Hong Kong in October
Tourists are advised to visit Ocean Park where they can see all kinds of fish, watch animal performances and take part in entertainment activities. Or they can go to Hong Kong Disneyland, which has unique attractions and theme hotels and is a wonderland for all ages. When night falls, visitors can go to Victoria Harbour, where they can watch the beautiful light show"
A Symphony of Lights
". During the National Holiday, many shopping malls provide discounts, so tourists can find many bargains. The popular shopping malls include Sogo Department Store, Harbor City and the malls in
Causeway Bay
and
Central
.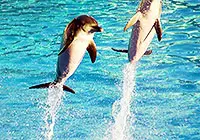 Ocean Park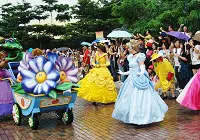 Hong Kong Disneyland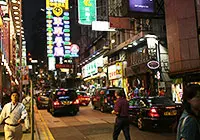 Lan Kwai Fong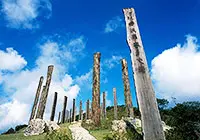 Wisdom Path
Top 10 Things to Do in Hong Kong
Other Tips
Hotels are usually fully booked during the National Day Holiday, so tourists should reserve hotels beforehand. If possible, buy admission tickets online because they may be cheaper than at entrances. If tourists want to travel around by public transportation, including city buses and
MTR
, it is advised to buy an
Octopus Card
. Bottled water in Hong Kong is expensive, so visitors had better bring their own water flask.
What is the temperature in Hong Kong in October?
High/Low Temperatures of Hong Kong in October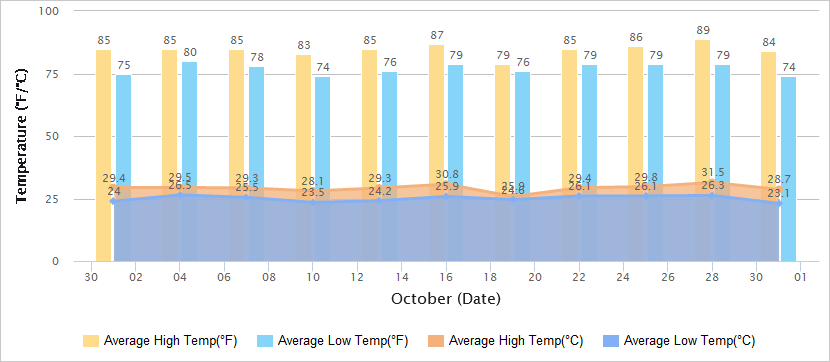 Historical Hong Kong Weather in October
Oct
Temperature
Sunrise / Sunset
Humi-
dity
(%)
High
Low
1
29.4°C / 84.9°F
24.0°C / 5.2°F

06:15

/

18:11

89
2
29.8°C / 85.6°F
26.2°C / 79.2°F

06:15

/

18:10

82
3
28.3°C / 82.9°F
26.6°C / 79.9°F

06:15

/

18:09

82
4
29.5°C / 85.1°F
26.5°C / 79.7°F

06:16

/

18:08

83
5
31.9°C / 89.4°F
26.9°C / 80.4°F

06:16

/

18:07

78
6
32.4°C / 90.3°F
25.9°C / 78.6°F

06:16

/

18:06

75
7
29.3°C / 84.7°F
25.5°C / 77.9°F

06:17

/

18:05

79
8
29.9°C / 85.8°F
27.0°C / 80.6°F

06:17

/

18:04

71
9
28.8°C / 83.8°F
24.9°C / 76.8°F

06:17

/

18:03

69
10
28.1°C / 82.6°F
23.5°C / 74.3°F

06:18

/

18:02

70
11
26.8°C / 80.2°F
22.0°C / 71.6°F

06:18

/

18:02

79
12
25.8°C / 78.4°F
23.0°C / 73.4°F

06:18

/

18:01

84
13
29.3°C / 84.7°F
24.2°C / 75.6°F

06:19

/

18:00

77
14
29.9°C / 85.8°F
25.0°C / 77°F

06:19

/

17:59

78
15
30.3°C / 86.5°F
24.6°C / 76.3°F

06:19

/

17:58

72
16
30.8°C / 87.4°F
25.9°C / 78.6°F

06:20

/

17:57

71
17
28.8°C / 83.8°F
24.1°C / 75.4°F

06:20

/

17:57

81
18
25.5°C / 77.9°F
23.9°C / 75°F

06:21

/

17:56

96
19
25.9°C / 78.6°F
24.6°C / 76.3°F

06:21

/

17:55

96
20
29.5°C / 85.1°F
24.7°C / 76.5°F

06:22

/

17:54

82
21
28.0°C / 82.4°F
24.4°C / 75.9°F

06:22

/

17:54

86
22
29.4°C / 84.9°F
26.1°C / 79°F

06:22

/

17:53

84
23
29.1°C / 84.4°F
25.8°C / 78.4°F

06:23

/

17:52

88
24
29.1°C / 84.4°F
26.1°C / 79°F

06:23

/

17:51

88
25
29.8°C / 85.6°F
26.1°C / 79°F

06:24

/

17:51

87
26
30.0°C / 86°F
25.7°C / 78.3°F

06:24

/

17:50

84
27
30.9°C / 87.6°F
25.4°C / 77.7F

06:25

/

17:49

79
28
31.5°C / 88.7°F
26.3°C / 79.3°F

06:25

/

17:49

75
29
29.0°C / 84.2°F
24.3°C / 75.7°F

06:26

/

17:48

79
30
26.6°C / 79.9°F
22.9°C / 73.2°F

06:26

/

17:47

74
31
28.7°C / 83.7°F
23.1°C / 73.6°F

06:27

/

17:47

70
- Last updated on Jun. 27, 2019 -