Hong Kong Octopus Card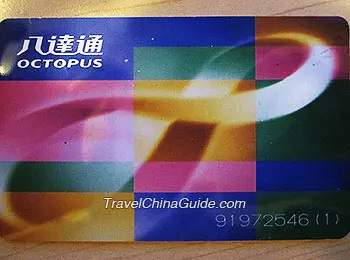 Octopus Card, like the MetroCard in New York City and the Oyster Card in London, is a multi-usage smart card charging for the public transportation in Hong Kong. First used on 1st September, 1997, when it was only used on bus and MTR. Later the range expanded to many places such as stores, restaurants, parking lots and later as entrance card to schools, office buildings and residential buildings. Octopus is one of the earliest and most successful electronic currencies in the world. At present, there are three types of Octopus Card for residents and visitors, these are On-Loan Octopus, Sold Octopus and Airport Express Travel Pass.

Types of Octopus Card
It is lent by Octopus Card Limited to you. You are required to pay a refundable deposit that covers the card cost and possible negative value. There are two kinds of on-loan Octopus Card: Standard and Personalized.
Standard
Personalized
Child
Adult
Elder
--
Deposit
HK$50
HK$50
HK$50
HK$50
Initial Stored Value
HK$20
HK$100
HK$20
HK$30
Handling Charge
--
--
--
HK$20
Fare Concession Eligibility
Age 3-11
No Concession
Varies among Transport Companies
Automatic
This is a specially designed Octopus Card sold to you. It has no useable value when you buy it, holds no deposit and can not be refunded unless you add value to it. Any remaining value on it is refundable. The Sold Octopus Card Cards have more delicate designs and their selling prices are a bit higher. It includes Octopus Card Ornaments, Special Edition Octopus Card, Licensed Octopus Card Products and Octopus Card for Corporations.
How to Obtain Octopus Card?
Standard Octopus Card
Standard Octopus can be bought at following places:
1. MTR Customer Service Centres: All stations (except Racecourse station)
2. Light Rail Customer Service Centres: Ferry Pier Terminus, Leung King, Town Centre, Yuen Long Terminus, Tin Yat, Siu Hong and Tin Shui Wai stations
3. KMB Customer Service Centre: Sha Tin Central Bus Terminus
4. New World First Ferry Octopus Card Service Centres: Piers of Cheung Chau, Mui Wo, Peng Chau, Central Piers 5 & 6
5. New World First Bus Customer Service Centre: Admiralty (East) Bus Terminus

Personalized Octopus Card
Personalized Octopus Card could be obtained by applying. You can either obtain an application form from the official website of Octopus Card or Service Centres. After completing the form, return it in person to any one of the Customer Service Centres mentioned below to complete the application procedure. To get a Personalized Octopus Card, you need to pay HK$100, which includes HK$50 refundable deposit, HK$30 initial stored value and HK$20 handling fee. Here is the list of Service Centres:
1. MTR Customer Service Centres: Chai Wan, Choi Hung, Diamond Hill, Hung Hom, Kwai Hing, Lai Chi Kok, Lam Tin, Lo Wu, Lok Ma Chau, Quarry Bay (Taikoo Place), Sai Wan Ho, Sha Tin, Sheung Shui, Tai Wo Hau, Tung Chung and Yau Tong stations
2. Light Rail Customer Service Centres: Ferry Pier Terminus, Leung King, Town Centre, Yuen Long Terminus, Tin Yat and Tin Shui Wai stations
3. New World First Ferry Octopus Card Service Centres at Central Piers 5 & 6
4. Sold Octopus Card can be obtained through different ways, mostly they are sold in the licensed stores or on-line.

How to Use Octopus Card?
If you take a bus by Octopus Card, you need to swipe it both when getting on and getting off the bus. And when entering and exiting metro, you are supposed to swipe the card. If you wanna buy something by the card, just swipe it when you check out.

Application Range
Octopus can be used in Hong Kong as well as some stores in Macau and Shenzhen. In Hong Kong, it can be used on transportation, retailing stores, parking, self-service, leisure facilities and access control and other places like some hospitals and schools displaying the Octopus logo ('∞', like a number 8 on its side). In Macau, it can be used in the KFC in Rua do Campo and Sands Casino. In Shenzhen, it can be used in Fairwood Fast Food, Café de Coral Shenzhen Duty-free Group Stores displaying the Octopus Logo.
Tips:
1. The exchange rate for Renminbi (RMB) transactions in Shenzhen is set by the individual merchant.
2. The exchange rate for Pataca transactions in Macau is 1 MOP to HK$1.

How to Check Your Balance and Recent Transactions?
Balance appears whenever you make a purchase. Users can also check their last 10 transactions at the following places:


At Octopus Enquiry Machines at MTR stations


By requesting a printout at an MTR Customer Service Centre and 7-Eleven or Circle-K outlet (a HK$3 fee will be charged by these service providers.)


Using a PCCW eye device


Using an Octopus PC Reader

How to Reload Octopus Card?
Your Octopus can be reloaded up to HK$1,000 in total value at thousands of locations throughout Hong Kong by cash. You can reload at the following places:


Authorized Add Value Service Providers, such as convenience stores, supermarkets, fast-food chains.


Any Customer Service Centres of MTR, Airport Express Line and Light Rail.


KMB Customer Service Centre at the Sha Tin Central Bus Terminus


New World First Ferry Octopus Service Centres at the piers on Cheung Chau, Mui Wo and Peng Chau and at Central piers 5 and 6


New World First Bus Customer Service Centre at the Admiralty (East) Bus Terminus


Citybus Customer Service Centre at the Central Exchange Square Bus Terminus


Add Value Machines at MTR and selected Light Rail Stations.


Electronic fund transfer at selected ATMs of the AEON ATM network (applicable to AEON Credit Card holders only).

How to Claim a Refund from Octopus?
For On-Loan Octopus (both Standard and Personalized), you can go to any MTR Customer Service Centre to apply for a refund of your remaining value. If the remaining value is less than HK$500, you will receive an on-the-spot refund of your HK$50 deposit (applicable to Standard On-Loan Octopus only) and the remaining value, if any. If you want to refund the remaining value in Sold Octopus, you need to call 2266 2222 for assistance, your Octopus will be checked at the office. In the following situations, the Octopus will be sent back to Octopus Cards Limited for refund processing and they will notify you of the refund arrangement within seven working days of your application:


An On-Loan Octopus is damaged


The remaining value is more than HK$500


You have a Personalized Octopus



Tips:
1. If the Octopus Card has been damaged or altered, you need to pay HK$30 to get back your remaining value and the deposit (Includes damage or alteration through delaminating, bending, cutting, breaking, graffiti or attachment of stickers or photos).
2. If you apply for a refund within three months of issue, you need to pay HK$7 for Standard Octopus Card.
3. You need to pay HK$10 for Personalized Octopus Card refunding.

After customs clearance, you will see an Airport Express Customer Service Center at the arrival hall, where you can buy the card. You need to pay HKD150 in total, HKD50 for refundable deposit. As for refund, all the customer service centers in metro stations can refund the card. Also, you can choose to return it at the airport. If the card is returned 90 days after the day of issue, HK$9 service fee will be charged.

Octopus Card App
The app is developed by Octopus Card Limited. Same with the card, the app can be used to pay on the bus, metro and the designated shops. Besides, you can use the app to top up, check balance, transaction record and some other data. The procedures of using are as follows:
1. Download the app at Goggle Play.
2. To use it, you may need to follow the guide to start the NFC.
3. Input the number of the card and choose its use of check the balance and pay.
4. Choose the button of pay online and open QR code scanner. Put the card on the device until the receipt displays. If the pay does not succeed, it will return to your account automatically.
5. You can also check and delete the data of the receipt.
- Last updated on Jun. 05, 2023 -
Questions & Answers on Hong Kong Octopus Card
Asked by Winston Chew from SINGAPORE | Jun. 02, 2023 22:32

Reply
Queries on Use of Octopus Tourist Airport Express Card
If I purchase the octopus tourist airport pass round trip valid for 3 days unlimited rides, can I still use the card for the return trip on the airport express after 3 days or I have to complete the trip and return to the airport within 3 days on the airport express? After 3 days, if the card can no longer be used for local trips, can I still top it up before leaving HK and get the refund for both the deposit and balance value before leaving HK? What is the minimum top up value to use the card? Is it HK$50 and can the top up be done by cash or a foreign issued credit card?
Answers (1)
Answered by Dylan | Jun. 05, 2023 01:40

0

0

Reply
The time limit is 3 days but it seems to become a one-day travel pass now. So it is more recommended to buy a Tourist Octopus (Sold version) which is priced at HK$39 without initial stored value and no deposit is required. You can top it up and there is no minimum top up value.

By the way, if you buy at the airport, it costs HK$39 plus an initial stored value of HK$111, and the total selling price is HK$150.
Asked by geralynzamora11 from PHILIPPINES | Mar. 08, 2023 08:15

Reply
Can I return the octopus card in Macau airport?
Answers (1)
Answered by Nina | Mar. 09, 2023 18:33

0

0

Reply
I'm afraid no. You'd better return it when in Hong Kong.
Asked by Lucy from PHILIPPINES | Jul. 11, 2019 22:47

Reply
Is there a discount for the Hong Kong octopus card for foreign disabled people (with ID)?
Answers (1)
Answered by Walker from USA | Jul. 15, 2019 02:21

0

0

Reply
Sorry, there isn't.
Asked by Joan M. Gorga from US | Jun. 11, 2019 10:19

Reply
My husband and I are US citizens visiting Hong Kong. Will we qualify for Elder rates on the MTR?
If so, Do I understand that each card will be $70 with a deposit of $50 and a stored value of $20. How much will each ride cost? Thank you
Answers (1)
Answered by Alan from AUSTRALIA | Jun. 11, 2019 19:43

0

0

Reply
Generally, there is no problem for you to buy a card for elders according to your passport. You can use it to enjoy HK$ 2 for most rides.
Asked by rg from USA | May. 03, 2019 02:21

Reply
Does a purchased Hong Kong Octopus card have any expiration dates?
Like if don't use for a year.
Answers (1)
Answered by Jim from CANADA | May. 06, 2019 19:11

0

0

Reply
It's 3 years.