Mid-Level Escalator Hong Kong
Mid-Levels Escalator Hong Kong, the longest roofed free escalator system all over the world, is at Central area. It was built at first to serve residents at Mid-Levels to go to
Central
more conveniently. Currently it has developed into one of the hottest spots in Hong Kong as well. The Mid-level escalator system is about 800 meters (875 yards) long with roofed pedestrian walkways, over bridges, 20 single-direction escalators for passages to go up or go down, and 3 moving sidewalks. The whole journey takes about 20 minutes.
Mid-Levels Escalator Route
Mid-Levels escalator starts from the Hang Seng Bank HQ in Central, passes by Central Market, Cochrane Street, Hollywood Road, Shelley Street, Mosque Junction, Robinson Road and finally reaches Conduit Road in Mid-levels.

Mid-Levels Escalator Hours
Central to Mid-Levels (Uphill): 10:00 - 24:00 daily
Mid-Levels to Central (Downhill): 06:00 - 10:00 daily
Tips for Taking Hong Kong Central Mid-Levels Escalator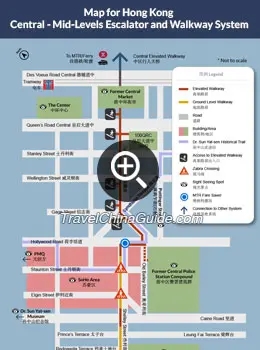 Mid-Level Escalator HK Map
1. Stand on the right when taking the escalator and leave spaces for passengers in a hurry.
2. Octopus card sensors set at the middle way give you a discount of HKD 2 when taking MTR at Wan Chai, Central, and Hong Kong Station on the day.

How to Get to Central to Take Mid-Levels Escalator

By Bus: Take city bus 7, 37A, 90B, 3A, 4, 4X, 91, 94 to Queen's Road Central.



By MTR: The distance between MTR Central Station and Central Mid-Levels Escalator starting point is within 500 meters (550 yards). You could get off at MTR Central Station and get out from Exit G or D1.Walk west along the Pedder Street to the Queen's Road Central and then walk north along the Queen's Road Central until you find the starting point on your left.



By Tram: Get off at the Central stop and then walk west along Queen Victoria Street to get there.

Hot Spots along the Central Mid-Levels Escalator
The escalator not only is a daily commute to serve the locals, but also attracts tourists to feel the vital life of Hong Kong, consisting of bustling shops, restaurants, bars, and local apartments on both sides.



Soho Area (Gourmet Zone): It hosts many stylish restaurants, cafes and bars where you can enjoy the tasty foods of different countries at your leisure. You could get off the escalator from Elgin Street and go there.



PMQ: It is now a famous art center rebuilt on the former police quarters. Walking along the galleries, visitors could appreciate the creative artworks everywhere. It is located between Staunton Street and Hollywood Road.



Lan Kwai Fong: The popular nightlife center with bars, night clubs, and many other entertainment facilities sits on Wellington Street.



Man Mo Temple: It is one of the oldest temples in Hong Kong and a quiet place amazingly standing at the bustling streets. You can go there from Hollywood Road.



Jamia Mosque: Located next to the Old Bailley Street for more than 150 years, the mosque was originally built for Islamic military soldiers. The green-colored building looks very unique and elegant among others.



Former Central Police Station Compound: Also called Tai Kwun by Hong Kong people, it is a center of heritage and contemporary art. So far, one could get inspired by its history of over 170 years and culture.
- Last updated on Nov. 14, 2023 by Gabby Li -