Hong Kong Taxi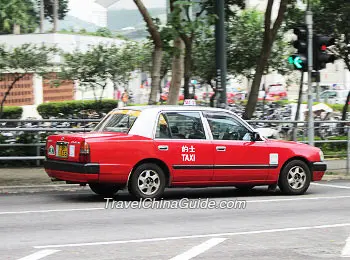 Hong Kong Taxi
There are over 18,000 taxies serving in Hong Kong, covering almost all the places of Hong Kong except some offshore islands. In urban areas, you can flag down a taxi at any time. And it is a better choice for groups with 3-5 persons, comparing with the time and fare taken by MTR or buses.

Hong Kong Taxi Types and Operating Area
Hong Kong taxis are designed in 3 colors and run in different permitted areas, making sure that passengers in suburbs get service at lower prices.

Red Taxis (Urban Taxis)
They cover most destinations within the city except Tung Chung Road and roads in south Lantau Island.

Green Taxis (New Territories Taxis)
They serve the north-eastern part, i.e. north of Sha Tin and north-western part, i.e. north of Tsuen Wan of the New Territories.

Blue Taxis (Lantau Taxis)
They run on Lantau Island and Chek Lap Kok.



Notes:
1. All taxis can reach Hong Kong International Airport and Disneyland Resort.
2. Taxis in Hong Kong are 4-seater and 5-seater. You can find the mark on the front and back of the taxis and children under 3 are not counted.

Taxi Fare
In Hong Kong, taxi fare on taximeter is a combination of travelled distance and waiting time incurred while the taxi is hired, and additional fares are charged depending on some circumstances.
| Price | Red Taxi | Green Taxi | Blue Taxi |
| --- | --- | --- | --- |
| The prior 2 km (1.2 mi) or any part thereof | 24 | 20.5 | 19 |
| Unit rate for every subsequent 0.2km (0.12mi) or every minute's waiting until the fare reaches HKD 83.5 for red taxis, HKD 65.5 for green taxis, and HKD 154 for blue taxis | 1.7 | 1.5 | 1.5 |
| Unit rate for every subsequent 0.2km (0.12mi) or every minute's waiting after the fare has reached above amount | 1.2 | 1.2 | 1.4 |
| Each piece of luggage (except portable luggage in passenger carriage) | 6 | 6 | 6 |
| Wheelchairs and crutches carried by the disabled | Free | Free | Free |
| One pet (an animal or a bird) | 5 | 5 | 5 |
Additional Fares:
1. For journeys passing the following toll tunnel, toll road or toll area, a return toll is required to pay by passengers: HKD30 for Lantau Link, HKD10 for Cross-Harbour Tunnel, HKD15 for Eastern Harbour Crossing or Western Harbour Crossing. For other toll tunnels, roads, and areas, the fee is the drivers' responsibility.

2. Passengers will not pay the return toll if they get on at a cross-harbour taxi stands or their final destination is not on the opposite side of the harbor.

3. Journey between Ma Wan and Lantau / Chek Lap Kok requires an extra fare of HKD 60.

Hong Kong Taxi Fare Reference for Hot Spot:
| Spots | To/From Central | To/From Tism Sha Tsui |
| --- | --- | --- |
| Hong Kong Airport | HKD 370 | HKD 270 |
| Hong Kong Disneyland | HKD 245 | HKD 190 |
| Ocean Park | HKD 70 | HKD 120 |
| The Ocean Teminal | HKD 105 | HKD 22 |
| Victoria Peak | HKD 75 | HKD 140 |
| Spots | To/From West Kowloon Railway Station | To/From Airport |
| --- | --- | --- |
| Hong Kong Airport | HKD260 | -- |
| Disneyland | HKD200 | HKD 140 |
| Causeway Bay | HKD90 | HKD 315 |
| Repulse Bay | HKD140 | HKD 365 |
| Mong Kok | HKD35 | HKD 265 |
| Yau Ma Tei | HKD25 | HKD 265 |
| Tsim Sha Tsui | HKD35 | HKD 270 |
How to Hail a Taxi in Hong Kong
1. Hail a taxi at taxi stand. Roads with painted double yellow lines are forbidden zones for picking up or dropping off passengers.
2. Call taxi in Hong Kong: Hong Kong taxi number is (852) 81092222 and the hotline is in service 24 hours a day. The appointment service fee by the telephone is HKD5. Dial the 24-hour hotline (852) 187 2920 for help if you left your property on taxi and (852)28899999 if you want to make a complaint.

How to Pay Taxi Fare
Hong Kong taxis usually accept cash only, and only a small portion of the taxis bearing the Union Pay logo can be paid by Union Pay cards.

Tips for Taking a Taxi in Hong Kong
1. Wearing the safety belt at front and back seat is a legal requirement even for the pregnant women.
2. Get on and off the taxi on the left side of the street and always ask for the receipt when leaving.
3. Make change is not a must for taxi drivers.
4. At rush hour, better to wait at the front of your hotel.
5. To avoid problems, always have your destination written in Chinese on a card.

Hong Kong Taxi Apps
Popular Hong Kong taxi Apps include Uber, HK taxi, DIDI, God Taxi, SynCab and Fly Taxi. Among them, HK Taxi has the highest success hailing rate of 90%. In addition, you can improve the success rate by tipping.
- Last modified on Oct. 30, 2019 -
Questions & Answers on Hong Kong Taxi
Asked by ricardo from USA | Oct. 29, 2019 15:09

Reply
what would be the cost of taxi from icon inn tsim sha tsui to norwegian cruise line?
Answers (1)
Answered by Rita from CANADA | Oct. 30, 2019 20:23

0

0

Reply
Sorry, I can't locate where norwegian cruise line is.
Asked by linda from INDONESIA | Oct. 03, 2019 21:19

Reply
i want to go to the ten thousand budda's monastery.
from mtr sha tin, is there a bus or public transport around that place?.. tku
Answers (1)
Answered by Liam from USA | Oct. 11, 2019 01:55

0

0

Reply
After you get out of the metro station, you need to follow the signs walk to it.
Asked by John from AUSTRALIA | Jul. 23, 2019 20:35

Reply
What would be the cost of a taxi from Victoria Peak to Aberdeen?
Is there a Public Light Bus that goes from Victoria Peak to Aberdeen?

Thank you
Answers (1)
Answered by Pack from USA | Jul. 28, 2019 19:20

0

0

Reply
I'm not clear about the cab fare, but the truth is the price of HK taxi is a little high. If you take public transport, you can take 15 (NWFB) from Mount Kellett Road, Peak Road to Wah Yan College Hong Kong, Queen's Road East. Then transfer to 37B (CTB) from Burrows Street, Wan Chai Road to Aberdeen Wholesale Fish Market, Aberdeen Praya Road. It takes 1 hour with HK$14.8.
Asked by Pho from USA | Jul. 06, 2018 13:04

Reply
Do I need to apply for visa to visit Hong Kong?
I am an American citizen and will be flying to HK from Kaoshiung. Please advise. Thanks!
Answers (1)
Answered by Tina from USA | Jul. 08, 2018 20:19

0

0

Reply
Yes, you do.