Hong Kong Mini Bus
Hong Kong mini bus, also called public light bus, reaches the areas that
MTR
and regular buses do not go to. Mini buses in Hong Kong usually have 16 or 19 seats and they are red and green roofed with light yellow bodies. The green minibus (GMB) has fixed routes, schedules, service hours and ticket fares like regular buses while the red mini bus (RMB) runs in a flexible manner.
There is no broadcast for the arrival station. To get off, passengers need to tell the driver or push the button in advance and the driver may answer by raising his hand. Since most drivers can't speak English even Mandarin Chinese, you may inform the driver of your stop written on a card in advance.

Note: When mini buses reach their capacity of 16 or 19 passengers, they will not stop unless there are passengers who want to get off.
Green Mini Bus with Fixed Routs, Frequency, Service Hours and Ticket Fare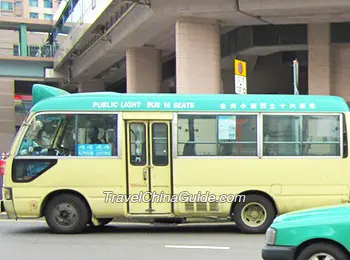 Green Mini Bus
Green mini buses serve as a commute between communities to MTR or public bus stations. They have set routes, service hours, schedules and fixed fares which are supervised by the government.

Passengers usually wait at fixed stations and pay the fare by Octopus Card or handing on exact cash to a money box when getting on. The rate chart in both Chinese and English is displayed on the front window.

Popular Green Minibus Routes
There are now over 3,299 green minibusses running at 355 main routes. The following are some popular routes:


Starting Point: HK Station Public Transport Interchange behind MTR Hong Kong Station.


Ending Point: Public Transport Terminus of Victoria Peak.


Key Stops: Guilford Road, Queen's Road Central, Peak Road, Finance Street


Service Hours:
From Central: 06:20 am - 12:00 am
From the Peak: 06:45 am to 12:25 am from Mon. - Sat.; 07:00 to 24:00 on Sundays and Public Holidays


Full Fare: HKD 11.8


Starting Point:in front of Capital Central at Jardine's Bazaar.


Ending Point: Stanley Village


Key Stops: Aberdeen Tunnel, Island Road, Jardine's Bazaar, Repulse Bay, Repulse Bay Road, Stanley Beach Road.


Service Hours: 06:00 - next 06:00, every 10-20 min;


Full Fare: HKD 11.7

3. Kowloon GMB13: Kowloon Tang Broadcast - Hung Hom Public Transport Interchange

Starting Point: Broadcast Drive, outside Block B, Alice Court.


Ending Point: GMB Terminus at Hung Hom Public Transport Interchange


Key Stops: Wang Tau Hom Central Road; Tin Kwong Road; Ma Tau Wai Road; Hung Hom


Service Hours:
From Kowloon Tang: 07:30 - 07:30 pm
From Hung Hom Public Transport Interchange: 07:00 am - 07:00 pm


Full Fare: HKD 8.8


Starting Point: Tai Kok Tsui (Island Harbourview) Bus Terminus


Ending Point: Tsim Sha Tsui (Peking Road)


Key Stops: Cherry Street, Ferry Street, Canton Road, Hoi Fai Road


Service Hours: 06:30 to 23:30 from Tai Kok Tsui; 06:30 to 23:00 from Tsim Sha Tsui


Full Fare: HKD 7.4

5. New Territories GMB 101M: Hang Hau Station - Sai Kung

Starting Point: Hang Hau Bus Terminus


Ending Point: Wai Man Rd PLB Terminus (Sai Kung Pier)


Key Stops: Mei Yu Street, Sai Kung North Public Transportation Interchange, Clear Water Bay Road


Service Hours: 05:30 to 01:15 from Hang Hau; 05:30 to next 12:55 from Sai Kung


Full Fare: HKD 10.4

Red Mini Buses Run in a Flexible Manner
There are over 800 red minibusses running in almost every place in Hong Kong except some restricted zones. With relatively light regulation, the red minibusses do not have fixed routes except terminus, scheduled departure times, or fixed fares. The drivers may change routes to avoid traffic jams or pick up more passengers and the fare is calculated by the routes the drivers have taken or weather conditions. Passengers can flag down one and get off at non-forbidden zones. You need to call your stop and pay the fare in cash. But in fact, red minibusses may be not suitable for visitors unfamiliar with the routes.

In Hong Kong, there is a saying that no vehicle can overtake a red minibus. Locals like red minibusses because they are faster and more convenient. The drivers may exceed the speed limit sometimes for their income depends on how many passengers they have taken and passengers may feel like taking a roller coaster through the city.



Further Reading
Hong Kong Bus
Hop on Hop off Buses in Hong Kong
Big Bus Hong Kong
Hong Kong Ding Ding Tram
- Last updated on Nov. 14, 2023 by Gabby Li -