Hong Kong Weather in April
With an average temperature between 20°C (68°F) and 25°C (77°F), the Hong Kong weather in April is warm and humid. This is a good time for traveling because spring is an important season when all flowers begin to blossom, grass and trees turn green, and birds are singing on the branches. The warm climate and enough sunshine will make the journey pretty comfortable and this beautiful season will give tourists an interesting and fun experience. However, there are occasional rainy or foggy days during this period, so it is advised to bring an umbrella or rainwear.
The
Qingming Festival
falls at the beginning of April. Many tourists may go to Hong Kong for a visit. It is advised to book hotels and tickets in advance. Also, Hong Kong people may also celebrate Easter Day in April. Besides, the Birthday of Tin Hau may fall in late April when traditional activities will be held. Tourists can take part in the local activities and get close to its culture and custom.
Averages for Hong Kong Weather in April
Temperature: 22°C / 72°F
High Temperature: 25°C / 77°F
Low Temperature: 20°C / 68°F
Humidity: 81%
Rainfall: 162 mm
Rainy Days: 8 days
Sunrise: 05:52 ~ 06:16
Sunset: 18:38 ~ 18:49
What to Wear in Hong Kong in April
Cotton and linen shirts, dresses, thin T-shirts and other breathable clothes are advised for going out on a sunny day, while rainwear or overcoats should be prepared for a rainy day. At night, tourists can wear jeans, sportswear, wind jackets or thin sweaters.


Where to Go in Hong Kong in April
When visiting Hong Kong in April, tourists can go to Victoria Peak for a tour. As the highest point in Hong Kong, the peak will be covered with luxuriant vegetation in April, so it is the best visiting time. At the peak, tourists can not only take a cable car to experience a thrilling journey, but also enjoy the grand and beautiful night view of Victoria Harbour. If interested in Taoist culture, tourists can visit the
Wong Tai Sin Temple
, which was built in 1921 and is one of the most famous temples in Hong Kong. The temple is known for its fortune telling. Many people go there to make a wish. Tourists can have a try when going there.
Top 10 Things to Do in Hong Kong
Other Tips
Visitors are advised to check the weather forecast before going out. The temperature may drop at dawn or dusk, so please take more clothes. Also, air-conditioners in subways and shopping malls may make you feel cold, so, you are advised to wear a coat. Most restaurants and hotels charge an extra 10% as service fee.
What is the temperature in Hong Kong in April?
High/Low Temperatures of Hong Kong in April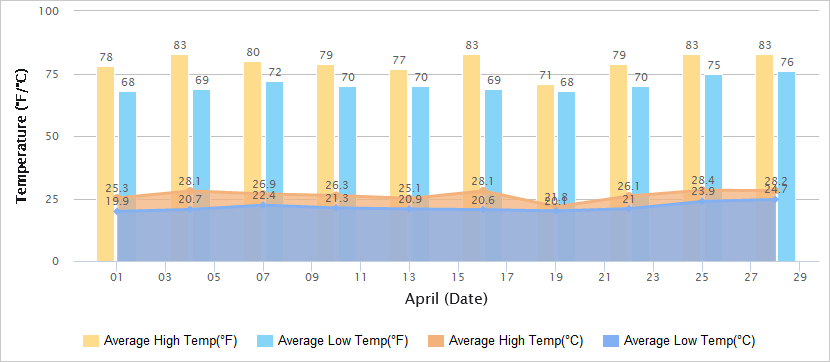 Historical Hong Kong Weather in April
Apr
Temperature
Sunrise / Sunset
Humi-
dity
(%)
High
Low
1
25.3°C / 77.5°F
19.9°C / 67.8°F

06:16

/ 18:38
86
2
23.8°C / 74.8°F
19.8°C / 67.6°F

06:15

/ 18:39
90
3
26.5°C / 79.7°F
21.0°C / 69.8°F

06:14

/ 18:39
87
4
28.1°C / 82.6°F
20.7°C / 69.2°F

06:13

/ 18:39
88
5
24.4°C / 75.9°F
20.7°C / 70.7°F

06:12

/

18:40

91
6
26.5°C / 79.7°F
21.5°C / 51.4°F

06:11

/

18:40

91
7
26.9°C / 80.4°F
22.4°C / 72.3°F

06:10

/

18:41

91
8
27.9°C / 82.2°F
23.2°C / 73.8°F

06:09

/

18:41

87
9
27.5°C / 81.5°F
24.4°C / 75.9°F

06:09

/

18:41

86
10
26.3°C / 79.3F
21.3°C / 70.3°F

06:08

/

18:42

92
11
22.8°C / 73°F
20.1°C / 68.2°F

06:07

/

18:42

91
12
21.3°C / 70.3°F
19.9°C / 67.8°F

06:06

/

18:42

94
13
25.1°C / 75°F
20.9°C / 69.6°F

06:05

/

18:43

98
14
25.2°C / 77.2°F
21.6°C / 70.9°F

06:04

/

18:43

98
15
23.5°C / 74.3°F
20.6°C / 69.1°F

06:03

/

18:43

97
16
28.1°C / 82.6°F
20.6°C / 69.1°F

06:03

/

18:44

89
17
27.5°C / 81.5°F
24.1°C / 75.4°F

06:02

/

18:44

90
18
26.7°C / 80.1°F
20.1°C / 68.2°F

06:04

/

18:45

87
19
21.8°C / 71.2°F
20.1°C / 68.2°F
06:00 /

18:45

86
20
22.9°C / 73.2°F
20.2°C / 68.4°F

05:59

/

18:45

88
21
28.4°C / 83.1°F
22.0°C / 71.6°F

05:59

/

18:46

87
22
26.1°C / 79°F
21.0°C / 69.8°F

05:58

/

18:46

90
23
27.7°C / 81.9°F
22.6°C / 72.7°F

05:57

/

18:47

88
24
26.1°C / 79°F
23.2°C / 73.8°F

05:56

/

18:47

93
25
28.4°C / 83.1°F
23.9°C / 75°F

05:56

/

18:47

90
26
28.5°C / 83.3°F
26.0°C / 78.8°F

05:55

/

18:48

86
27
29.1°C / 84.4°F
25.4°C / 77.7°F

05:54

/

18:48

85
28
28.2°C / 82.8°F
24.7°C / 76.5°F

05:53

/

18:49

84
29
26.3°C / 79.3°F
22.9°C / 73.2°F

05:53

/

18:49

76
30
23.4°C / 74.1°F
20.8°C / 69.4F

05:52

/

18:49

80
- Last modified on Jun. 27, 2019 -