Hong Kong Weather in January
With a temperature between 14°C (57°F) and 19°C (66°F), Hong Kong weather in January is mild and suitable for traveling despite that it is still winter. This is an ideal time for shopping, as many malls, markets and stores provide great discounts on out-of-season clothes.
There may be a little rainfall and many cloudy days in January. The north wind may bring a sudden drop in temperature and sometimes there may be frost. In this case, visitors should dress properly to adapt to this kind of climate change in Hong Kong in January.
Averages for Hong Kong Weather in January
Temperature: 16°C / 61°F
High Temperature: 19°C / 66°F
Low Temperature: 14°C / 57°F
Humidity: 74%
Rainfall: 23 mm
Rainy Days: 4 days
Sunrise: 07:03 ~ 07:05
Sunset: 17:51 ~ 18:11
What to Wear in Hong Kong in January
Usually, jeans, sportswear, long-sleeved T-shirts and cotton or linen short suits are suitable for going out during the day. With the weather gets colder at night, you can wear wind jackets, coats, thin sweaters or thin down jackets.


Where to Go in Hong Kong in January
Tourists should not miss Victoria Harbour when visiting Hong Kong in January. As the largest harbor in Asia, it boasts the most beautiful night scene in Hong Kong. The best location to enjoy it is Victoria Peak, which is the highest point in Hong Kong. From here, you have a panoramic view of the city. As well, a famous laser light and music show called
A Symphony of Lights
is performed at 8:00pm every day on Victoria Harbour, lasting for about 13 minutes. Apart from what is mentioned above, the Avenue of Stars,
Golden Bauhinia Square
and
the Sky 100 Observation Deck
are all worth a visit on the harbor.
Top 10 Things to Do in Hong Kong
Other Tips
It is advised to purchase an
Octopus Card
for public transport if you are staying in HK for some time. The card can be used at some stores, restaurants, parking lots, as well as public transport. It can be purchased at MTR stations, train stations and the airport. Most restaurants in Hong Kong don't provide tissues, so you had better take your own. Dropping litter or spitting in public places is forbidden in Hong Kong. If anyone does that, he/she may be fined HKD1,500. January is the peak season for tourism in Hong Kong, so visitors are advised to make travel plans well in advance.
What is the temperature in Hongkong in January?
High/Low Temperatures of Hong Kong in January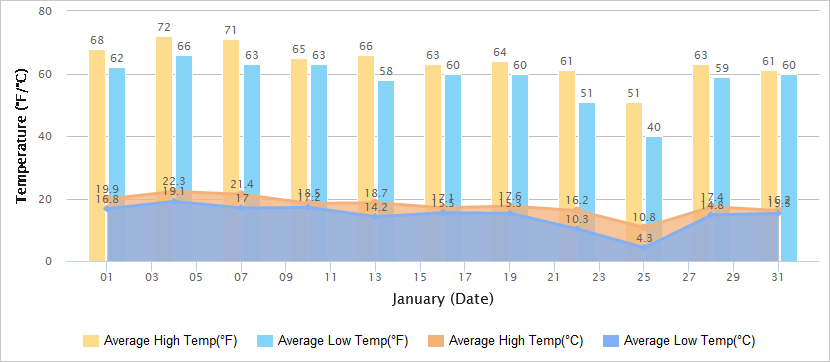 Historical Hong Kong Weather in January
Jan
Temperature
Sunrise / Sunset
Humi-
dity
(%)
High
Low
1
19.9°C / 67.8°F
16.8°C / 62.2°F
07:03 /

17:51

72
2
21.7°C / 71.1°F
17.2°C / 63°F
07:03 /

17:51

81
3
20.3°C / 68.5°F
18.0°C / 64.4°F
07:03 /

17:52

95
4
22.3°C / 72.1°F
19.1°C / 66.4°F

07:04

/

17:53

90
5
21.3°C / 70.3°F
20.2°C / 68.4°F

07:04

/

17:53

95
6
24.3°C / 75.7°F
19.2°C / 66.6°F

07:04

/

17:54

84
7
21.4°C / 70.5°F
17.0°C / 62.6°F

07:04

/

17:54

79
8
21.0°C / 69.8°F
16.5°C / 61.7°F

07:05

/

17:55

78
9
18.9°C / 66°F
17.1°C / 62.8°F

07:05

/

17:56

78
10
18.5°C / 65.3°F
17.2°C / 63°F

07:05

/

17:56

85
11
20.4°C / 68.7°F
16.5°C / 61.7°F

07:05

/

17:57

90
12
18.5°C / 65.3°F
16.1°C / 61°F

07:05

/

17:58

79
13
18.7°C / 65.7°F
14.2°C / 57.6°F

07:05

/

17:59

77
14
17.5°C / 63.5°F
15.6°C / 60.1°F

07:05

/

17:59

79
15
16.1°C / 61°F
14.5°C / 58.1°F

07:05

/

18:00

97
16
17.1°C / 62.8°F
15.5°C / 59.9°F

07:05

/

18:01

95
17
20.6°C / 69.1°F
14.8°C / 58.6°F

07:05

/

18:01

90
18
17.8°C / 64°F
11.9°C / 53.4°F

07:05

/

18:02

76
19
17.6°C / 63.7°F
15.3°C / 59.5°F

07:05

/

18:03

78
20
16.8°C / 62.2°F
14.8°C / 58.6°F

07:05

/

18:03

90
21
17.1°C / 62.8°F
15.1°C / 59.2°F

07:05

/

18:04

95
22
16.2°C / 61.2°F
10.3°C / 50.5°F

07:05

/

18:05

92
23
10.4°C / 50.7°F
7.0°C / 44.6°F

07:05

/

18:05

70
24
7.1°C / 44.8°F
3.1°C / 37.6°F

07:05

/

18:06

61
25
10.8°C / 51.4°F
4.3°C / 39.7°F

07:04

/

18:07

46
26
13.5°C / 56.3°F
8.1°C / 46.6°F

07:04

/

18:07

59
27
15.3°C / 59.5°F
9.8°C / 49.6°F

07:04

/

18:08

92
28
17.4°C / 63.3°F
14.8°C / 58.6°F

07:04

/

18:09

98
29
17.4°C / 63.3°F
15.9°C / 60.6°F

07:03

/

18:09

96
30
19.9°C / 67.8°F
16.2°C / 61..2°F

07:03

/

18:10

88
31
16.2°C / 61.2°F
15.3°C / 59.5°F

07:03

/

18:11

86
- Last updated on Sep. 03, 2019 -