Hong Kong Weather in July
The Hong Kong weather in July is the hottest in the whole year, but it's not as scorching hot as in other cities in China. During this month, the average high temperature is 32°C (90°F) and the average low temperature is 27°C (81°F).
There may be endless rainy days and the average rainfall is up to 324 mm, the second highest of the year. Heavy rains or storms may occur occasionally.
It is advised to check the weather forecast before making a travel plans.
Averages for Hong Kong Weather in July
Temperature: 28°C / 82°F
High Temperature: 32°C / 90°F
Low Temperature: 27°C / 81°F
Humidity: 83%
Rainfall: 324 mm
Rainy Days: 14 days
Sunrise: 05:44 ~ 05:55
Sunset: 19:04 ~ 19:12
What to Wear in Hong Kong in July
During the days with a hot climate in Hong Kong in July, visitors are advised to wear summer clothes made of light cotton fabric or other breathable materials. Shorts, dresses, T-shirts, thin short-sleeved blouses and thin pants are suitable. At night, thin coats, jackets, sportswear or long-sleeved blouses are more suitable.


Where to Go in Hong Kong in July
Hong Kong Disneyland
is a must-go place for those who traveling with kids. Different theme parks provide tourists with an interesting experience. All kinds of cartoon characters will accompany tourists to start an amazing journey. Aside from various entertainment facilities, tourists can shop or eat there. Located at the western part of the
Hong Kong Island
, Victoria Peak should not be missed, either. As the highest point in Hong Kong, the Peak can be reached by bus or peak tram. When night falls, tourists standing on the peak have a panoramic view of
Victoria Harbour
. You can also visit Madame Tussauds Hong Kong there, which is located on the second floor of the
Peak Tower
on the Victoria Peak.
Top 10 Things to Do in Hong Kong
Other Tips
Sunscreen products should be worn for strong ultraviolet rays on sunny days. Or tourists can wear hats, sunglasses or bring a parasol to protect skin from sunburn. As a paradise for children, Disneyland can be easily reached by the
Disney Resort MTR Line
. Even those who go there for the first time can easily find it.
What is the temperature in Hong Kong in July?
High/Low Temperatures of Hong Kong in July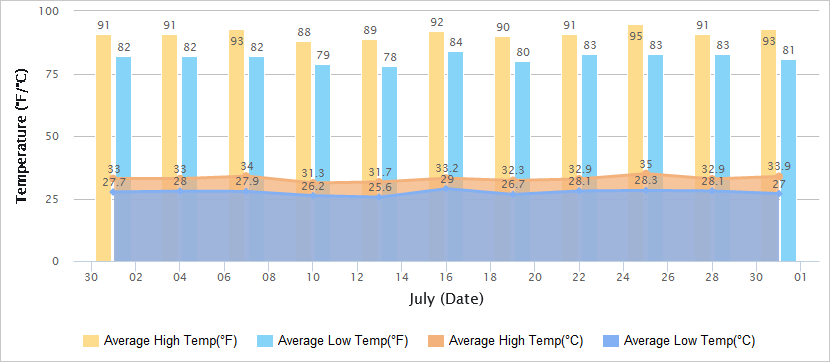 Historical Hong Kong Weather in July
Jul
Temperature
Sunrise / Sunset
Humi-
dity
(%)
High
Low
1
33.0°C / 91.4°F
27.7°C / 81.9°F

05:43

/

19:12

79
2
32.0°C / 89.6°F
26.9°C / 80.4°F

05:44

/

19:12

82
3
31.5°C / 88.7°F
27.3°C / 81.1°F

05:44

/

19:12

82
4
33.0°C / 91.4°F
28.0°C / 82.4°F

05:44

/

19:12

78
5
32.6°C / 90.7°F
25.8°C / 78.4°F

05:45

/

19:12

87
6
28.8°C / 83.8°F
24.7°C / 76.5°F

05:45

/

19:12

93
7
34.0°C / 93.2°F
27.9°C / 82.2°F

05:45

/

19:12

77
8
34.2°C / 93.6°F
28.1°C / 82.6°F

05:46

/

19:12

75
9
35.6°C / 96.1°F
26.4°C / 79.5°F

05:46

/

19:11

75
10
31.3°C / 88.3°F
26.2°C / 79.2°F

05:46

/

19:11

81
11
31.1°C / 88°F
26.1°C / 79F

05:47

/

19:11

85
12
29.0°C / 84.2°F
27.0°C / 80.6°F

05:47

/

19:11

84
13
31.7°C / 89.1°F
25.6°C / 78.1F

05:48

/

19:11

87
14
30.3°C / 86.5°F
26.4°C / 79.5°F

05:48

/

19:11

86
15
33.0°C / 84.4°F
28.6°C / 83.5F

05:48

/

19:10

81
16
33.2°C / 91.8°F
29.0°C / 84.2°F

05:49

/

19:10

79
17
33.2°C / 91.8°F
29.0°C / 84.2°F

05:49

/

19:10

78
18
32.4°C / 90.3°F
28.7°C / 83.7°F

05:50

/

19:10

74
19
32.3°C / 90.1°F
26.7°C / 80.1°F

05:50

/

19:09

79
20
31.9°C / 89.4°F
25.6°C / 78.1°F

05:50

/

19:09

82
21
33.3°C / 91.9°F
27.5°C / 81.5°F

05:51

/

19:09

76
22
32.9°C / 91.2°F
28.1°C / 82.6°F

05:51

/

19:08

76
23
32.8°C / 91°F
28.0°C / 79°F

05:52

/

19:08

77
24
34.0°C / 93.2°F
28.0°C / 82.4°F

05:52

/

19:08

72
25
35.0°C / 95°F
28.3°C / 82.9°F

05:53

/

19:07

74
26
32.0°C / 89.6°F
27.0°C / 80.6°F

05:53

/

19:07

84
27
33.4°C / 92.1°F
28.0°C / 82.4°F

05:53

/

19:06

76
28
32.9°C / 91.2°F
28.1°C / 82.6°F

05:54

/

19:06

74
29
33.7°C / 92.7°F
27.6°C / 81.7°F

05:54

/

19:05

74
30
33.5°C / 92.3°F
28.7°C / 83.7°F

05:55

/

19:05

74
31
33.9°C / 93°F
27.0°C / 80.6°F

05:55

/

19:04

74
- Last modified on Sep. 10, 2019 -