Disneyland Resort Line

Sunny Bay ↔ Disneyland
(Identification Color: pink
)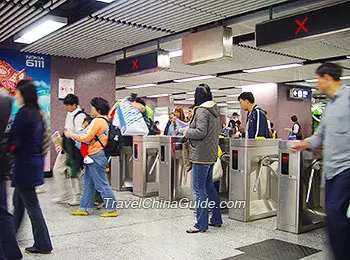 Subway Station, Hong Kong
Transfers along Disneyland Resort Line:

Sunny Bay (Transfer with
Tung Chung Line
)
See
subway maps
for reference.
Type: Heavy rail
No. of stations: 2
Length: 3.8km
Journey time: 6 minutes
Districts: Tsuen Wan
The Disneyland Resort Line connects Yam O and the
Hong Kong Disneyland
. It is the world's first metro line designed to service a Disney theme park, and also the world's first driverless heavy transit line. The line was finished in April of 2005 and put into operation on 1 August 2005 in preparation for the opening of Hong Kong Disneyland theme park. The trains of the line are designed with a Disney theme in mind. Bronze statues of well-known Disney characters, such as Mickey Mouse and Donald Duck are included inside of the trains. The windows are shaped like Mickey Mouse's head rather than squares.
This metro Line is as long as 3.8 kilometers (about 2.4 miles) and has a travel time of six minutes. There are only two stations along it: Sunny Bay and Disneyland Resort. Sunny Bay stations serves as an interchange station with the Tung Chung Line between Tsing Yi and Tung Chung stations. It is the first MTR station to have automatic platform gates installed on the edge of the platforms. The other Disneyland Resort station is located in Penny's Bay. It was built to serve the Hong Kong Disneyland and also designed with a Disney theme in mind to match the park. The platform is equipped with automatic platform gates to prevent passengers from accidentally falling onto the track. Sunny Bay station is designed in a futuristic style while Disneyland station is designed in a Victorian style with spacious open areas. All these were intended to create a feeling of time travel for passengers ridding along this line.
In line with ground level and above-ground MTR stations, Sunny Bay and Disneyland Resort Station are not air-conditioned, and rely on their open architecture to keep the temperature low.

Time for the first train and last train of Disney Resort Line:
Sunny Bay: 06:15 – 00:45
Disneyland: 06:20 - 00:40

Train Frequency:
Weekdays, Sundays and Public Holidays (mins.)
Saturdays (mins.)
Weekdays Morning Peak Hours
Weekdays Evening Peak Hours
Weekdays Non-peak Hours / Sundays and Public Holidays
Morning Peak Hours
Evening Peak Hours
Non-peak Hours
Disneyland Resort Line
4.5 to 5
4.5 to 5
10
4.5 to 5
4.5 to 5
10
Note: On Sundays and public holidays, the frequency is 4.5 to 5 minutes when Hong Kong Disneyland Resort opens in the morning and after the evening fireworks.
Stations along Disneyland Resort Line:

Sunny Bay:
Situated in reclaimed land near Yam O, the area is uninhabited and the sole exit leads to an emergency car park and transport interchange, which is solely used by residents of Discovery Bay as a bus route runs from the interchange to Discovery Bay.

Entrance/Exit:
A: Transport interchange

Transport:
Bus No. DB03R to Discovery Bay

Disneyland Resort:

Entrances/Exit:
A: Disneyland (the only one exit in Disneyland Resort Station)

Transport: (Routes R8, R33, R42 operates only during morning and evening rush hours)
Bus No. R8 to Lantau Link Toll Plaza (via Inspiration Lake)
Bus No. R33 to Tuen Mun Station Public Transport Interchange
Bus No. R42 to Tai Wai Public Transport Interchange
A ferry service is on the way. Travelers can walk from the theme park to the ferry pier in 15 minutes or so.