Tai O
Tai O is the most famous fishing village in Hong Kong. It lies on west Lantau Island in the
New Territories
, and fetures sprawling rivers, shacks built over the water, ancient temples and delicious seafood. As a town built over the water, it is also known as the 'Venice of Hong Kong'. In contrast to the hustle and bustle of Hong Kong Island, the town is overflowing with a simple and leisurely ambience.
History of Tai O
Tai O is a fishing village with a very long history. It is said that the site of salt pans could date back to the Stone Age. This place was a significant place of salt production in Hong Kong for more than one hundred years. More recently, the salt production industry has declined. An abundance of mangroves were planted on the deserted salt pans. Nowadays, about ninety percent of the mangrove species in Hong Kong can be found here. Hence, the beautiful mangroves have become a famous attraction of the town.
During the Civil War from the 1920s to the 1940s, Tai O was considered as an ideal destination for the refugees from the mainland because there is only a narrow channel between the town and
Zhuhai
on the mainland. Moreover, many people, including the Hakkas, emigrated to the town from other parts of Hong Kong. Nowadays, there are about 2,000 residents in Tai O, most of whom are Hakkas. A great fire destroyed more than 90 shacks on July 2nd, 2000. It was disaster for the local residents and tourism. The Hong Kong government worked hard to restore the fishing village based on its original appearance. In December, 2006, the Tai O was listed as one of the top ten landscapes in Hong Kong. The old lifestyle and tranquil atmosphere has attracted a great number of tourists both from home and abroad.
Shacks over the Water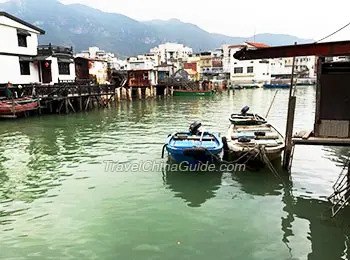 Tai O, Hong Kong
Shacks over the water are a typical Tai O scene. Most of them are built by the riverside. They are inter-connected by numerous wooden boardwalks and corridors, along with several small bridges. Every household has to pass through different corridors to reach the streets on the bank. Walking on the wooden path and being surrounded by old shacks makes tourists feel that they have returned to Hong Kong in the 1960s or 1970s. That is a very special experience!
The shacks are supported by nemerous wooden piles. Measuring about 3 meters (10 feet) high, these piles are driven into the riverbed and covered with wooden flooring. On the side facing water is a wooden stairway that leads down to the water. People can fetch water, wash clothes, or get on a boat. On the side facing land is a wood platform, where people can air fish and kelp and hang up clothes. Most of the shacks have only one storey though a few have two. The shacks built in the 1950s or 1960s have cuspate roofs. However, those constructed in the 1970s or 1980s have flat roofs.
Nowadays, an iron sheet has been added to the outside of shacks to guard against typhoons and fires. In this way, these shacks over water are much safer than before.
Ancient Temples
Tai O is characterized not only by these time-honored shacks over water, but also by the ancient temples which are scattered here and there. On the central square is the Temple of General Guan Yu, a loyal and brave person in Chinese history. It was constructed during the
Ming Dynasty
(1368-1644), and has been renovated several times. The pillars inside the temple are engraved with Chinese characters, and the roof is embellished with pottery. Tourists often come to pray in the temple for safety and happiness. Apart from the Temple of General Guan Yu, there are many other temples, such as the Temple of Heavenly Queen, and Yeung Hau Temple. The Yeung Hau Temple was built in 1699 in the
Qing Dynasty
(1644-1911) to commemorate the patriotic official Yang Liangjie of the
Southern Song Dynasty
(1127-1279). The temple is an important one in the town. Every year, people come here to hold ceremonies during the
Dragon Boat Festival
.
Dragon Boat Race
Except for those points of interest, what to do in Tai O? Join the Dragon Boat Race! As an intangible feature of national cultural heritage, the Dragon Boat Race is of inestimable social, historical, and cultural value. Held every year during the
Dragon Boat Festival
, the activity is very interesting and popular. Legend has it that a terrible plague broke out in the town hundreds of years ago. Statues of gods from various temples were put onto small boats which were attached to dragon boats. Local fishermen paddled these dragon boats, and toured along the rivers. The plague was soon driven away, and the custom has been handed down ever since. Every year during the Dragon Boat Festival, people hold sacrificial ceremonies in famous temples to pray for happiness and safety. Then, they put statues of gods into small boats, connect the boats to dragon boats, and paddle these boats along the rivers. Afterwards, family members gather together to celebrate the traditional festival.
Local Seafood
There are many restaurants in Tai O Fishing Village. Salted fish, shrimp paste, salted egg yolks, and fish maws are all local traditional products. They are not only very delicious, but also nutritious. Take the fish maws for instance. They have been known as one of the top eight delicate sea foods. Fish maws are very rich in the protein collagen, and helpful in wound healing. Thus, they are very precious and expensive.
Furthermore, there are many local delicacies, such as fried shrimp, crab and squid, steamed fish with strips of ginger, ginger milk curd, and rice with chicken and shrimp paste. These tasty delicacies are very healthy. Take ginger milk curd for example. Milk and ginger juice become solid when they are mixed and stirred. It tastes fresh and smooth. More importantly, it is good for one's stomach, and helpful in curing cough and insomnia.
| | |
| --- | --- |
| Opening Hours | All day long |
| Ticket Price | Free of charge |
How to get to Tai O

By bus:
1. Take
Tung Chung Line
, and get off at Tung Chung Station. Then, change to bus line 11 to your destination. The Bus duration is about 55 minutes and ticket fare is about HKD 12.
2. Take bus line 21 from Ngong Ping (
Po Lin Monastery
) Station, and get off at the town. The duration is about 20 minutes and ticket fare is about HKD 7.

By ferry:
1. Take a ferry to the town at the Tuen Mun Ferry Pier, and get off at the Tai O Public Pier.
2. Take a ferry to Mui Wo at the Sixth Ferry Pier in
Central
, then take bus line 1 to your destination. Ticket fare for bus line 1 is about HKD 11 and the duration is about 45mins.
Ferry Schedule

From Tuen Mun:
Time
Schedule
Fare
Fast Ferry
Slow Ferry
Mon. - Sat.
7:00 - 19:00
HKD 25
HKD 20
Sunday and Public Holidays
7:00 - 19:00
HKD 30
HKD 25
* 1. The fast ferry takes about 50mins; the slow one takes about 90mins.
2. Slow ferries are only available on weekend and hoilday mornings.

From Central:
Time
Schedule
Fare
Fast Ferry
Slow Ferry
Mon. - Sat.
00:30 -23:30
HKD 31.3
HKD 15.9 for ordinary seat; HKD 26.2 for luxury seat.
Sunday and Public Holidays
00:30 - 23:40
HKD 44.9
HKD 23.5 for ordinary seat; HKD 38.4 for luxury seat.
The duration of fast ferries is 35 to 40mins, while the duration of slow ferries is 50 to 55mins.
Nearby Attractions
1.
Lautau Island
2. Mui Wo
- Last updated on Aug. 17, 2020 -
Questions & Answers on Tai O
Asked by Christine from PHILIPPINES | Oct. 13, 2019 04:35

Reply
At what time does the last bus trip for the day leave Tai O going to Tung Chung?
Answers (1)
Answered by Chris from AUSTRALIA | Oct. 15, 2019 19:42

0

0

Reply
You can take bus 11 and it operates from 5:20 to 00:15.