China Weather in August
In most parts of China, the weather in August is hot with the average high temperature rising up to 30°C (86°F). Most areas also receive more rainfalls than other months. Some southeastern coastal areas may be hit by typhoons, bringing rainstorms. However, the not so pleasant climate does not lessen people's enthusiasm for travel and August is also one of the busiest tourism months in China, especially for students who are enjoying their summer holiday.

The coldest cities in China in August:
Harbin: 16°C (61°F), Changchun: 17°C (63°F), Yinchuan:16°C (61°F), Hohhot: 15°C (59°F)

The hottest cities in China in August:
Sanya: 31°C (88°F), Nanjing: 32°C (90 °F), Wuhan: 33°C (91 °F), Chongqing:34°C (93 °F), Xi'an: 31°C (88 °F), Urumqi: 30°C (86°F)

See more:
Summer in China – Weather & Tour Tips
Averages for China Weather in August

30°C (86°F)

20°C (68°F)

Rainfall
140 mm (5½ in)

Sunrise
05:12 ~ 05:41

Sunset
18:49 ~ 19:29
The times for sunrise and sunset are based on Beijing.
China Temperatures in August
To adapt to the hot China climate in August, put on your thin and breathable summer clothes - T-shrit, shorts, dress, skirt, short shirt, sandals…With small day-night temperature difference, usually at night you can wear the same as in the daytime. Don't forget to wear your sunhat, sunglasses, parasol and sunblock against ultraviolet ray and protect your skin. However, when you are going to climb high mountains or go to the grasslands, a thin overcoat and a light pants are also needed. What to wear in China in August mainly depends on the area or city you actually go to.


August Travel Guide - Where to Go & Tips
Tourism Rate: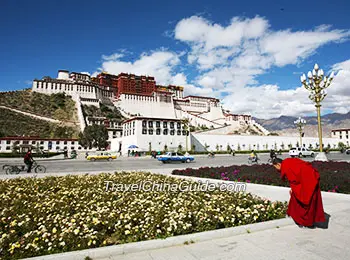 Potala Palace in Lhasa, Tibet
In such hot weather, most people prefer the cooler places or attractions. In Xinjiang, it may be hot at daytime but pretty cool at night, and you can see blooming flowers dotted in green grasslands, and have a melon and fruit feast there. It is a good time for trekking or photographing snow mountains or lakes in Tibet or
Qinghai Lake
. In Inner Mongolia, you can appreciate the sunset and stars as you sit on the grassland. Or be away from the heat in
Changbai Mountain
, Southern Gansu Province or Guizhou. The
Beer Festival
in the seaside city - Qingdao also falls in this month. Avoid going out between 12:00 and 14:00, which are be the hottest hours in a day.
China Regional Weather in August
Beijing & Northeast China
Major Destinations: Beijing, Tianjin, Harbin, Dalian, Shenyang, Inner Mongolia…
Temperatures: 20 - 30°C (68 - 86°F)

It is still hot in this region but the temperature of late August gets lower. People feel hot in daytime and you'd better avoid staying outdoors for long. At night, it turns a little cooler. Inner Mongolia with endless grassland is a good choice for travel in this month. Changbai Mountain, with much lower temperature, is also a nice destination.

Clothing: T-shirt, shorts, dress, skirt, short shirt, sandals, sneakers…

Major Destinations: Shanghai, Hangzhou, Suzhou, Nanjing, Huangshan (Yellow Mountain), Nanchang, Fujian, Shandong…
Temperatures: 25 - 32°C (77 - 90°F)

People still feel hot in East China in this month and this region gets lots of rainfall; sometimes even typhoons. On sunny days, you can seek for cool conditions in
Yellow Mountain
and some water towns. The Qingdao Beer Festival often falls in this month, when you can have fun and at the same time, enjoy a bath in the sea.
Clothing: T-shirt, shorts, dress, skirt, short shirt, sandals, sneakers…
Major Destinations: Xi'an, Chengdu, Luoyang, Zhangjiajie, Wuhan, Yangtze River…
Temperatures: 25 - 33°C (77 - 91°F)
There will be constant high temperature in this region, including Xi'an, Chengdu and Wuhan. The heavy rain or showers may work to remit the heat. You can spend a cool holiday in the
Zhangjiajie National Forest Park
or by boating on the
Yangtze River
.
Clothing: T-shirt, shorts, dress, skirt, short shirt, sandals, sneakers…
Major Destinations: Guilin, Hong Kong, Guangzhou, Yunnan, Guizhou, Hainan…
Temperatures:26 - 33°C (79 - 91°F)

South China temperature is usually at its highest in August. During this month, you can consider taking a bamboo raft on the
Li River
with relatively cooler weather and beautiful karst hill and water landscape along the way. Secondly, Yunnan and Guizhou are also nice choices with pleasant weather due to the high altitude.
Clothing: T-shrit, shorts, dress, skirt, short shirt, sandals, sneakers…
| | |
| --- | --- |
| A Miao Ethnic Village in Guizhou | Labrang Monastery in Southern Gansu |
Major Destinations: Tibet, Xinjiang, Gansu, Qinghai…
Temperatures: 11 - 23°C (52 - 73°F)

As one of the most popular summer resorts, Tibet has a lower temperature and more comfortable weather in August due to the high altitude; Shoton Festival takes place in this month. It is also a good time to travel along the ancient Silk Road to learn the ancient Chinese trade culture and see the historic sites.

Clothing: T-shirts, shirts, shorts, jeans, light coat and pants, sneakers, hat, sunglasses…

August Weather of Major Chinese Cities
August
Sunrise / Sunset
Humidity
(%)
High

Low

30°C / 86°F
21°C / 70°F
05:12 / 19:29
77
Changsha

33°C / 91°F
25°C / 77°F
05:50 / 19:18
80
Chengdu

30°C / 86°F
22°C / 72°F
06:21 / 19:59
78
Chongqing

34°C / 93°F
25°C / 77°F
06:13 / 19:47
73
Guangzhou

33°C / 91°F
25°C / 77°F
05:58 / 19:09
82
Guilin
33°C / 91°F
25°C / 77°F
06:19 / 19:24
78
Guiyang
33°C / 91°F
23°C / 73°F
06:18 / 19:41
75
Hangzhou

32°C / 90°F
25°C / 77°F
05:18 / 18:53
79
26°C / 79°F
16°C / 61°F
04:16 / 19:02
78
Hohhot

26°C / 79°F
15°C / 59°F
05:29 / 19:49
66
Hong Kong

31°C / 88°F
26°C / 79°F
05:55 / 19:04
80
Huangshan

20°C / 68°F
15°C / 59°F
05:25 / 19:01
92
Kunming

24°C / 75°F
16°C / 61°F
06:37 / 19:54
82
Lhasa

21°C / 70°F
10°C / 50°F
07:15 / 20:48
66
Lijiang

23°C / 73°F
14°C / 57°F
06:43 / 20:07
82
Luoyang

31°C / 88°F
22 °C / 72°F
05:40 / 19:33
/
Nanjing

32°C / 90°F
24°C / 75°F
05:19 / 19:02
81
Pingyao
28°C / 32°F
17°C / 63°F
05:35 / 19:39
73
Qingdao

28°C / 82°F
23°C / 73°F
05:05 / 19:04
82
Sanya

31°C / 88°F
26°C / 79°
06:19 / 19:16
/
Shanghai

32°C / 90°F
25°C / 77°F
05:11 / 18:50
81
Shenzhen

32°C / 90°F
26°C / 79°F
05:55 / 19:05
80
Suzhou

32°C / 90°F
25°C / 77°F
05:14 / 18:53
77
Tianjin
30°C / 86°F
22°C / 72°F
05:11 / 19:23
41
Urumqi

30°C / 86°F
17°C / 63°F
06:58 / 21:33
/
Wuhan

33°C / 91°F
25°C / 77°F
05:41 / 19:17
79
Xiamen

32°C / 90°F
25°C / 77°F
05:36 / 18:51
82
Xi'an

31°C / 88°F
21°C / 70°F
05:55 / 19:46
75
Zhangjiajie

33°C / 91°F
23°C / 73°F
05:59 / 19:30
76
Zhengzhou

31°C / 88°F
22°C / 72°F
05:35 / 19:28
81
- Last updated on Aug. 29, 2022 -