Xi'an Weather in August
Although August marks the beginning of autumn in solar terms according to Chinese lunar calendar, the weather is still very hot in Xi'an. There is a period called "Autumn Tiger" in early August, when it is very hot and sweltering. In an extreme heat wave, you will really feel like being in a "stove". August is still considered to be in the rainy season. Heavy rains cool down the atmosphere, but are shorter than those in July.
Despite the hot weather, August is a peak traveling month. Many students who are on their summer vacations visit Xi'an at this time.
Averages for Xi'an Weather in August
Temperature: 25°C /77°F
High Temperature: 31°C / 88°F
Low Temperature: 21°C / 70°F
Humidity: 75%
Rainfall: 71 mm
Rainy Days: 9 days
Sunrise: 05:55 ~ 06:17
Sunset: 19:12 ~ 19:46
Air Quality in August
Average AQI:44

What to Wear in Xi'an in August
Generally speaking, thin, cool and breathable clothing is needed to cope with the heat. A hat and sunglasses will protect you from the strong sunshine and ultraviolet. You need to bring a long-sleeved shirt to cope with the coolness brought about by rains.


Where to Go in Xi'an in August
Attractions where you can get away from the heat are highly recommended. One choice is the Cuihua Mountain, which is dotted with unusual rocks, spectacular caves and unique lakes. Walking in the mountain, you will feel cool and refreshed. The waterfalls are its highlights, which you shouldn't miss. Another good choice is the Zhuque National Forest Park. Its main attractions are green mountains and clean waters.
Top 10 Things to Do in Xi'an
8 Things to See in Xi'an in Summer
Eat more fruits and foods that can relieve heat, such as watermelons, green bean porridge, cucumbers, balsam pears, etc. Some attractions may be crowded during this time, so try to avoid the peak period. Avoid exposure to the sun for long periods, and make sure that some sunburn/heatstroke medicine is available whenever you go. When climbing mountains, drink plenty of water and take measures to prevent dehydration.
What is the temperature in Xi'an in August?
High/Low Temperatures of Xi'an in August
Air Quality of Xi'an in August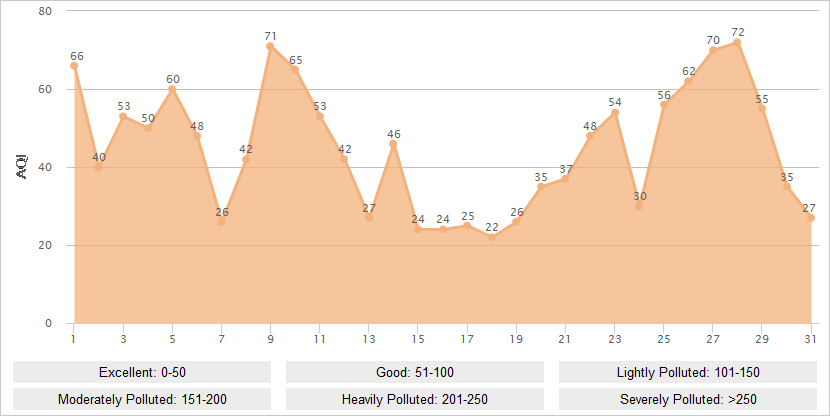 Historical Xi'an Weather in August
Aug

Temperature

Sunrise / Sunset
Humi-
dity
(%)
High
Low
1
32.5°C / 90.5°F
25.4°C / 77.7°F
05:55 / 19:46
49
2
30.1°C / 86.2°F
25.8°C / 78.4°F
05:56 / 19:45
47
3
31.6°C / 88.9°F
24.5°C / 76.1°F
05:57 / 19:44
48
4
34.3°C / 93.7°F
22.4°C / 72.3°F
05:57 / 19:43
50
5
34.8°C / 94.6°F
23.9°C / 75.0°F
05:58 / 19:42
52
6
36.2°C / 97.2°F
24.6°C / 76.3°F
05:59 / 19:41
48
7
36.0°C / 96.8°F
25.5°C / 77.9°F
06:00 / 19:40
50
8
37.9°C / 100.2°F
25.7°C / 78.3°F
06:00 / 19:39
52
9
33.0°C / 91.4°F
23.6°C / 74.5°F
06:01 / 19:38
49
10
32.8°C / 91.0°F
21.5°C / 70.7°F
06:02 / 19:37
47
11
34.1°C / 93.4°F
22.2°C / 72.0°F
06:02 / 19:36
45
12
31.1°C / 88.0°F
18.8°C / 65.8°F
06:03 / 19:35
74
13
30.1°C / 86.2°F
18.7°C / 65.7°F
06:04 / 19:34
65
14
28.4°C / 83.1°F
22.1°C / 71.8°F
06:05 / 19:33
75
15
27.3°C / 81.1°F
23.1°C / 73.6°F
06:05 / 19:32
76
16
24.0°C / 75.2°F
20.0°C / 68.0°F
06:06 / 19:31
80
17
29.1°C / 84.4°F
18.9°C / 66.0°F
06:07 / 19:29
62
18
32.6°C / 90.7°F
20.0°C / 68.0°F
06:07 / 19:28
66
19
34.6°C / 94.3°F
23.9°C / 75.0°F
06:08 / 19:27
66
20
33.2°C / 91.8°F
22.7°C / 72.9°F
06:09 / 19:26
64
21
27.5°C / 81.5°F
20.3°C / 68.5°F
06:10 / 19:25
72
22
32.7°C / 90.9°F
19.6°C / 67.3°F
06:10 / 19:23
56
23
33.6°C / 92.5°F
18.9°C / 66.0°F
06:11 / 19:22
55
24
29.6°C / 85.3°F
22.6°C / 72.7°F
06:12 / 19:21
58
25
32.9°C / 91.2°F
21.0°C / 69.8°F
06:12 / 19:20
54
26
32.1°C / 89.8°F
21.9°C / 71.4°F
06:13 / 19:18
64
27
30.8°C / 87.4°F
22.5°C / 72.5°F
06:14 / 19:17
64
28
27.5°C / 81.5°F
22.0°C / 71.6°F
06:15 / 19:16
63
29
24.2°C / 75.6°F
15.4°C / 59.7°F
06:15 / 19:14
87
30
26.9°C / 80.4°F
15.7°C / 60.3°F
06:16 / 19:13
72
31
28.9°C / 84.0°F
15.3°C / 59.5°F
06:17 / 19:12
55
- Last updated on May. 26, 2020 -