Best Time to Visit Xi'an
In general, the best time to visit Xi'an is spring from March to May and autumn from September to October, both with moderate and comfortable weather. Besides, Spring offers impressive vibrant scenery while Autumn is the season of harvest, fruit fragrance and colorful leaves.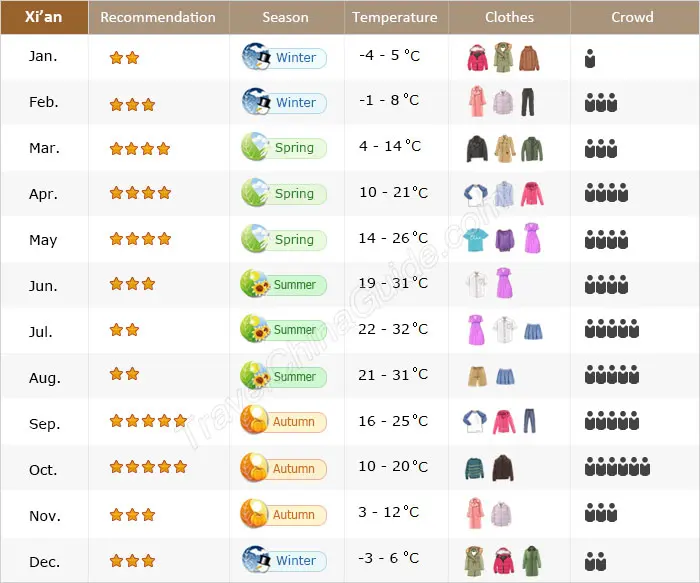 Peak Season: March to October
The peak season of Xi'an usually starts from March to October. The weather condition is relatively pleasant with sunny and breeze days. Therefore, lots of people from all over the world choose this time to visit Xi'an every year. During the peak travel season, your travel expenses would be increased a lot mainly because of the higher transportation & accommodation fees. In addition, sometimes, you need to arrive at scenic areas as early as you can in order to avoid long queues. Anyhow, in order to appreciate the most beautiful Xi'an, every effort is worthy.
Slack Season: November to February
The slack season to visit Xi'an is from November to February because the weather is cold and windy. The prices of hotels and transportation tickets are relatively cheaper in slack season. This period of time is suitable for budget travelers. Besides, if you want to tour around scenic area quietly with less tourists, visiting Xi'an from November to February is a nice choice.
See more about
How Many Days in Xi'an Needed?
Times to Avoid Travel
There are two busiest tourism seasons that you are suggested to avoid:
Chinese National Day Holiday
usually from October 1 to 7 and
Chinese New Year
in January or February. Lots of tourists flow into Xi'an during these two holidays. You need to spend much more time queueing up especially when touring around some hot attractions. Besides crowded people, you will also face the much higher travel cost than ordinary times. If you don't make the travel plan at least one month in advance, it would be extremely difficult for you to book trains tickets.
From July to August is the summer vacation of students in China, when they travel around with friends or parents, making the scenic areas busier than usual days. And the weather is quite hot in Xi'an during this time. Therefore, if possible, you are advised to change the travel plan to avoid travelling here in these two months.
See More about
Public Holidays in China
Travel to Xi'an in Four Seasons
Spring: March to May
Being the best time to visit Xi'an, spring has warm and mild weather in general. But the temperature rises and falls rapidly sometimes, and the temperature difference between day and night is large.
Average temperature: 8 - 20C (46 - 68F)
Clothes: Leather jackets, thin sweaters, T-shirts, sweatpants
Recommended tour destinations: Appreciating cheery blossoms in
Qinglong Temple
is a relaxing way to enjoy the scenery of spring. It is suggested to take the camera and capture the beauty of cherry blossoms. One day's travel to
Terracotta Army
and
Huaqing Pool
are also good choices. As one of must-sees in Xi'an, the 7,000 life-size pottery soldiers, horses, and chariots arranged in battle formations form an impressive scene, which guard the tomb of Emperor Qin Shi Huang for over 2,200 years. Riding a bicycle on
City Wall
can bring you enjoyable and interesting experience. At the same time, City Wall Park circling the Ancient City Wall is full of colorful spring flowers.

7 Things to Do in Xi'an in Spring
Summer: June to August
In summer, the weather in Xi'an is hot. As the hottest month in the whole year, July has the highest temperature at around 36C (96F) sometimes. There would have more rainy days from June to August, which makes the air more moist.
Average temperature: 25 - 27C (77 - 81F)
Clothes: Short shirts, dresses, skirts, shorts
Recommended tour destinations:
Shaanxi History Museum
is one of popular scenic areas in Xi'an allowing free entry. There are large quantities of rare relics from Chinese ancient dynasties, such as bronze mirrors, golden bowls, murals, jade wares and bronze wares.
Giant Wild Goose Pagoda
&
Ci'en Temple
are located nearby that you can just walk to. You shouldn't miss the night view and musical fountain at the North Square of Giant Wild Goose Pagoda. After the day's visit, you can head to the
Muslim Quarter
to taste delicious Xi'an snacks.

8 Things to See in Xi'an in Summer
Autumn: September to November
The weather in autumn has some similarities with the weather in spring, with the temperature difference becoming larger between day and night. As a whole, it is cool. Autumn is also regarded as the best time to visit Xi'an.
Average temperature: 7 - 20C (45 - 68F)
Clothes: Hoodies, sweaters, jackets, light pants
Recommended tour destinations:
Mt.Huashan
is famous for its natural vista of steep paths, precipitous crags and a high mountain range. When climbing the mountain, you can enjoy the spectacular autumn view with colorful leaves. Hiking at night from
Jade Spring Temple
to East Peak of Huashan and then appreciate sunrise is a popular way to tour around nowadays. When visiting Xi'an in autumn,
Tang Paradise
is also strongly recommended. It is a big cultural park with architectural characteristics of
Tang Dynasty
(618-907) and abundant natural scenery.

What to See in Xi'an in Autumn - 9 Best Destinations
Winter: December to February
Winter in Xi'an is chilly cold and dry. More windy days would occur from December to February. There would be several snow in winter, which makes the city more beautiful.
Average temperature: 0 - 7C (32 - 45F)
Clothes: Down coats, padded jackets, wool sweaters, long boots
Recommended tour destinations:
Bell Tower
and
Drum Tower
are landmarks of Xi'an. You can ring the ancient bell in the Bell Tower. What an interesting thing it is! Situated at the city center, it is surrounded by lots of upscale department stores, so called 'Bell Tower Commercial Area'. Drum Tower is known as 'sister building' of Bell Tower. Muslim Quarter is a place that gathers all Xi'an local foods and snacks. You won't feel regretted for tasting
Crumbled Unleavened Bread in Mutton Stew
, Vegetable Stew with Lamb/Beef Ball, Osmanthus Persimmon Cakes,Glutinous Rice with Jujube and other delicious foods. If you are interested in hot spring or skiing, Huaqing Pool and Cuihua Mountain Ski Resort are the best places to go.

What to Do in Xi'an in Winter - 7 Best Destinations
- Last updated on Apr. 13, 2021 -