Xi'an Weather in February
In February, the temperature in Xi'an begins to rise. The weather is warmer than January, but still very cold with an average temperature of 3

C (37

F). It sometimes snows with the temperature dropping below zero. Cloudy weather occurs very often, but there are more sunny days than in January.
The
Chinese New Year
and
Lantern Festival
, respectively falling on the 1st and 15th of the first lunar month, may fall in this month, leading you to the grandest carnival of the year. It is a good time to experience Chinese culture especially in the ancient city of Xi'an. You can experience some distinctive traditions and take part in many folk activities, such as eating
dumplings
and Yuanxiao, pasting spring scrolls, setting firecrackers, and watching lanterns.
Averages for Xi'an Weather in February
Temperature: 3°C / 37°F
High Temperature: 8°C / 46°F
Low Temperature: -1°C / 30°F
Humidity: 63%
Rainfall: 10 mm
Rainy Days: 4 days
Sunrise: 07:15 ~ 07:43
Sunset: 18:13 ~ 18:39
Air Quality in February
Average AQI:108

What to Wear in Xi'an in February
24 hours heating is provided inside buildings; the interior is so warm that you only need to wear two thin clothes. But if you go out, a down coat, gloves, a muffler and a hat are essential to keep warm. To protect your feet from frostbite thick stockings and warm shoes are musts.


Things to Do in Xi'an in February
You should not miss the festival activities during this time, such as the annual Lantern Fair held on Xi'an City Wall. From one week before the Spring Festival to about one month after, South Gate to Heping Gate section of the City Wall is decorated with bright lanterns displaying the historical and cultural features by hi-tech facilities mixed with sound, light and electricity. The best visiting time is in the evening. With all the lanterns on, you will be amazed at the miniatures of some famous attractions in China and the world. It would be cold and windy on the wall in the evening, so it is advised to wear proper clothes to keep warm.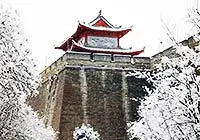 Xi'an City Wall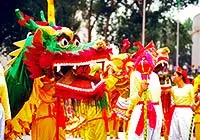 Chinese New Year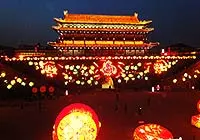 Lantern Festival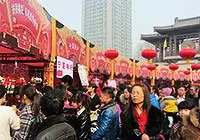 Local Temple Fair
Top 10 Things to Do in Xi'an
What to Do in Xi'an in Winter - 7 Best Destinations
Because of the winter vacation and the Spring Festival, China is going through the
Spring Festival Rush Period
this month. At the same time, Xi'an is one of the top choices for foreign tourists to experience Chinese culture during the Chinese New Year. These factors make booking flights and hotels tense. Because of the demand for flights and hotel accommodations during this period, you should make these arrangements ahead of time. Always remember to keep warm in case of catching cold, and bring with you some cold medicine.
What is the temperature in Xi'an in February?
High/Low Temperatures of Xi'an in February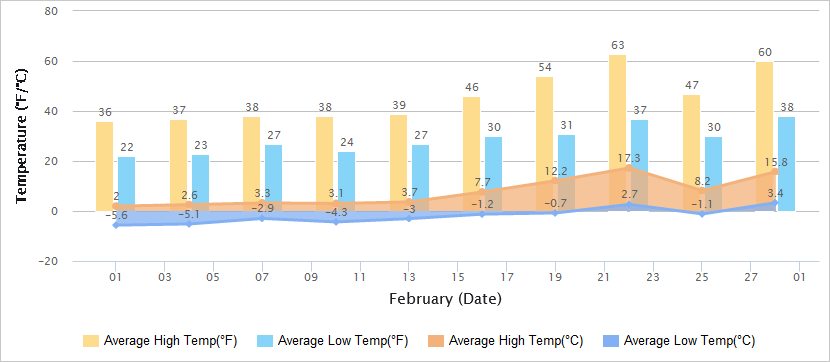 Air Quality of Xi'an in February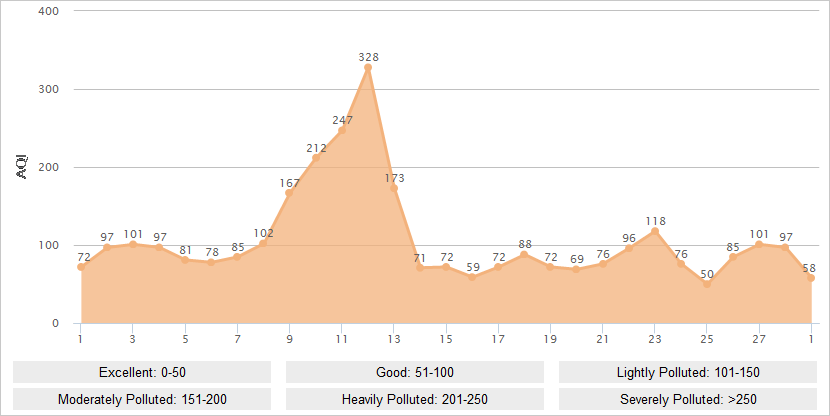 Historical Xi'an Weather in February
Feb
Temperature
Sunrise / Sunset
Humi-
dity
(%)
High
Low
1
2.0°C / 35.6°F
-5.6°C / 22.6°F
07:43 / 18:13
65
2
1.2°C / 34.2°F
-6.4°C / 20.5°F
07:42 / 18:14
65
3
1.8°C / 35.2°F
-4.9°C / 23.2°F
07:41 / 18:15
65
4
2.6°C / 36.7°F
-5.1°C / 22.8°F
07:40 / 18:16
55
5
7.0°C / 44.6°F
-6.5°C / 20.3°F
07:40 / 18:17
51
6
1.0°C / 33.8°F
-7.0°C / 19.4°F
07:39 / 18:18
59
7
3.3°C / 37.9°F
-2.9°C / 26.8°F
07:38 / 18:19
49
8
0.6°C / 33.1°F
-5.3°C / 22.5°F
07:37 / 18:20
38
9
-0.4°C / 31.3°F
-6.2°C / 20.8°F
07:36 / 18:21
51
10
3.1°C / 37.6°F
-4.3°C / 24.3°F
07:35 / 18:22
61
11
3.7°C / 38.7°F
-1.2°C / 29.8°F
07:34 / 18:23
48
12
3.1°C / 37.6°F
-2.4°C / 27.7°F
07:34 / 18:24
43
13
3.7°C / 38.7°F
-3.0°C / 26.6°F
07:33 / 18:25
53
14
6.7°C / 44.1°F
-2.8°C / 27.0°F
07:32 / 18:26
55
15
6.4°C / 43.5°F
-3.0°C / 26.6°F
07:31 / 18:27
58
16
7.7°C / 45.9°F
-1.2°C / 29.8°F
07:30 / 18:28
58
17
6.7°C / 44.1°F
1.8°C / 35.2°F
07:28 / 18:29
56
18
7.8°C / 46.0°F
0.7°C / 33.3°F
07:27 / 18:29
64
19
12.2°C / 54.0°F
-0.7°C / 30.7°F
07:26 / 18:30
66
20
10.8°C / 51.4°F
-0.4°C / 31.3°F
07:25 / 18:31
60
21
1.4°C / 34.5°F
0°C / 32°F
07:24 / 18:32
65
22
17.3°C / 63.1°F
2.7°C / 36.9°F
07:23 / 18:33
50
23
14.1°C / 57.4°F
3.8°C / 38.8°F
07:22 / 18:34
44
24
9.5°C / 49.1°F
-1.3°C / 29.7°F
07:21 / 18:35
70
25
8.2°C / 46.8°F
-1.1°C / 30.0°F
07:19 / 18:36
70
26
9.1°C / 48.4°F
3.0°C / 37.4°F
07:18 / 18:37
34
27
12.1°C / 53.8°F
-1.3°C / 29.7°F
07:17 / 18:38
39
28
15.8°C / 60.4°F
3.4°C / 38.1°F
07:16 / 18:38
34
29
17.2°C / 63.0°F
2.1°C / 35.8°F
07:15 / 18:39
43
- Last updated on Jun. 10, 2020 -