Xian Weather in October
In early October, the weather in Xian is cool and clear, and the wind is very gentle and comfortable; from middle October, the weather is becoming cold; in late October, it becomes even chilly. This month experiences a fair amount of precipitation.
It is the golden autumn month for its obvious autumn color. The sky is blue and clean and the clouds are white. Birds are flying from the north to the south. The leaves are yellow. Some are hanging on the trees, some are on the ground, and some are dancing in the wind like butterflies. Take a deep breath, and then you may feel relaxed! The National Day holiday from Oct. 1 to 7, is the so-called Golden Week and the peak travel period in China, when many tourists rush into Xian.
Data of Xian Weather in October
Average Temperature: 19

C / 66

F
Average High Temperature: 20

C / 68

F
Average Low Temperature: 10

C / 50

F
Average Humidity: 77%
Average Rainfall: 60 mm
Average Rainy Days: 10 days
Time of Sunrise: 06:39 ~ 07:03
Time of Sunset: 17:52 ~ 18:28
Air Quality in October
Average AQI:80


Clothing Advice: Long-sleeve shirts, thin coats and thick coats are all needed for the changeable weather in October. Please prepare rain wear. Always remember to bring spare clothes when you are out in case of temperature change.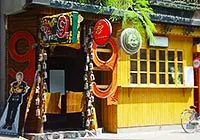 October in Xian

Travel Advice: Transportation, hotels and attractions become very busy in Xian during the golden week, you had better avoid traveling in this period. Places for enjoying beautiful fall color are strongly recommended, such as
Big Wild Goose Pagoda
. Its biggest seasonal feature is the yellow gingko trees on the square beside the pagoda, forming a golden fairyland. You can also go hiking in the mountains, such as
Huashan Mountain
,
Cuihua Mountain
and
Lishan Mountain
, where you will be amazed by the splendid autumn mountain scenery.

Other Tips: It becomes very dry in this month, so you should drink enough water and eat more fruits. Use lipstick to keep lips moist. Do not forget to bring the camera with you and shoot the wonderful autumn scenes of Xian. Wear comfortable shoes when climbing mountains.
Xian Weather in October Based on Historical Data

Date
Average
Temperature
High
Temperature
Low
Temperature
Humidity
(%)
Sunrise / Sunset
Oct. 1
17.9°C / 64.2°F
23.8°C / 74.8°F
13.8°C / 56.8°F
78
06:39 / 18:28
Oct. 2
20.4°C / 68.7°F
25.6°C / 78.1°F
17.2°C / 63.0°F
70
06:39 / 18:27
Oct. 3
19.5°C / 67.1°F
22.3°C / 72.1°F
17.2°C / 63.0°F
74
06:40 / 18:25
Oct. 4
20.6°C / 69.1°F
25.0°C / 77.0°F
15.6°C / 60.1°F
72
06:41 / 18:24
Oct. 5
20.2°C / 68.4°F
25.6°C / 78.1°F
14.6°C / 58.3°F
44
06:42 / 18:23
Oct. 6
16.4°C / 61.5°F
21.8°C / 71.2°F
11.6°C / 52.9°F
56
06:42 / 18:21
Oct. 7
13.5°C / 56.3°F
18.0°C / 64.4°F
12.3°C / 54.1°F
82
06:43 / 18:20
Oct. 8
15.0°C / 59.0°F
19.3°C / 66.7°F
12.8°C / 55.0°F
80
06:44 / 18:19
Oct. 9
14.9°C / 58.8°F
19.4°C / 66.9°F
13.0°C / 55.4°F
85
06:45 / 18:17
Oct. 10
16.3°C / 61.3°F
19.8°C / 67.6°F
13.6°C / 56.5°F
73
06:45 / 18:16
Oct. 11
15.3°C / 59.5°F
16.5°C / 61.7°F
14.6°C / 58.3°F
71
06:46 / 18:15
Oct. 12
14.0°C / 57.2°F
19.8°C / 67.6°F
10.6°C / 51.1°F
80
06:47 / 18:14
Oct. 13
16.6°C / 61.9°F
26.4°C / 79.5°F
10.7°C / 51.3°F
70
06:48 / 18:12
Oct. 14
16.0°C / 60.8°F
24.5°C / 76.1°F
10.4°C / 50.7°F
72
06:49 / 18:11
Oct. 15
15.7°C / 60.3°F
18.6°C / 65.5°F
12.7°C / 54.9°F
79
06:49 / 18:10
Oct. 16
17.7°C / 63.9°F
24.3°C / 75.7°F
13.2°C / 55.8°F
69
06:50 / 18:09
Oct. 17
15.8°C / 60.4°F
20.7°C / 69.3°F
12.9°C / 55.2°F
85
06:51 / 18:07
Oct. 18
17.7°C / 63.9°F
21.5°C / 70.7°F
15.3°C / 59.5°F
65
06:52 / 18:06
Oct. 19
14.2°C / 57.6°F
17.9°C / 64.2°F
12.8°C / 55.0°F
81
06:53 / 18:05
Oct. 20
14.8°C / 58.6°F
16.0°C / 60.8°F
13.6°C / 56.5°F
81
06:54 / 18:04
Oct. 21
16.1°C / 61.0°F
18.0°C / 64.4°F
14.9°C / 58.8°F
80
06:54 / 18:03
Oct. 22
12.9°C / 55.2°F
16.9°C / 62.4°F
10.3°C / 50.5°F
79
06:55 / 18:02
Oct. 23
10.6°C / 51.1°F
17.4°C / 63.3°F
6.8°C / 44.2°F
59
06:56 / 18:00
Oct. 24
10.5°C / 50.9°F
17.5°C / 63.5°F
6.7°C / 44.1°F
71
06:57 / 17:59
Oct. 25
11.4°C / 52.5°F
18.2°C / 64.8°F
7.6°C / 45.7°F
73
06:58 / 17:58
Oct. 26
11.3°C / 52.3°F
18.4°C / 65.1°F
6.7°C / 44.1°F
72
06:59 / 17:57
Oct. 27
11.6°C / 52.9°F
14.9°C / 58.8°F
9.2°C / 48.6°F
70
07:00 / 17:56
Oct. 28
11.4°C / 52.5°F
14.0°C / 57.2°F
10.4°C / 50.7°F
76
07:01 / 17:55
Oct. 29
13.3°C / 55.9°F
19.1°C / 66.4°F
9.5°C / 49.1°F
74
07:01 / 17:54
Oct. 30
11.8°C / 53.2°F
14.4°C / 57.9°F
9.7°C / 49.5°F
87
07:02 / 17:53
Oct. 31
11.0°C / 51.8°F
14.5°C / 58.1°F
9.1°C / 48.4°F
88
07:03 / 17:52
AQI(Air Quality Index) Graph for Xian, China (October 2016)