Xi'an Nightlife
Xi'an offers a full Nightlife package, both colorful and enjoyable. Tourists may listen to music and watch light fountain show on the Giant Wild Goose Pagoda North Square, similarly around Tang Paradise, or dine on Muslim Quarter and Yong Xing Fang. A wonderful Xi'an nightlife in bars and clubs is also enticing. Below is a recap on what to do for expats in Xi'an at night:

The prime Xi'an nightlife choice is the music and light fountain show on Giant Wild Goose Pagoda's North Square. Covering an area of some 110,000 square meters (131,560 square yards), the musical fountain is unmatched anywhere in Asia. The surging water column dances in sync with music and light and inspires awe.

Night Show Time of Musical Fountain: Every 20:00 from Monday to Friday; 18:00 and 21:00 on weekends and Chinese legal holidays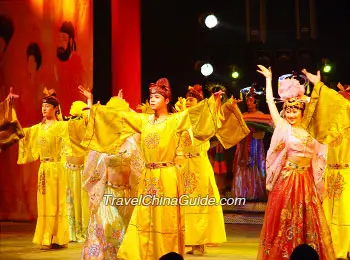 Tang Dynasty Music and Dance Show
Tang Dynasty Music and Dance Show
The Tang Dynasty Music and Dance Show at the Tang Dynasty Palace or Shaanxi Grand Opera House comes on top of the grandeur list. At each performance, over 100 artists perform in a colorful spectacle of dance and music. Here you will encounter music pieces played on ancient Chinese instruments such as the Pi Pa, a hand plucked string instrument, the Rang, Gu Zheng, Erhu, Yanquin, Dizi, Sheng, Pai Xiao, 24 tone Bronze bellchimes, Suo Na and a group of percussion instruments. You would quickly associate the musical instruments by sound they produce with their names. The musicians may play modern popular tunes too!



Book a ticket for Tang Dynasty Palace Show

How could a wonderful night in Xi'an go without delicious food? Muslim Quarter and Yong Xing Fang are foodies' paradises, especially at night. Among many kinds of food and snacks, you will certainly find something of appeal.

Moreover, don't miss the Bell Tower and Drum Tower nearby at night.

Listen to the Shaanxi Opera - Qinqiang
Spend the Xi'an Nightlife as the natives do, attend Qinqiang, the signature folk opera of the region. Listen to the Qinqiang in some theatres, such as
Yisushe: No. 282, Xiyi Road, Xincheng District
Shaanxi Song and Dance Theatre: No.161 Wenyi Road, Beilin District
Nan Qin Drama Teahouse: Middle section of Huancheng South Road, Beilin District
Tian Yuegong Qinqiang Teahouse: No. 61 Xinglong Lane, Beilin District
| | |
| --- | --- |
| Qinqiang Opera | Tang Paradise at Night |
Tang Paradise is suitable for an evening out. The palace by the lakes is magnificent with the lights. After the lights are on, the palace is resplendent and magnificent under the illumination of the lights and lakes. Walk along the lake, watch a free water curtain show, or see "Dream Back to the Tang Dynasty" show is enjoyable.

Go to Xi'an Bars and Clubs to Relax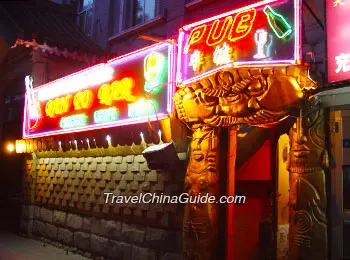 A Bar in Defu Lane
Bars and clubs are places to spend a more dynamic nightlife in Xi'an. Xi'an bars and clubs are mainly concentrated near the South Gate, the Giant Wild Goose Pagoda, Tang Paradise and more. The famous Defu Bar Street is near the South Gate. They offer local and foreign beers, cocktails, simple snacks and so on. The music styles of these bars vary from light to leisure and rock and roll. Here are some best clubs in Xi'an:

Salsa Club
Address: No. 6, West Street, Lianhu District
Open Hours: 20:00 - midnight
Diwang Club
Address: No. 231, East Street, Beilin District
Open Hours: 20:00 - midnight
Papaya Club
Address: Near Bell Tower
Open Hours: 20:00 - midnight
Vice Versa
Address: No. 9 Xianningxue Lane, near Stone Steles Forest Museum
Open Hours: 12:00 - 05:00
- Last modified on Aug. 19, 2019 -
Questions & Answers on Nightlife in Xi'an
Asked by Harry from INDIA | Aug. 16, 2019 21:28

Reply
Disco clubs with Entry fee for foreigners in Xi'an
I want to know the best disco dance bars or clubs to Enjoy in the china and there entry fees as i heard the entrance fee is free for some clubs for foreigners
Answers (1)
Answered by Felice from USA | Aug. 19, 2019 18:58

0

0

Reply
Park Qin: No.2, Shuncheng Xixiang.
Spin Night Club: 20 meters north of the intersection of Keji Road and High-tech Road 2.

Hope helpful!
Asked by Patrick from DEUTSCHLAND | Feb. 21, 2019 01:46

Reply
When does the show start at the Tang Dynasty Palace on 16th March?
Thanks.
Answers (1)
Answered by Kendall from CANADA | Feb. 21, 2019 21:48

0

0

Reply
As I know, the show time is between 20:30 and 21:40.
Asked by BARBARA1982 | Mar. 27, 2018 09:59

Reply
We'll be in Xi'an in May and would like to go to a Tang Dynasty Dinner Show.
Which one would you recommend? Or wouldn't you recommend at all?
Thanks!
Answers (4)
Answered by David from RUSSIA | Mar. 27, 2018 21:39

0

0

Reply
You are advised to Tang Dynasty Palace to enjoy the show and dinner. Have a good time!
Answered by BARBARA1982 | Mar. 28, 2018 02:15

0

0

Reply
Thank you for your advise! Is it worth to have dinner there to? Which combo would you suggest Show+Dumpling Banquet or Royal Banquet or Luxury Royal Banquet?
Should we book in advance or is it possible to get tickets at the day of the show?
Answered by David from RUSSIA | Mar. 28, 2018 20:30

0

0

Reply
I think the dumpling banquet is great! You'd better book it in advance.
Answered by BARBARA1982 | Mar. 29, 2018 01:35

0

0

Reply
Thanks!
Asked by ASHATAN1903 | Jan. 13, 2017 22:53

Reply
I will be staying at the Ibis Xi'an Heping, 59 Heping Road Bei Lin, Beilin.
How do best travel from my hotel to the Defu Lane and return? Information including times and prices would be appreciated. Thank you.
Answers (1)
Answered by Danielle from USA | Jan. 15, 2017 01:37

2

0

Reply
You may take a taxi to get there, with the fare of CNY12 or so, and it shall take around 10min. If by bus, you need to walk the hotel to Hepingmen stop and take no. 221 to get off at South Gate (Nanmen). Then you can walk to the lane within 5-8min.
Asked by Andrea from MALAYSIA | Dec. 12, 2016 21:22

Reply
Hi, I'm going to Xi'an this coming Friday.
Can recommend where are the best mall and market I can find good reasonble price adults and kids clothes, shoes and bag? Tq!
Answers (1)
Answered by Victoria from GERMANY | Dec. 13, 2016 20:48

0

0

Reply
Oh, you are advised to go to Kangfu Road Commercial Area. You can easily find several clothes and bags wholesale markets along the street. Most products there have nice quality and cheap prices. You can find many kinds of women and children clothes. :)