Defu Lane (Defu Bar Street)
Located in the Beilin District of Xi'an, Defu Lane is to the north of Xiangzimiao Street inside the South Gate of the City Wall. Once a part of the imperial palace in the
Sui
(581 – 618) and
Tang
(618 – 907) Dynasties, this is now a modern and popular hangout for night owls. Like
Sanlitun Bar Street
in Beijing and South Maoming Road in Shanghai, it is the heart of
Xi'an nightlife
.
| | |
| --- | --- |
| Defu Lane | Unique Bars along the Lane |
As an inland city and time-honored ancient capital located in central China, Xi'an retains many historical sites and traditional folklores where western culture has had a greater impact compared to other coastal cities. Since 1980s, visitors from all over the world have brought ideas to improve the city's vigor at night. Defu Lane, literally meaning virtue and fortune, is 272 meters long (297 yards) and has a bend in the middle, which is fairly unique in Xi'an as a majority of roads are straight. It was once a dark and narrow street unknown to the public, until it was transformed in 1995 into the bar street today. With the combination of ancient oriental culture and modern western styles, it has a tea-house called 'Chrysanthemum in Blossom' and bars with western names such as 'Flander' and 'George'. It has become the most exotic and exciting place in Xi'an.

Walking from Fenxiang, you can enter Defu Lane from the north passing under a stone archway with the Chinese name of the lane engraved upon it. As you continue down, the blue stone flagging underfoot, you can't help but notice how historical and modern architecture collide. The buildings all have antique style in pavilion shape, standing only two to three stories high. They have beautiful and unique doors and windows. At night, hundreds of neon and twinkling lights bring everything to life. At the southern end near Han Xiangzi Temple (Xiangzimiao), there is another traditional stone archway inscribed with four Chinese characters 'De Fu Tian Di', describing the special and tasteful niche that Defu Lane provides.
Fubaoge Tea-house
Specialities: Fubaoge is a first-class tea-house in Defu Lane. It is a five-story classical Chinese building. The inside is decorated with simple but distinctive traditional Chinese style. It is a place not only for tea and chat, but also for entertainment and is famous for the performance of cross talk (a comedy act involving two people)
Location: No. 66, Defu Lane (near Fenxiang Lane)
Average cost per person: CNY 50
Old Henry's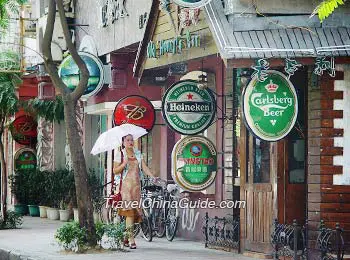 Old Henry's
Specialities: This is not a large establishment but is very popular in Defu Lane. The great joy in this bar is the wonderful band performances.
Average cost per person: CNY 85
Times
Specialities: A very quiet bar, ideal for relaxing and chatting. The coffee and Chinese teas are all good.
Opening Hours: From 8:00 am to 4:00 am of the next dawn
Average cost per person: CNY 35
After having a good rest in Defu Lane, you can visit the ancient
City Wall
of Xi'an from the South Gate. The
Ancient Cultural Street of Shuyuanmen
on the east inside the South Gate is recommended if you are interested in traditional Chinese artworks and souvenirs. The
Bell Tower
and
Drum Tower
in the center of the city are also within walking distance of about 600 meters (656 yards).
How to Get the Defu Lane:

By Bus:
1. Take bus No. 184, 501, 706 or 707 and get off at Fenxiang Station. Then walk towards west for around 2 minutes.
2. Take bus No. 11, 12, 46, 221, 600 or 603 and get off at Nanmen Li Station. Then walk towards west for around 3 minutes.

By Metro:
Take
Metro Line 2
and get off at Yongningmen (Yongning Gate) Station. Get out from Exit A2. Walk towards north for around 7 minutes.
Xi'an Bus / Metro Search
| | |
| --- | --- |
| Admission Fee | Free |
| Opening Hours | Whole day |
- Last updated on Apr. 12, 2021 -