Top Facts You Should Know about Xi'an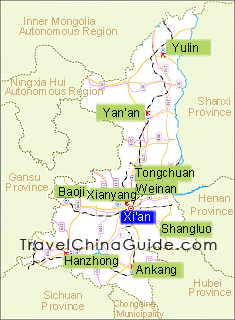 English Name: Xi'an, Hsian, Sian
Chinese Name: 西安 (xī ān)
History: over 3,000 years long
Used Name: Chang'an, Haojing, Daxing, Xijing
Location: Guanzhong Plain, Shaanxi Province, Northwest China (34°16′N, 108°54′E)
Postal Code: 710000 - 710090
Area Code: 029


Read more: Where is Xi'an China


Xi'an was the capital of 13 dynasties.
Historically known as Chang'an, Xi'an was home to the ruling house of 13 dynasties, including the Qin (221 BC - 207 BC), Han (206 BC - 220 AD), Sui (581 AD - 618 AD) and Tang (618AD - 908AD) Dynasties.

Xi'an has plenty of historic relics.
Emperor Qin Shi Huang, who set up the first feudal dynasty in Xi'an, left the Terracotta Army which is one of the world's most extraordinary archeological finds. During the Tang Dynasty, Buddhist culture prevailed in Central China, and the Giant Wild Goose Pagoda and Small Wild Goose Pagoda were built to perserve the Buddhist scriptures. In the Ming Dynasty, the City Wall, Bell Tower, and Drum Tower were constructed, which presently attract visits by hundreds of thousands of tourists from home and abroad; these tourists make Xi'an one of the top cities to visit in China.
| | |
| --- | --- |
| Terracotta Warriors and Horses | Bell Tower |
Xi'an is the starting point of the Silk Road.
The Silk Road is the world renown ancient trade route that originated during the Western Han Dynasty (1046 BC - 771 BC), stretching from Chang'an (now Xi'an) all the way to the Mediterranean. Evidence of the flourishing trade along the Silk Road can be found in the Shaanxi History Museum and Famen Temple. Another reminder of the enduring legacy of the Silk Road is the Great Mosque, presenting a strong Muslim minority, whose faith remain unchanged although their architectural styles mix Chinese and Western tradition.

Xi'an is a paradise for foodies.
Because of its location in the center of China, Shaanxi cuisine combines various ingredients and cooking skills from both north and south China. Touists can not only taste Crumbled Flatbread in Mutton Stew (Yangrou Paomo), Rou Jia Mo and Liangpi but also eat Gourd-shaped Chicken, Spicy Pig's Kidneys, Quick-boiled Pig's Tripe with Duck, Fish with White Soup and other dishes. Biang Biang Noodles, one of the most representative dishes of Xi'an is worth trying. Muslim Quarter and Yong Xing Fang food streets are popular among tourists.

Xi'an is home to traditional handicrafts and replicas.
Xi'an is famous for excellent reproductions of arts and crafts of the Qin and Tang dynasties, such as Terracotta Warriors Replicas, Tang Tri-color Porcelain Replicas, Calligraphy Rubbings, etc. Beyond that, visitors can also find embroidery, artistic porcelain ware, jade, wood carvings, paper cuttings, and paintings by the farmers of Huxian County which feature strong Chinese traditions and local characteristics. Shuyuanmen Ancient Cultural Street and Moslem Quarter are very popular palces to buy handicrafts and replicas as souvenirs .

Xi'an has a convenient transportation system.
Xi'an Xianyang International Airport, the largest airport in northwest China, serves the domestic and international flights to and from Beijing, Shanghai, Guangzhou, Shenzhen, Hong Kong, Taipei, Tokyo, London, Paris, Bangkok, Singapore, Sydney, etc. In addition, it is a large hub along China's vast railway network and from here passengers can reach almost every big city and tourism venue in China. Within the city proper, metro lines connect attractions such as the Bell Tower, Drum Tower, City Wall, Giant Wild Goose Pagoda and transportation hubs like North Railway Station.

Xi'an has distinct seasonal weather. Because it is torrid in summer and dry and chiliy in winter, best times to visit is April to June in spring and Septemeber to October in autumn.

Recommended Tours:
Heritages of Ancient City: 2 Days to Provincial History Museum, City Wall, Terracotta Warriors...
Historical Xi'an: 3 Days Luxury visit of the city
Golden Triangle: 8 Days of Beijing and Shanghai


More Xi'an Tours
- Last updated on Jan. 10, 2023 -
Questions & Answers on Facts of Xi'an
Asked by Jacob from JORDAN | Jan. 10, 2023 09:26

Reply
Is Xi'an a nice place cause I wanna go there
Answers (1)
Answered by Hone | Jan. 10, 2023 17:54

0

0

Reply
It is a city with a long history and once being the capital of ancient China for 13 times, so it houses many historical relics.It is also one of the richest and the most modern cities in western China.
Asked by wattana S. from THAILAND | Jan. 13, 2016 02:13

Reply
Our family will go visit Xi'an for 6 days, please suggest nearby place for 1-2 Day trip by train.
Thank you.
Answers (1)
Answered by Li Ming from CHINA | Jan. 14, 2016 18:38

3

1

Reply
You may go to Mount Huashan in Weinan for a 1-2 day trip by train. It is a beautiful mountain, with precipitous cliffs and amazing sunrise.

Or, you may go to Luoyang, Henan Province by high speed train. You can see Longmen Grottoes, White Horse Temple, and Shaolin Temple. There are bullet trains shuttling between the two cities:)
Asked by Richard Chen from USA | Apr. 18, 2013 01:43

Reply
to visit the terracotta soldiers in Xi'an, is the viewing areas accessible by mobility scooters?
I am confined to travel on my scooter, but want to know if it is possible to go see the terracotta soldiers in Xi'an on it or not.
Answers (1)
Answered by Fanny from SINGAPORE | Apr. 18, 2013 03:00

4

2

Reply
I remember the viewing area is accessible for scooters to move. However, generally it is forbidden to take that in and all the visitors have to walk and visit.

Anyway, if you have a special condition, just negotiate with the staff. Maybe they will allow you to do.
Asked by Mr.KWAKU from GHANA | Feb. 19, 2011 13:40

Reply
I am pleased to request for booking for 14 days in Xi'an City Hotel.
Answers (1)
Answered by Mr. Charles | Feb. 19, 2011 20:02

5

3

Reply
You can try to dial 029-87219988 and book the rooms of this hotel. Good luck!