Xi'an Xianyang International Airport
Airport Code: XIY
Location:
Located to the northeast of Xianyang city, Xi'an Xianyang International Airport is 47km (29 miles) to the northwest of Xi'an city center.
Brief Intro
The construction of Xi'an Airport symbolizes the rapid development of the aviation industry in China. It covers an area of 450,000 square meters. Its spacious concourse provides a refreshing openness not normally found in other international airports, and creates an enjoyable trip right from the beginning.
At present, it operates 205 air routes, including 182 domestic routes and 23 international ones. Flights leaving from the airport connect many domestic cities, including Beijing, Shanghai, Guangzhou, Guilin, Lijiang, Shenzhen, Nanjing, Hangzhou, Yiwu, Anqing, Tangshan and Yichun. International flights reach Hong Kong, Taipei, Seoul, Phuket, Osaka, Chiengmai, Okinawa, Singapore, Kuala Lumpur, Maldives, Helsinki, Moscow, and Paris.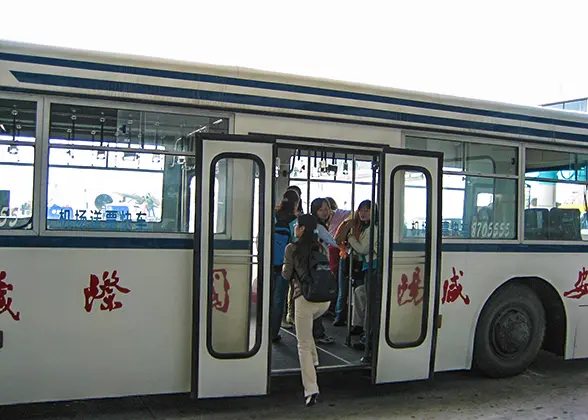 Xiamen Air operates a daily flight between Singapore and Xi'an via Hangzhou, departing from Xi'an at 17:05. A flight leaves for Moscow at 13:30 every Tuesday and Thursday and returns at 20:10 local time every Wednesday and Friday. There is a flight to Kuala Lumpur at 00:15 on Tuesday, Thursday and Saturday, returning on Monday, Wednesday and Friday. A flight heads for Paris at 01:40 every Thursday and Sunday.

Passport holders of 51 countries and regions are granted a
72-Hour Visa-Free Transit
when taking an international transfer via Xianyang Airport.

Xi'an Flights
:
Beijing - Xi'an Flights

Xi'an Airport Shuttle Bus
: 15 Lines to Downtown Area & 2 Lines to Xianyang

How to Get to Terracotta Army from Xi'an Airport: Taking airport shuttle bus or taxi to Xi'an Railway Station first. The duration is about one hour. Then find bus no. tourist 5 (306) to Terracotta Army parking on the east square of the train station. Or take airport shuttle bus at a cost of CNY31.5/person to reach Lintong Bus Station to get on bus no. Lintong 101 to arrive at the Terracotta Warriors and Horses.

Xianyang Airport Transfer
: Hassle-free pick-up and see-off with clean cars and professional drivers
Terminals
T1 has 4 security check channels, 8 check-in counters, 3 baggage carousels and 3 boarding gates.
Airlines: Spring Airlines (9C), 9 Air Company Limited (AQ)

T2 operates the most domestic flights departing and arriving at Xi'an. It consists of the Departure Hall on the 2nd Floor, the Arrival Hall on the 1st Floor, the Interlayer with eight arrival gates as well as the underground floor.
Airlines: JoyAir (JR), China Eastern Airlines (MU), Air China (CA), Hainan Airlines (HU), Capital Airlines (JD), Shenzhen Airlines (ZH), Lucky Air (8L), Tianjin Airlines (GS), China West Air (PN), Kunming Airlines (KY), Shandong Airlines (SC), China Airlines (CI), China Postal Airlines (8Y), Fuzhou Airlines (FU), Urumqi Air (UQ), Air Asia (FD),

T3 operates some domestic and all international flights. People leaving for Hong Kong, Macau and Taiwan as well as other international areas should check in at this terminal. In the near future, a subway line could transfer passengers from Xi'an North Railway Station to T3 directly.
Airlines: China Southern Airlines (CZ), Sichuan Airlines (3U), China Eastern Airlines (MU), Shanghai Airlines (FM), OKAir (BK), Chengdu Airlines (EU), Juneyao Airlines (HO), China United Airlines (KN), Hebei Airlines (NS), Ruilin Airlines (DR), LoongAir (GJ), China Express Airlines (G5), Xiamen Airlines (MF), Jiangxi Air (RY)



Tips:
1. The international check-in counters will be closed 40~60 minutes before airplane take off. Passengers are suggested to arrive at the airport 2.5~3 hours in advance.
2. The domestic check-in counters close 40 minutes before the airplane's scheduled departure time and it is suggested to arrive at the airport 1.5~2 hours in advance.
3. There is free cross-terminal shuttle bus running between T2 and T3. It runs every 15 minutes from 08:30 to 20:00 and runs about 5 minutes between terminals. Passengers can get on the bus at Boarding Gate 17 in T2; or beside the Transfering Hall in T3.
Facilities

Baggage Trolley: Free trolleys can be found at each terminal and parking lot.


Pay Phone: Pay phones are obstacle-free also.
IC cards sold for pay phones: Gate 4 of Departure Hall in T2


Drinking: Self-service drinking fountains are set at passenger areas in the terminals.


Obstacle-free Facilities: low positioned phone, obstacle-free elevator, obstacle-free washing room, obstacle-free access


ATMs: Bank of Communications (BCM), Agricultural Bank of China (ABC), China Construction Bank (CCB), Postal Savings Bank of China (PSBC)


Nursery Room: in both T2 and T3


Smoking Room: Smoking is only allowed at the smoking room at each departure hall and arrival hall in the terminals.


Mobile Charging: Free mobile charging can be found at the Departure Hall and Arrival Hall at each terminal.
| | |
| --- | --- |
| Departure Hall | Check-In Counters |
Services

Ticket Office
Service: tickets, insurance, standby tickets, seats schedule, boarding, air express
Operating Hour: 06:30 ~ the last flight departure
Location: Counter 24 on 2F in T2; M & K Areas on 2F in T3



Currency Exchange
Operating Hour: 07:30~21:30
Location: Customs exit on 1F in T2; Gate 324 on 2F in T3
Service rate: CNY58 for once



Hourly Hotel: Standard Room and Luxury Suite
Operating Hour: 08:00~23:00
Location: First Base Floor in T2; 2F in T3
Tel No.: 86-029-88796242



Clinic
Service: consultation, medicine, and simple disease aid
Operating Hour: 06:00~22:00
Location: Gate 1 of the Departure Hall in T2; beside VIP Security Check, Departure Hall on 2F in T3



Luggage Packing
Operating Hour: 06:00~the last flight
Location: entrance of the Departure Hall in T2; Departure Hall on 2F in T3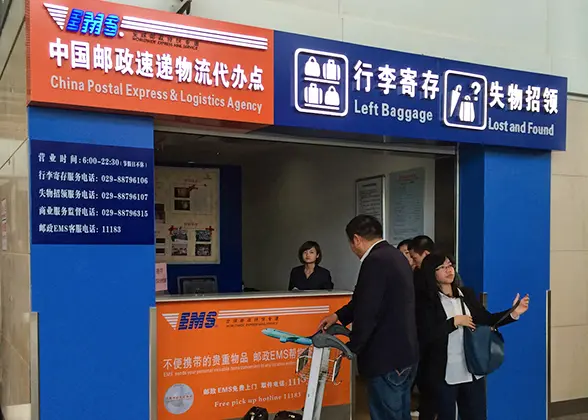 Post Service, Left
Baggage, Lost & Found

Luggage Storage
Operating Hour: 06:00~the last flight
Location: Departure Hall and Arrival Hall in T2; beside VIP Security Check, Departure Hall on 2F in T3



Luggage Inquiry
Operating Hour: 06:30~the last flight
Location: at the Arrival Hall on 1F in T2; 1F in T3
Tel No.: China Eastern Airlines: 86-029—88797392; Hainan Airlines: 86-029—88797804, 86-029—88797447; Other Airlines: 86-029—88796184, 86-029—88796185



Lost and Found
Operating Hour: 06:00~22:00
Location: Departure Hall and Arrival Hall in T2; beside VIP Security Check, Departure Hall on 2F in T3
Tel No.: 86-029-88796107 & 86-029-88796106



WIFI
Free wifi service is available. Passengers need to have a China mobile phone number to receive the password for linking to the Internet.



VIP Service
Service: pickup service reservation, VIP hall service, boarding, VIP security access, boarding guide, named cooperation, conference support
Operating Hour: 24 hours
Location: VIP Hall
Tel No: 86-029-88798553



Police
Service: provisional boarding prove and emergency dealing
Operating Hour: 06:00 ~ the last flight
Location: Departure Hall in T2; beside VIP Security Check, Departure Hall on 2F in T3
Tel No: 86-029-88796219



Sleepbox
The airport has set 20 sleepboxes for passengers in T3 and the corridor connecting T2 and T3. The sleepbox, with a hight of 2.7 meters (8.9 feet) and an area of 3 sq meters (32 sq. feet), looks like a tiny wooden house. Although being small in size, a sleepbox offers a temporary separated space for passengers to rest, with two single beds, a television, a computer and wifi, a lamp, a coffer and a dresser etc. Now one sleepbox costs CNY 30 for half an hour, CNY 60 per hour for the first two hours, and CNY 40 per hour since the third hour.



Restaurants
Buffet Restaurant: Located on the east part of 2F in T2, it can seat 350 people for dining and offers food to passengers inconvenienced by flight delay.
Silk Road Restaurant: Located on 1F of the Waiting Hall in T2, this restaurant provides service for tourist groups(s) from home and aboard. Banquet service is also available. The main foods are traditional Chinese cuisines, as well as local snacks, coffee and tea.
Cafeteria: This cafeteria offers food service to independent tourist. The menu includes Chinese dishes, western food, snacks and fruit. It is located in the Waiting Hall on 2F in T2.



Airport Hotline: 86-029-96788
- Last modified on Oct. 22, 2018 -
Questions & Answers on Xian Xianyang International Airport
Asked by Robert from FRANCE | Oct. 18, 2018 11:02

Reply
Is there a bank at the Xi'an Xianyang Airport?
Answers (1)
Answered by Charles from USA | Oct. 18, 2018 23:39

0

0

Reply
There are many banks ATM at the airport, such as the Agricultural Bank of China and China Construction Bank on the F1.
Asked by Gunashekar from INDIA | Oct. 14, 2018 22:51

Reply
Is there a shower facility at Terminal 3 of Xian Xianyang Airport?
Answers (1)
Answered by Gavin from USA | Oct. 15, 2018 23:57

0

0

Reply
As I know, there is no special shower facility at T3. You need to find a hotel nearby the terminal building.
Asked by Ariunbileg from ERDENEBILEG | Jun. 09, 2018 18:42

Reply
Is there any transit hall directly from T3 to T2 at Xianyang Airport?
My flight (Hainan airlines) from Sydney arrives in T3 but connecting flight (Hainan airlines) to Beijing is in T2. I have my boarding pass for flight from XIY to PEK and baggage has checked thru till PEK form SYD. I have only 2 hours connection at XYI. Please help me the shortest way to transfer to my next flight flight in T2.
Answers (1)
Answered by Keira from UNITED KINGDOM | Jun. 10, 2018 22:29

0

0

Reply
There is a special passage that links T2 and T3. The distance is around 500 meters. It takes around 15 mins by walking and 3 mins by taking the terminal shuttle bus.
Asked by Yeen from MALAYSIA | Mar. 31, 2018 11:07

Reply
Hi I am planning my trip to Xi'an and my flight on Air Asia arrive at Xianyang Airport at 1245am.
need advise on public transport which is available before making hotel reservation.
Answers (5)
Answered by Rosse from FRANCE | Apr. 01, 2018 22:11

0

0

Reply
The shuttle bus –Nanshaomen line to downtown Xi'an is available till the last flight, and you can use it.
Answered by Yeen from MALAYSIA | Apr. 09, 2018 11:00

0

0

Reply
Many thanks for the advise. Please do share the website to check out the shuttle bus schedule.
Answered by Mike from NEW ZEALAND | Apr. 09, 2018 20:30

0

0

Reply
This page has listed a link above of the shuttle bus, you can have a look!
Answered by Yati from MALAYSIA | Sep. 27, 2018 20:26

0

0

Reply
Downtown Xi'an close to Bell Tower area or where?
Answered by Vida from USA | Sep. 28, 2018 17:51

0

0

Reply
Yes, it is close to Bell Tower.
Asked by Ahmed from KSA | Mar. 15, 2018 11:30

Reply
Hi. I am planning to visit Xian next week.
Could you please suggest me the main tour attractions points? (Must Visit Points) and I would appreciate if you suggest me some economic hostels near to main attractions and easily accessible to airport? I will reach the airport around 2 to 3am. So do you suggest me to take cab and reach hostel or should i wait for 3-4 hours and leave airport early morning?
after one night stay i have to catch a train. so how far is the railway station from city center?

Answers (3)
Answered by Bryce from DENMARK | Mar. 15, 2018 21:30

1

0

Reply
Hi, Ahmed! I'd like to give you some advice!

Attractions: you can't miss Terracotta Army, City Wall, Bell Tower, Muslim Quarter, and Big Wild Goose Pagoda!

Hotels: you can live near Bell Tower, where the transportation is convenient. Hotels like Jinjiang Inn, Hanting Hotel and Home Inn are highly recommended!

To the airport, you are suggested to set out the night before, since no bus is available in the early morning and the taxi may be hard to catch. Oh, you can take a taxi to Nanshaomen station and catch a shuttle bus to the airport. The last bus leaves at 20:00. After arrival, you can stay in the Terminal Hotel in T2 and wait for your flight.

The normal train station is not far, and you can take bus 6, 205, 603, 608, 611 straight to the station; the high-speed train station can be reached by subway line 2.
Answered by Ahmed from KSA | Mar. 17, 2018 12:35

0

0

Reply
Thank you so much for detailed information :)
Answered by Mark from SWITZERLAND | Oct. 22, 2018 00:43

0

0

Reply
Just beware that you can never know in advance if Hanting / Home Inn hotels are actually going to let you check-in (that 'we don't accept foreigners' thing).