Xi'an Xianyang International Airport
Xi'an Airport Code: XIY

Location: In the northeast of Xianyang city, 50km (30 miles) to the northwest of Xi'an city center.

Brief Intro: The XIY airport with three terminals operates over 250 air routes. Flights leaving from the airport connect many domestic cities, including Beijing, Shanghai, Guangzhou, Guilin, Lijiang, Shenzhen, Nanjing, Hangzhou, Sanya, Shenyang, Yangzhou, Chongqing.



Xi'an Airport Maps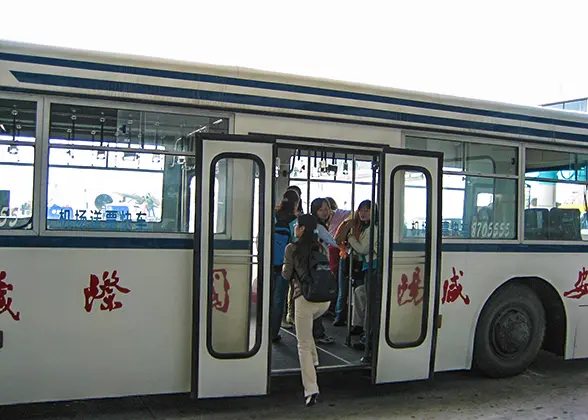 Passenger Guide
1. Time for Taking Flights
International Flight: The check-in counters will be closed 40~60 minutes before departures. Passengers are suggested to arrive at the airport 2.5~3 hours in advance.
Domestic Flight: The check-in counters close 40 minutes before the airplane's scheduled departure time and it is suggested to arrive at the airport 1.5~2 hours in advance.
Transfer Time:
Domestic - International: 100min
Transfer to the same airlines and terminal building: 50min
Transfer to the terminal but different airlines: 60min
Transfer to other terminals: 80min

2. Xi'an Airport Transport

Xi'an Airport Shuttle Bus: 9 Lines to Downtown Area & 16 Lines to Nearby Districts & Cities



Metro Line 14: Operating between Xi'an Airport and Heshao and running through North Railway Station, it only takes around 40 mins with the fare of CNY2-9.



How to Travel From Xi'an Airport to City Center: 3 Ways including Metro, Shuttle Bus and Taxi.

How to Get to Terracotta Army from Xi'an Airport:
1. Metro + City Bus: 2h42min; CNY 14
Take line 14 to Xi'an North Railway Station→ Transfer to Line 2 to Beidajie→ Transfer to line 1 to Fangzhicheng → Transfer to line 9 to Huqing Pool → Walk for 200 meters (219 yards) to take Lintong Tourism Line 613 to the destination
2. Airport Shuttle Bus + City Bus: 5h; CNY 29
Take Airport Shuttle Bus Airport – Xi'an Railway Station Line and get off at Xi'an Railway Station → Take Bus Line 42 to Fangzhicheng Transportation Hub → Take Tourism Line 5 or 306 to Terracotta Warriors bus station → Walk for 650 meters (710 yards) to get to the famous site

3. Transport between Terminals
There is free cross-terminal shuttle bus running between T2 and T3. It runs every 15 minutes from 08:30 to 20:00 and runs about 5 minutes between terminals. Passengers can get on the bus at Boarding Gate 17 in T2 or beside the Transfering Hall in T3.

4. Visa-free Policy
Passport holders of 53 countries and regions are granted a 144-hour visa-free transit in Xi'an when taking an international transfer via Xianyang Airport since Dec. 1, 2019.

T1 for Domestic Flights
Closed at present.

T2 for Domestic Flights
Airlines: Hainan Airlines (HU), Tianjin Airlines (GS), Capital Airlines (JD), China West Air (PN), Lucky Air (8L), GX Airlines (GX), Fuzhou Airlines (FU), Urumqi Air (UQ), Shenzhen Airlines (ZH), Air Changan (9H), Air Guilin (GT), Shandong Airlines (SC), Kunming Airlines (KY), JoyAir (JR), AirChina (CA), Tibet Airlines (TV), Qingdao Airlines (QW), Spring Airline (9C), 9Air (AQ) ...

T3 for Domestic and International Flights
Airlines: China Southern Airlines (CZ), Sichuan Airlines (3U), China Eastern Airlines (MU), Shanghai Airlines (FM), OKAir (BK), Chengdu Airlines (EU), Juneyao Airlines (HO), China United Airlines (KN), Hebei Airlines (NS), Ruilin Airlines (DR), LoongAir (GJ), Xiamen Airlines (MF), Jiangxi Air (RY) ...

Facilities

Baggage Trolley: Free trolleys can be found at each terminal and parking lot.



Pay Phone: Pay phones are obstacle-free also.

Drinking: Self-service drinking fountains are set at passenger areas in the terminals.

Obstacle-free Facilities: low-positioned phone, obstacle-free elevator, obstacle-free washing room, obstacle-free access.

ATMs: Bank of Communications (BCM), Agricultural Bank of China (ABC), China Construction Bank (CCB), Postal Savings Bank of China (PSBC).

Nursery Room: in both T2 and T3.

Smoking Room: Smoking is only allowed in the smoking room at each departure hall and arrival hall in the terminals.

Mobile Charging: Free mobile charging can be found at the Departure Hall and Arrival Hall at each terminal.
| | |
| --- | --- |
| Departure Hall | Check-In Counters |
Services

Ticket Office
Service: tickets, insurance, standby tickets, seat schedule, boarding, air express
Operating Hour: 06:30 ~ the last flight departure
Location: Counter 30 on 2F in T2; M Area on 2F in T3

Currency Exchange
Operating Hour:
T2: 8:30-21:30
T3: 6:00-21:30
Location: Baggage carousels, Arrival Hall in T2; Gate 322, International Departure Hall in T3

Clinic
Service: consultation, medicine, and simple disease aid
Location: Gate 224 of the Departure Hall in T2; Beside VIP Security Check, Departure Hall on 2F in T3
Tel No.: 86-029-88798591

Luggage Packing
Operating Hour: 06:00~the last flight
Location: entrance of the Departure Hall in T2; Departure Hall on 2F in T3

Luggage Storage
Location: Departure Hall in T2&T3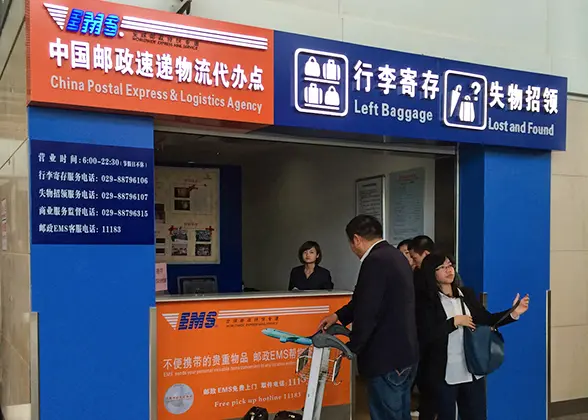 Post Service, Left
Baggage, Lost & Found

Lost and Found
Operating Hour: 9:30~18:00 (Mon. - Fri.)
Location: Departure Hall in T2&T3
Tel No.: 86-029-88796107 & 86-029-88796675



WIFI
Free wifi service is available. Passengers need to have a China mobile phone number to receive the password for linking to the Internet.



VIP Service
Service: pickup service reservation, VIP hall service, boarding, VIP security access, boarding guide, named cooperation, conference support, first-class lounge
Operating Hour: 6:30-22:30
Location: VIP Hall
Tel No: 86-029-88796666



Police
Service: provisional boarding prove and emergency dealing
Location: Departure Hall in T2; beside VIP Security Check, Departure Hall on 2F in T3
Tel No: 86-029-88796219; 86-029-88790754



Restaurants
Special shaanxi snacks and dishes, western food, Sichuan food, coffee and milk tea are offered in the departure hall of T2 and T3, opening from 6:00 to the last flight.



Airport Hotline: 86-029-96788
- Last updated on Aug. 07, 2023 by Gabby Li -
Questions & Answers on Xi'an Xianyang International Airport
Asked by Sam from SWITZERLAND | Aug. 06, 2023 03:39

Reply
Is it possible to buy the Xi'an Metro three-day Pass at the Xi'an XIY airport ?
Answers (1)
Answered by Andy | Aug. 07, 2023 18:18

0

0

Reply
I'm sorry but this is not available to purchase at the metro station in the airport. However, you can buy it at any other metro station except stations of Line 14 from Airport West to Weihe South and Line 9.
Asked by Caspar from NETHERLANDS | Jun. 17, 2023 09:33

Reply
Mobile telecom company in Xi'an airport
Is there a Mobile Telecom company where you can buy SIM cards?
Answers (1)
Answered by Bella | Jun. 18, 2023 23:17

0

0

Reply
I'm afraid no. But there is free Wifi. You may use Wifi there and then buy a sim card after going to downtown.
Asked by Elena from RUSSIA | Jun. 16, 2023 21:26

Reply
Duty free shopping in Xi'an airport
Is there Victoria secret and Michael Kors in duty free?
And which shops are there in duty free?
Answers (1)
Answered by Bella | Jun. 18, 2023 20:43

0

0

Reply
If I remember right, there is no Victoria secret and Michael Kors there. According to my memories, the duty-free shop mainly sells cosmetics of big brands.
Asked by Veronica from UNITED KINGDOM | Jan. 21, 2020 20:32

Reply
T2 to T3 at Xi'an Xianyang Airport
Hey!
I'm coming from Hangzhou at 13:55 at T2 and at 16:05 I have to depart from T3 to London. How to get fast from T2 to T3?
Answers (1)
Answered by Fenny from USA | Feb. 01, 2020 02:29

0

0

Reply
Don't worry. The distance is not far. Just walk from T2 to T3. It takes around 10 mins on the way.
Asked by Zaini Omar from MALAYSIA | Jan. 07, 2020 19:17

Reply
Airport Taxi to Holiday Inn Express Xi'an Bell Tower
We are a party of 8 arriving in Xi'an at 11.30pm. Is there a mini van taxi or do we need to split into 2 or 3 smaller taxis? How long is the journey and what is the fare likely to be for minivan or taxi?
Answers (1)
Answered by Hannah from FINLAND | Jan. 07, 2020 22:14

0

0

Reply
Well, as I know, you can rent the mini van at the airport. But the fare is not cheap.
According to the landing time, you can also take airport shuttle bus Xishaomen Line and get off at Xishaomen Airport Business Hotel first. Then take a taxi to the hotel.