Xian Taxi
More than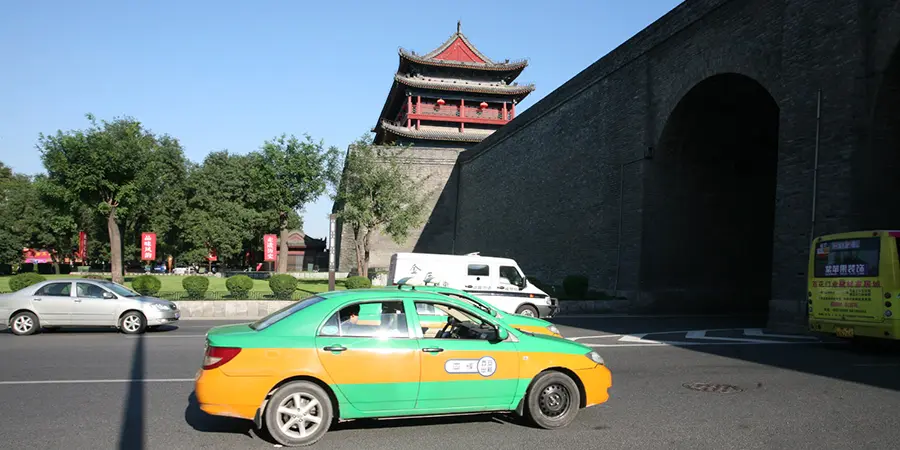 Xian Taxi
12,000 taxis operate in Xian. They are mostly green and can be easily hailed along every street and lane except during the rush hours. Xian cabs have a variety of brands, including BYD, Jetta, Santana, Red Flag (Hongqi) and Passat. They are clean and comfortable to serve the locals and all tourists well.
A taxi is allowed to take at most four adult passengers. If you have four people in a group with a baby, try to negotiate with the driver for a cab ride. Drivers usually charge by the meter in the downtown and there is no surcharge for the fuel or luggage. For long-distance travel such as to the Airport or Terracotta Warriors, they prefer a flat rate. If hiring a cab for a whole day, it costs about CNY500. You should know that taxi drivers in the city rarely speak and read English, so it is best to present them a note of your destination with Chinese characters or at least Pinyin.
Taxi Fare:
1. For cars with the brands like BYD, Jetta, Santana, Fukang: The flag-down rate is CNY8.5 for the first 3 kilometers (1.9 miles) and it costs CNY2 for every extra kilometer (about 0.6 mile). Once the cab runs farther than 12 kilometers (around 7.5 miles), an additional 50% is automatically charged for empty return.
2. For cars with the brands like Red Flag, Eastar and Passat, as well as the low-carbon electric cabs: The flag-down rate is CNY8.5 for the first 2 kilometers (1.2 miles) and it costs CNY2.4 for every extra kilometer (about 0.6 mile). When the car runs farther than 8 kilometers (about 5 miles), an additional 50% fee for empty return is automatically charged.
3. During the period of 23:00 and 06:00 the next day, the flag-down rate is CNY9.5 and an additional CNY2.3 is charged for each extra kilometer. For example, if taking a BYD car for 4km (2.5mi), you need to pay CNY10 for the first 3 kilometers (1.9mi) and the extra distance costs CNY2.3. So the total fee is CNY12.3.

Note: The drivers usually don't charge or return small loose change. For instance, you only need to pay CNY13 if the fare is CNY13.3. As with the same, if the fare is CNY15.7, the driver will charge CNY16. When the cab fare is small, you'd better not pay with a CNY100 bill. Usually there is no need to tip the driver, but if you are very satisfied with their service, you can do it.
Cost for Long-distance Travel from Downtown (all for single rides):
To
Xian North Railway Station
: CNY50-60 (you can also ask the driver to charge by the meter, it costs CNY35-45);
To
Xianyang International Airport
: CNY120-130 in the daytime and CNY150 at night, especially from 22:30 and 06:00 the next day;
To
Terracotta Warriors and Horse Museum
: around CNY150;
To
Mt. Huashan
: CNY400-500;
To
Famen Temple
: CNY400-500;
To
Taibai Mountain
: CNY600.
Tips:
1. It is usually a little hard to hail a cab during the rush hours: 07:30 – 08:30 and 17:30 – 19:00. This may also happen during 15:00 and 16:30 when the drivers change shifts. During this period, most drivers only stop for passengers who are going in the same direction as them.
Away from the Illegal Tricycles and Autobikes
outside South Gate of the City Wall
2. Official taxi stands are available at most streets and lanes and they are usually close to bus stops. Apart from taking a cab at these designated stands, it is easy to flag down a cab at a random point along the street. However, it is suggested not to hail a cab near the traffic lights or a crossroad, because few drivers will stop for any possible customers.
3. Remember the plate number of the car or ask the driver for a receipt in case of any unexpected events.
4. Due to the subway construction and other unexpected factors, the drivers sometimes have to detour, especially around the city center. Therefore, depart a little earlier if you are on a tight schedule.
5. If taking a trip in Xian for the first time, you are suggested to ask the driver to charge by the meter. Otherwise, you may be overcharged, which usually happens in the bustling areas like Xian Railway Station, Xiaozhai Commercial Area, Bell & Drum Tower and the Long-distance Bus Stations.
6. No baby seat is equipped in the cabs. If you are traveling with a baby, ask the driver to slow down.
7. Be careful of taking an autobike or tricycle in Xian. You may always notice autobikes or tricycles waiting for passengers at the commercial areas, entertainment venues and hotels. It seems convenient, but they are actually illegal and unsafe. Sometimes they even charge a higher price than cabs.