Xi'an Taxi
Most taxis in Xi'an are green with a yellow stripe; others are bright yellow or blue with a white stripe. There are also a few black taxis, but they only serve passengers going to the airport. Each taxi is allowed to take at most four adult passengers. Xi'an taxis operate 24 hours a day, but it is not easy to hail a taxi during peak hours or around transportation hubs.
Xi'an Taxi Price
Flag-down Rate
CNY 8.5 for the first 3km (1.9 mi) in the daytime;
CNY 10 at night
Unit Fare
CNY 2 /km after the first 3km in the daytime;
CNY 2.3 /km from 23:00 to 06:00 the next day
Low-Speed Drive and Waiting Fare
Extra CNY 2 for each 4 minutes of waiting or driving at a speed of less than 10km/h during rush hours;
Extra CNY 2 for every 5 minutes at other times.
Empty-run Fee
CNY1/km for any extra distance beyond 12km (7.5mi)
Xi'an Taxi Fare for Reference
Drivers usually use the taxi's meter in the downtown area. If not, ask the driver to open the meter. However, for a long-distance taxi ride such as to the Airport or the Terracotta Warriors, some drivers prefer a flat rate. In these cases, bargain with the driver for a reasonable price.
Airport & Train Station Transfer Service
by TravelChinaGuide.com.
How to Hail a Taxi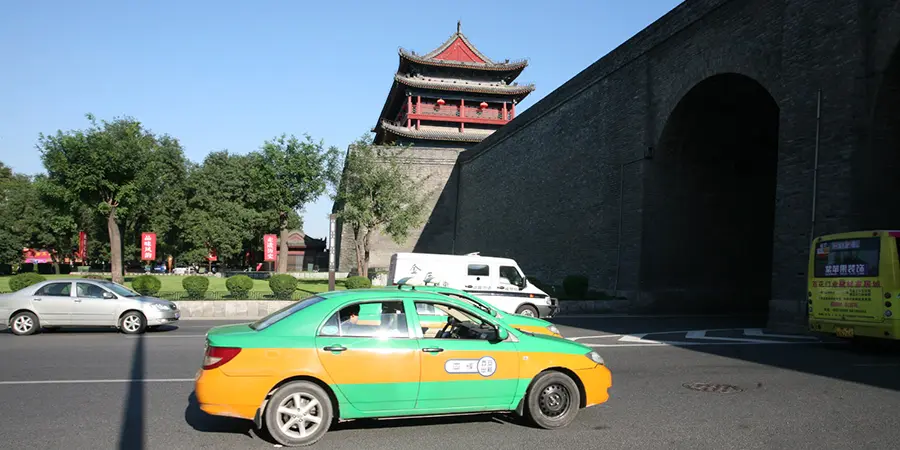 Xi'an Taxi
1. By Hand Signal at Roadside
Official taxi stands are available at most streets and lanes and they are usually close to bus stops. Apart from taking a cab at these designated stands, it is easy to flag down a cab on the street. However, we suggest not to hail a cab near traffic lights or a crossroad, because few drivers will stop for any possible customers.

2. Call hotline 029-96716 to make a reservation
Note: this service is in the Chinese language only, so you need to find a friend who knows Chinese or ask for help at the front desk of the hotel.

How to Pay the Taxi Fare
1. Use cash
Please note that the drivers usually don't charge or return small loose change. For instance, you only need to pay CNY13 if the fare is CNY13.3. As with the same, if the fare is CNY15.7, the driver will charge CNY16. When the cab fare is small, don't pay with a large bill. It is best to carry an assortment of small bills. Usually there is no need to tip the driver, but if you are very satisfied with their service, you can do it.
2. Use online apps such as Wechat and Alipay.
Please note Xi'an taxi drivers generally do not accept debit or credit cards, domestic or foreign.Please note that the drivers usually don't charge or return small loose change. For instance, you only need to pay CNY13 if the fare is CNY13.3. As with the same, if the fare is CNY15.7, the driver will charge CNY16. When the cab fare is small, you'd better not pay with a CNY100 bill. Usually there is no need to tip the driver, but if you are very satisfied with their service, you can do it.

Tips for Taking a Taxi in Xi'an
1. It is usually difficult to hail a cab during the rush hours: 07:30 - 08:30 and 17:30 - 19:00. This may also happen during 15:00 and 16:30 when the drivers change shifts. During this period, most drivers only stop for
passengers who are going in the same direction as they are.
Away from the Illegal Tricycles and Autobikes
outside South Gate of the City Wal

2. During rush hours, you could try car-hailing apps like Didi and Caocao to reserve a car in advance.

3. There is a designated taxi pick-up area at the airport and at the train stations.

4. Taxi drivers in Xi'an rarely speak or read English, so it is best to present them a note with your destination in Chinese characters or at least in Pinyin.

5. Ask the driver for a receipt in case of any unexpected events.

6. Due to subway construction and other unexpected factors, the drivers sometimes have to detour, especially around the city center. Therefore, depart a little earlier if you are on a tight schedule.

7. Cabs are not equipped with baby seats. If you are traveling with a baby, ask the driver to slow down.

8. Avoid the autobikes or tricycles in Xi'an. You may notice autobikes or tricycles waiting for passengers at the commercial areas and around entertainment venues and hotels. It seems convenient, but they are actually illegal and unsafe. Sometimes they even charge a higher price than cabs.

9. Please be careful of fake taxis which are painted green like the legal ones. They overcharge and are unsafe. Usually there are no LED lights or billboards on the top of the car. Besides, the real license for green taxi generally starts with 陕AUXXX or 陕ADXXX.
- Last modified on Jul. 07, 2019 -
Questions & Answers on Xi'an Taxi
Asked by Ron from MALAYSIA | Aug. 08, 2019 03:15

Reply
My flight arrive at Xi'an Xianyang Airport midnight....
Can I hang around at the airport till morning?
Answers (1)
Answered by Suzy from UNITED KINGDOM | Aug. 11, 2019 20:55

0

0

Reply
Yes, of course. You can find a 24 hours fast food restaurant inside the airport.
Asked by Tanya from AUSTRALIA | Jul. 05, 2019 02:52

Reply
Are the shuttle buses of Xi'an Xianyang Airport available at 1 am?
That's when our flight arrived
Answers (1)
Answered by Brady from USA | Jul. 07, 2019 20:01

0

0

Reply
There are 3 shuttle buses operating at that time: Xishaomen Line, Longhai Line and Nanshaomen Line. But they all have their routes and I'm not sure whether you can take to your hotel.
Asked by CTYD | Jun. 07, 2019 06:27

Reply
Taxi fare in china
1) does taxi in china charge hand held luggage, and bigger luggage? how much per piece?
2) how much is taxi and how far in distance from Tunxi Airport (Huangshan) to Hong Cun Village?
3) my flight from Xi'an lands at 1545 hr, is it easy to get a taxi from the Tunxi airport to Hong Cun? I am travelling with my son, with 2 pieces of big luggage, I can speak , read and write basic Chinese.
Answers (1)
Answered by Amanda from AUSTRALIA | Jun. 11, 2019 21:01

0

0

Reply
1. Generally, they don't charge or charge CNY0.5 for every piece.

2. The distance is about 80km and the cab fare is around CNY170 - 200.

3. Yes, it is not very difficult.
Asked by Kristin from USA | Apr. 07, 2019 20:07

Reply
This is our first visit to China. I'm traveling with my 20 year old son and husband.
Our trip was supposed to include two days in Xi'an, but because I couldn't get the train I wanted and because my flight was moved from late evening to 14:30 I am finding myself short on time. We now arrive on Tuesday, April 30 at 12:47 into North Railway Station and we fly out the next day, Wednesday, May 1 at 14:30. We are staying by the Bell Tower. We would like to see the Terracotta Warriors, the Bell Tower, Muslim Quarters and go up on the South Wall.

Should we try to do the Terracotta Warriors when we arrive on Tuesday, late afternoon? Or should we do them on Wednesday, early morning, before heading to the airport? I think, because we are short on time we will end up having to use taxis, even though my preference would be to save money and use the bus.

Option 1 - Arrive Xi'an North Railway. Take taxi (cost??) to Terracotta Warriors. Take the bus back to Main Rail Station and then the Metro to Bell Tower. Go to Muslim Quarter in evening for dinner. Next morning explore the Wall. Take the Airport bus at ?? time to catch the flight.

Option 2 - Arrive North Railway. Take Metro to the hotel. Explore the city - Muslim Quarters, Wall, etc in the afternoon and evening. Wednesday AM get up early and take metro/bus (maybe take too long?) or taxi (cost?) to Terracotta Warriors. Leave the Warriors at ??? and take a taxi to the airport (cost??).

Or is there a 3rd option that I should consider? I'd appreciate your opinion on our itinerary. Thanks!
Answers (1)
Answered by Emma from CANADA | Apr. 09, 2019 00:34

0

0

Reply
1. Since your time is too tight and May 1 is public holiday, the option 2 is more recommended.

2. The taxi fare from North Railway Station to Terracotta Warriors is CNY150 to CNY170 per taxi.

3. If you catch international flight, you should arrive at the airport 3 hours in advance. 2 hours are needed if it is the domestic flight. It takes around 1 hour from Bell Tower to the airport by shuttle bus so you are suggested to depart from 11:00 to 11:30.
Asked by JPR from USA | Apr. 06, 2019 09:31

Reply
Xi'an Taxi for three people?
There will be an adult and two teenagers in my group. Will a cab accommodate the three of us.
Answers (3)
Answered by Wyatt from CANADA | Apr. 07, 2019 23:15

0

0

Reply
Yes, one taxi can hold 4 passengers each time. :)
Answered by JPR from USA | Apr. 11, 2019 17:03

0

0

Reply
Does this include luggage?
Answered by Wyatt | Apr. 11, 2019 20:09

0

0

Reply
You can put the luggage in the trunk. However, if you have many pieces of luggage, you need to take two cabs.