Xi'an Long-Distance Bus
Xi'an is ranked as the second largest highway transportation hub in China, supported by five national highways of 345 kilometers (214.4 miles) and twelve provincial freeways of 266 kilometers (165.3 miles). Additionally, ten freeways have been constructed between the urban area and the districts and counties in the city. Any journey between each other of them takes no more than one hour.
Presently, Xi'an's passenger transport is mainly supported by seven large long-distance bus stations, all of which are built in the urban area. Besides, there are several small stations dotted in the city. Generally speaking, most of the buses in the same station leave for cities and counties in the same direction within Shaanxi Province. So, it is easy for passengers to choose the right station if they know the direction of their destination. The following are the seven large stations for reference:

Xi'an Bus Station of Shaanxi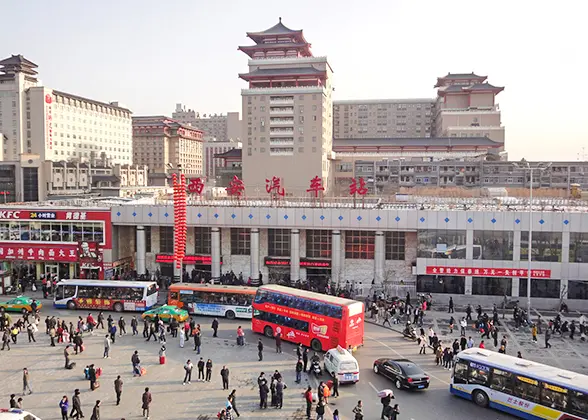 Xi'an Bus Station of Shaanxi
Located to the southwest of
Xi'an Railway Station
, it is the largest transportation hub of the City. After 20-years development, it has scheduled lines to about 18 provinces and municipality cities, such as Shanghai, Shandong, Henan, Sichuan, Gansu and Tibet. It also supplies convenient transportation for passengers traveling to Baoji, Weinan and
Jinsixia National Forest Park
in Shangluo.
Address: No. 354, Jiefang Road
Bus routes: 5, 9, 13, 14, 17, 25, 30, 40, 41, 42, 103, 105, 201, 231, 240, 243, 251, 258, 287, 500, 511, 602, 603, 607, 611, 914, 915, Tourist Bus Line 7 and 8 (get off at Railway Station)
Xi'an Coach Station
It was built in 1990, playing an important role in connecting the city with surrounding counties and towns, such as Huxian, Zhouzhi, Qinzhen and Fengyu. At the same time, it also operates some lines to its neighboring cites. Daily, there are about 600 scheduled buses departing from here.
Address: No. 13, Fengqing Road, Lianhu District
Bus routes: 15, 43, 107, 184, 251, 262, 521, 631, 800 (get off at East End of Fengqing Road)

Sanfuwan Long-Distance Bus Station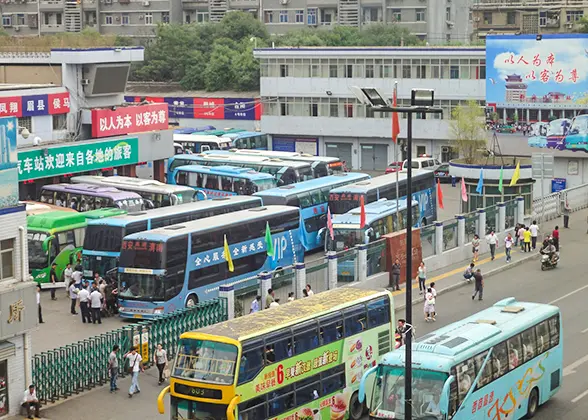 Long-distance Buses at Xi'an Bus Station
It is located to the east of the Railway Station, mainly operating inter-provincial bus lines. Buses to Beijing, Shanghai, Tianjin as well as cities in Zhejiang, Fujian, Henan, Hebei, Hunan, Hubei, Shanxi, Shandong, Ningxia, Gansu, Jiangxi, Guangxi and Sichuan provinces are available here.
Address: No. 353, West Changying Road
Bus routes: 20, 28, 176, 191, 209, 243, 286, 717, 719, 723, 912 (get off at Duocai Shangcheng)

Useful Information:
1. Because of the long journeys, most of the interprovincial coaches here are sleeper buses.
2. The ticket can be purchased 3 days in advance at the station.
3. Ticket Refund and Platform Ticket:
If the ticket is returned at least two hours before the departing time, 10% of the ticket fare is charged.
If the ticket is returned up to two hours of the departing time, 20% of the ticket fare is charged.
The fare of one platform ticket is CNY 0.5.
4. As well as the ticket fare, you should pay CNY2 fuel surcharge per 100 kilometers for every ticket. You may also buy travel insurance for CNY 1.
Fangzhicheng Bus Station
Located in the eastern part of the city, it was built in 2013. Every day, there are about 1,400 scheduled coaches that depart from here to cities and counties in the east and west of Shaanxi Province as well as to Shanxi, Jiangsu, Zhejiang and Guangdong provinces. It also operates frequent buses to Jinsixia Grand Canyon.
Address: No. 283, East Changle Road
Bus routes: 42, 171, 213, 231, 232, 233, 237, 242, 246, 269, 270, 307, 416, 508, 904, 926 (get off at Fangzhicheng Junction Station)
Note: People can take subway line 1 to get to Fangzhicheng Bus Station directly. If taking subway line 2, just transfer to subway line 1 at Beidajie Station.

West Xi'an Bus Station
It is presently the largest and the best equipped coach station in northwest China. It is an important hub connecting northwest and southwest China. Passengers who are going to Xianyang and Baoji are advised to take coaches here as it has the most frequent coaches to cities in western Shaanxi Province. Additionally, it also operates the most daily express coaches between Xi'an and Hanzhong City. Apart from them, coaches to some cities in Gansu, Ningxia, Qinghai, Guangdong, Sichuan, Henan, Anhui and Shandong provinces are available from West Xi'an Bus Station by inter provincial coaches.
Address: No.92, Zaoyuan Road
Bus routes: 23, 50, 59, 103, 104, 106, 108, 186, 210, 212, 222, 223, 224, 225, 234, 252, 301, 324, 405, 631, 701, 725, 901 (get off at West Xi'an Bus Station)

Xi'an South Coach Station
It is located in the southern suburb of the city. It is the transportation hub for coaches running between Xi'an and the cities and counties in southern and southeast Shaanxi Province, such as Hanzhong, Ankang, and Shangluo. In fact, apart from the coaches to downtown Hanzhong City, coaches to the other parts of Hanzhong by the Xi'an-Hanzhong Expressway are only available at this station. It also has coaches running to other provinces, such as Sichuan, Hubei, and Hunan. Additionally, here, coaches departing to Zhashui County, Tangyu Hot Springs and Cuihua Mountain provide a great convenience for travelers who would like to take a short trip around.
Address: Southwest corner of the crossroad between Zhuque Street and South Third Ring Road
Bus routes: 18, 46, 106, 166, 173, 203, 210, 219, 229, 258, 270, 278, 312, 321, 401, 408, 527, 920, 928, 929, K920

| | |
| --- | --- |
| South Coach Station | Bus to Hanzhong |
North Xi'an Bus Station
It began operating in 2003 and covers an area of 20,000 square metes. It is the major transport hub for coaches running between Xi'an and destinations in the north of Shaanxi Province such as Yulin and Yan'an. Additionally, it also operates coaches to the cities and counties around Xi'an as well as some inter-provincial lines.
Address: No.9, West of the 2nd North Ring Road
Bus routes: 18, 33, 37, 38, 39, 108, 182, 211, 509, 601, 702, 901, 912, 932, E13
- Last modified on Apr. 12, 2021 -
Questions & Answers on Xi'an Long-Distance Bus
Asked by LYR from MALAYSIA | Jan. 04, 2020 18:44

Reply
Is it possible to travel to and fro Hukou Falls and reach Xi'an by 18:00 on the day same?
Answers (1)
Answered by Larry from UNITED KINGDOM | Jan. 06, 2020 01:48

0

0

Reply
Yes, it is possible.
Asked by GUSTAVOANA | Sep. 30, 2019 04:14

Reply
Some bus information from Xi'an-Wutaishan
what bus station you have to go, schedules and prices, thank you very much.-
Answers (2)
Answered by Anthony from USA | Oct. 08, 2019 20:08

0

0

Reply
There is no direct bus and train you can take. Maybe you can take high speed train from Xi'an North to Taiyuan South Railway station first. The train departs from 7:41 to 19:42 with interval of 30 minutes and costs CNY178.5. Then you can take taxi to East Coach station and take bus from there to Wutaishan. The bus starts from 7:00 to 15:30 with CNY82.
Answered by Mr.GUSTAVOANA from ES | Oct. 09, 2019 06:30

0

0

Reply
Perfect... Thank you. It is the best option I see. Cordial Greetings.
Asked by MTA from CHINA | Sep. 14, 2019 23:32

Reply
What are the attractive places to visit near xian? One day u can go and come back to the city...
Answers (2)
Answered by Ollie from NEW ZEALAND | Sep. 18, 2019 01:20

0

0

Reply
Yes, there are many popular scenic attractions nearby the city. Terra Cotta Army and Huaqing Pool are recommended. Have a nice trip!
Answered by GUSTAVOANA | Sep. 30, 2019 04:18

0

0

Reply
Another excellent excursion is to go to the Huanshan Mountains, the bus is taken in front of the train station of Xi'an, there is a bus in which everything is paid (round trip bus from Xi'an, entrance to the park and cable cars with which there is no to queue to make the entrances to the sites) you have to be in good physical shape because although the hardest climbs are by cable car, you have to make a great tour up the mountain, if you do not have physical impairment I recommend it because it is sensational. -

Asked by zipora viner from ISRAEL | Sep. 09, 2019 13:31

Reply
Want to know where are the buses leaving Xi'an for Beijing?
We want to stop in Pingyao City
And take a walk around. Are there buses from Xi'an to Pingyao. Or somewhere else on the way to Beijing

Many thanks in advance
Answers (1)
Answered by Julia from FRANCE | Sep. 10, 2019 00:05

0

0

Reply
To Pingyao: Take a direct coach from Xi'an Coach Station. The departure schedules are 07:00, 09:30 and 10:30.
Pingyao to Beijing: There is no direct coach. You need to take a bus to Taiyuan first. Then transfer to the coach to Beijing.
Asked by Raja from INDIA | May. 23, 2019 10:06

Reply
travel by night via bus or train from xian to reach shanghai by 7am. cost and travel time?
Answers (1)
Answered by Mia from AUSTRALIA | May. 23, 2019 18:16

0

0

Reply
There is a high speed train D308 departing from North Railway Station at 19:44 and arrive in Shanghai Railway Station at 6:26. It take about 11 hours. It costs about CNY460 for a second class seat and CNY800 for a soft sleeper.