Xi'an Public Transportation Card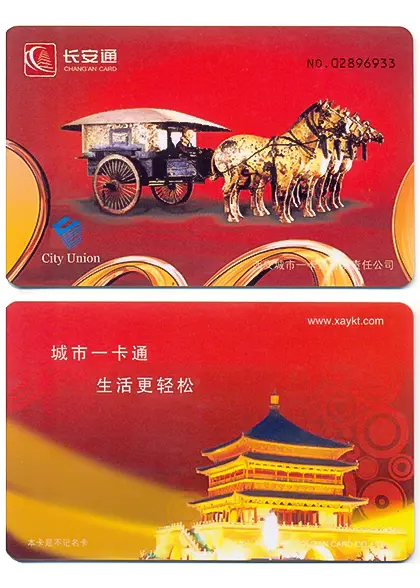 Xi'an Public Transportation Card
-- Chang An Tong
Xi'an Public Transportation Card, also known as Chang An Tong or Yi Ka Tong, like the MetroCard in New York City and the Oyster Card in London, is a kind of smart card which can be widely used on buses and the metro. It offers a 50% discount on each bus trip and a 10% discount on the metro. One can also pay taxi fares with it on the cabs which are equipped with card readers. In addition, this card can be used to rent a
public bicycle
in the city at very low price. It offers great convenience for locals and travelers who plan to stay over in Xi'an.

Public Transportation Card Service Center Hot Line: 86-029-86365033 & 86-029-86365038
Purchasing a Public Transportation Card
Who can apply for the card?
Both of the citizens and visitors in Xi'an can apply for the
Card
.
How much does the card cost?

Purchasing one: You have to pay for CNY18 to buy a new card and then add any value as you wish. Please note that the purchased card could not be refund.

Renting one: When you rent a card, you will be required to put down a deposit of CNY22/card as well as funds for its use. The rent is CNY0.5/month (malcontent of a month calculate by a month). This kind of card could be refund so that you could withdraw the rest deposit and balance in it.
Where can I purchase/ top up a card?
You could purchase or rent a card at the bus company, the branches of the Xi'an City Commercial Bank and the China Construction Bank. Besides, alomost all Xi'an metro stations have automatic vending machines, or you can choose to go to the metro's manual service desk for bus cards.
Here are some addresses for you to purchase or rent a card:
No. 155 Shangde Road, Intersection of Xiwu Road and Sunde Road, near Xi'an Railway Station
Entrance to parking lot, B1 floor, Xi'an north railway station
No.1, Huanta East Road, north square of Big Wild Goose Pagoda, Yanta District
Xi'an zhonglou metro station, near Bell Tower
Xi'an Commercial Bank, No. 129 North Street, next to the Stomatological Hospital
Using Xi'an Public Transportation Card

On bus: The cards are accepted on busses that bear the distinct card mark on their front door. When entering the bus, place your card within 6 cm (2.4 inches) of the card reader, which will be located near the front door of the bus. Once the transaction is processed, the reader will show a green light and beep to indicate success, and then display the remaining balance. Please note that a card can be used by multiple passengers each trip, as allowed by the balance.

On metro: The card can be used on all metro lines. Upon entering the metro station, scan the metro card and the automatic barrier will open to allow one person to pass. The card can only be used by one person for each trip. When exiting the metro station, one also needs to scan the card, and the balance will be shown.

On renting public bicycles: There are many bicycle rental sites in the city. Just find a dedicated site, and scan the transportation card at the card reader area. The rental machine will announce the success of the rental. When returning the bike, just scan the card and lock the bike.
Returning Xi'an Public Transportation Card
Where should I return my card?
Entrance to parking lot, B1 floor, Xi'an north railway station
1st Floor, Baima International Plaza, Changle West Road (outside Chaoyangmen)
No. 8 Fengcheng 8th Road (next to the Construction Bank)
Will I receive a total refund for my deposit and transportation funds?
If you return your card in good condition, without any visible damage, you will receive both your rest deposit and the full balance remaining. However, if your card has been damaged by human error, you will lose your deposit and receive only the remaining balance.
-
- Last modified on Jan. 15, 2019 -
Questions & Answers on Xi'an Public Transportation Card
Asked by Corinne from NEW ZEALAND | Dec. 27, 2018 22:07

Reply
Where can I buy a Xi'an transportation card at north station ?
I am arriving buy train at North Railway Station. Can I find a place to buy a transportation card in the subway station.

What is the name in chinese characters ?
Answers (1)
Answered by Evangeline from AUSTRALIA | Jan. 02, 2019 23:26

0

0

Reply
You can purchase the transportation card at the service counter of subway station inside the North Railway Station. There is auto-card-selling machine. And as I know, it has English version.
Hope helpful!
Asked by Erry from MALAYSIA | Dec. 04, 2018 18:54

Reply
Actually im going to have my vacation xian and beijing starting this saturday..
so i would like to know.. can i use the same card in here and Beijing...Or I should by different transportation card.. thank u...
Answers (1)
Answered by Dana from SINGAPORE | Dec. 04, 2018 22:45

0

0

Reply
You should buy different transportation cards.
Asked by Jon from PHILIPPINES | Nov. 27, 2018 12:01

Reply
Does the Xi'an transportation card also available on the airport?
or just on the roster that you have provided?

Thanks
Answers (1)
Answered by Williamson from UNITED KINGDOM | Nov. 27, 2018 21:54

0

0

Reply
No, you can only buy the card at Xi'an Bank and its branches, bus company and its branches and all metro stations. There is no service center at Xianyang Airport.
The most convenient way is to buy at the metro stations: the box office and metro station.
Asked by Thee Wong from SINGAPORE | Sep. 16, 2018 07:13

Reply
Can the transportation card be rented at Xi'an Zhonglou metro station?
Answers (1)
Answered by Bob from UNITED KINGDOM | Sep. 16, 2018 19:46

0

0

Reply
Yes, it can be bought at the metro station. Btw, the E Transportation can also be used and you can get one from Alipay or Wechat.
Asked by miko from INDONESIA | May. 05, 2018 20:51

Reply
for 1 week stay in Xi'an, is it better if we buy the transportation card or just rent it?
can we deposit everywhere? let's say, i deposit 100CNY at first, then i used it all, n i want to deposit again, can i do it everywhere (Bus/subway station/bank/ATM)?
Answers (1)
Answered by Kara from USA | May. 09, 2018 20:34

0

0

Reply
I think you'd better buy it since you will stay for a week.
No, you can't deposit everywhere. However, you can deposit in every subway station. You can also deposit in the bus companies, some branches of the XA Commercial Bank and the China Construction Bank.