Guangzhou Transportation

Getting to Guangzhou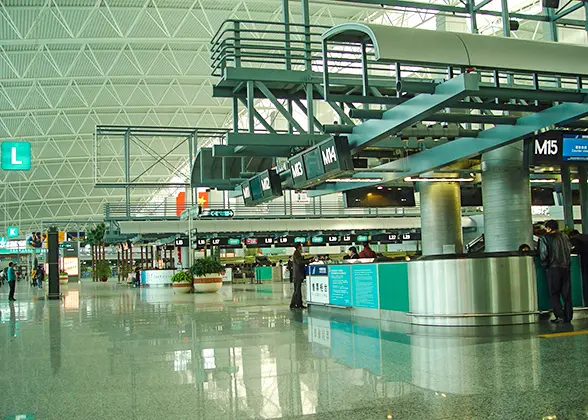 Baiyun Airport
Guangzhou Baiyun International Airport is about 17 miles (28 km) from the city center. It is one of the three busiest air transportation hubs in China. There are totally 123 scheduled flights in the airport, and 86 of them are domestic flights between the city and major Chinese cities like Beijing, Shanghai and Xi'an. Major cities worldwide can be reached in 15 hours. The airport's flight network covers South and Southeast Asian countries including Vietnam, Laos, Burma, India, Singapore, Malaysia and Indonesia. In addition, there are flights to Los Angeles, Paris, Amsterdam, Melbourne, Sydney, Tokyo, Seoul and Lagos.

Baiyun Airport boasts very convenient ground transportation system. This system is mainly made up of taxis, six airport express bus lines (Line1, Line2A, Line2B, Line3, Line4 and Jinshazhou Line), ten airport shuttle bus lines (Line5, Line6A, Line6B, Line7A, Line7B, Line8A1, Line8A2, Line8B, Line9 and Line10), and frequent airport intercity bus between the city and other cities in Guangdong Privince.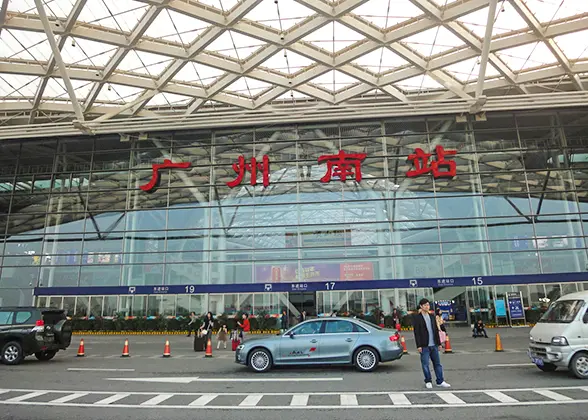 Guangzhou South Railway Station
Guangzhou has three railway stations handling passenger transport.

The Railway Station at Huanshi Road is the largest and the most important one, operating trains between the city and Beijing, Wuhan, Nanjing, Chengdu, Chongqing, Xi'an, Lhasa and many other China cities. The East Railway Station (Tianhe Railway Station) mainly provides through trains from to Hong Kong and frequent bullet trains between to Shenzhen. The North Railway Station in Huadu District is a small station mainly operates bullet trains between the city and Wuhan.

Beijing - Guangzhou Train vs. Flight

Hong Kong - Guangzhou High Speed VS. Through Trains

Guangzhou - Shenzhen - Hong Kong Train

Major Rail Lines from Guangzhou to:
This city has a convenient expressway system radiating from the downtown area to cities countrywide especially cities in and around Guangdong Province. Now there are mainly 20 big long-distance bus stations, among which the Provincial Bus Station, Guangzhou Passenger Station, Fangcun Bus Station, Tianhe Bus Station and Yuexiu South Bus Station are the major ones.



See more Guangzhou to Hong Kong Bus

It is one of the ten most famous port cities in China. Guangzhou Port is made up of Humen Port, Xinsha Port, Huangpu Port and many other inner ports. The ship routes lead to more than 100 domestic ports and over 300 foreign ports. Some ports there provide passenger transport service. Panyu Lianhuashan Port provides high speed passenger liners to reach Hong Kong daily. Huangpu Port offers ships to Xiuying Port, Haikou.
See more about Hong Kong - Guangzhou Ferry

Transportation to & from Other Cities

How to Travel from Guangzhou to Hong Kong

How to Travel from Guangzhou to Shenzhen

How to Travel from Guangzhou to Shanghai

How to Travel between Guangzhou and Dongguan

How to Travel between Guangzhou and Foshan

How to Travel between Hangzhou and Guangzhou

How to Travel between Yiwu and Guangzhou

How to Travel between Guangzhou and Macau

How to Travel between Guangzhou and Xiamen

How to Travel from Shenzhen to Guangzhou

How to Travel from Beijing to Guangzhou

How to Travel between Guangzhou and Zhuhai
| | |
| --- | --- |
| Public Bus | City Subway |
Urban Transportation
There are 14 metro lines used in the city at present. The subway utilizes a stage fare system. The longer the journey the more you pay. At present, Guangzhou metro has connected most important parts of the city, including Baiyun Airport, the Railway Station, East Railway Station, South Railway Station and Foshan City.
Operating Metro Lines:
Line 1 Line 2 Line 3 Line 4 Line 5 Line 6 Line 7 Line 8 Line 9 Line 13 Line 14
Guangzhou - Foshan Line APM Line 21


Metro Maps

Bus/Metro Search

City buses are easily accessible in the city, including daytime lines, night lines, airport shuttle buses, tourist buses and BRT lines. Apart from that, three sightseeing bus lines are in service which take tourists to the major attractions in town.
A taxi charges CNY10 for the first 2.5 kilometers (1.55 miles) and CNY2.6 for succeeding each kilometer (0.6 mile). When a taxi runs farther than 35 kilometers (21.7 miles), extra 50% will be automatically charged for empty return.
There are various dockless bikes hitting the streets of the city, including Mobike, ofo, and Bluegogo. Download the corresponding app and you can use these bikes after the ID verification and paying the deposit. The deposit usually costs CNY 199 or CNY 299 and it charges CNY 0.5 - 1 for a 30 minutes' ride.
The water transport in this city is mainly made up of Suigang Port, Zhoutouzui Port, Zengcheng Xintang Port, Panyu Lianhuashan Port and Nansha Port. There are six water buses running along the Pearl River, supplying residents and tourists with a more convenient transport service with four piers along the line - Zhongda Ferry Pier, Tianzi Ferry Pier, Xidi Ferry Pier and Fangcun Ferry Pier. The whole journey takes 40 minutes and costs CNY2.
-
- Last modified on Nov. 11, 2019 -
Questions & Answers on Guangzhou Transportation
Asked by Agata from UNITED KINGDOM | Nov. 07, 2019 12:26

Reply
does anybody know if there is a ferry to Panyu Lianhuashan Port from Xidi port or canton tower port?
if so, whats the cost and time of departure? any tips to get to lotus hill by boat most appreciate.
Answers (1)
Answered by Theo from USA | Nov. 10, 2019 21:47

0

0

Reply
As I know, you can't take ferry to lotus mountain. You can take bus from Guangzhou Coach station to Panyu Coach station, then take direct bus line of Lianhuashan to scenic area.
Asked by Tashfeen Hussain from SOUTH AFRICA | Oct. 23, 2019 08:26

Reply
How do I go from Guangzhou south railway station to Sanyuanli by bus?
Answers (1)
Answered by Chase from POLAND | Oct. 24, 2019 01:44

0

0

Reply
Taking bus takes long time. Thus it is suggested to take subway line 2 to Sanyuanli. The duration is around 40 mins with the fare of CNY6.
Asked by Adz from PHILIPPINES | Oct. 15, 2019 15:42

Reply
how to go to Guangzhou beijing road from canton airport?
Answers (1)
Answered by Thomas from FRANCE | Oct. 16, 2019 01:03

0

0

Reply
Do you refer to Baiyun Airport? If yes, take metro line 3 to Yantang Station and transfer to metro line 6 to Beijing Road Station directly. The whole way takes around 50mins with the fare of CNY8 per person.
Asked by Amy from CHINA | Oct. 12, 2019 09:31

Reply
Do you have dongguan to wuxi bus
Answers (1)
Answered by Pam from NEW ZEALAND | Oct. 14, 2019 19:21

0

0

Reply
Yes, you can take bus from Chang'an Coach station to Wuxi at 11:00.
Asked by pimolwan from THAILAND | Oct. 08, 2019 00:58

Reply
Please tell me how to go from Shangxiajiu Perdestrian street to canton fair by metro
Answers (1)
Answered by Aaryn from ITALY | Oct. 10, 2019 00:15

0

0

Reply
Take subway line 6 to Haizhu Square Station and transfer to subway line 2 to Changgang Station.
Then take metro line 8 to Xingang East Station, Exit A. After arriving, walk east along East Xingang Road around 500 meters to find the destination. The ticket fare is CNY 5 per person. And the duration is around an hour.