Guangzhou Weather
Guangzhou weather is generally warm and humid all year round without a clear division of seasons. With a humid subtropical monsoon climate, Guangzhou is characterized by warm winters, hot summers, little frost and snow, as well as sufficient rain and sunshine.

Best Time to Visit Guangzhou
Autumn especially late September to early December is recommended as the best time to visit the city.
A yearly average temperature of 21 - 29

C (70 - 84

F) makes it a wonderful destination for travel. However, there will be drizzles from time to time in March and April which may spoil your plan. The humid and hot weather in sunmmer and the high uv radiation is exhausting for tourists, so you'd better avoid the hottest months from June to August.
7-Day Guangzhou Weather Forecast
Guangzhou Weather by Month
Averages for Guangzhou Weather
High/Low Temperatures of Guangzhou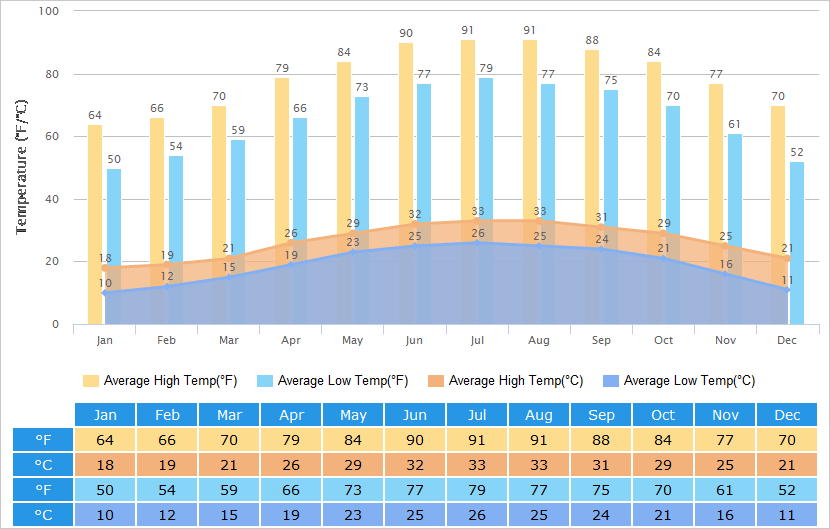 Average Temperatures of Guangzhou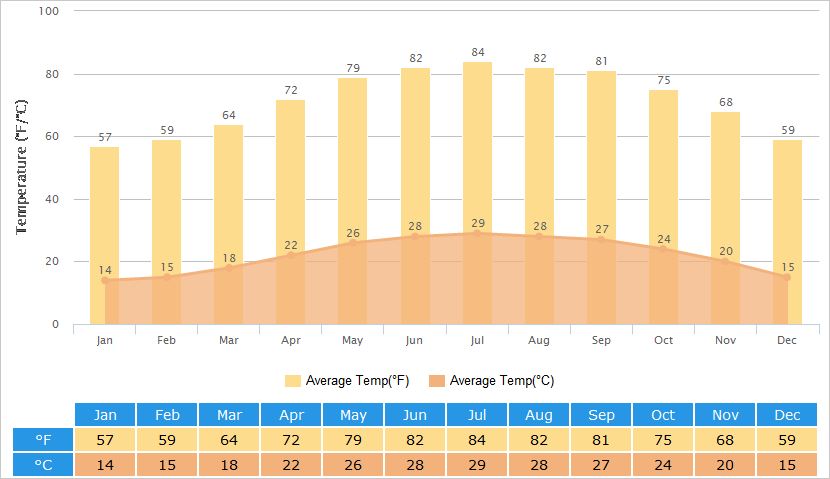 Humidity Graph of Guangzhou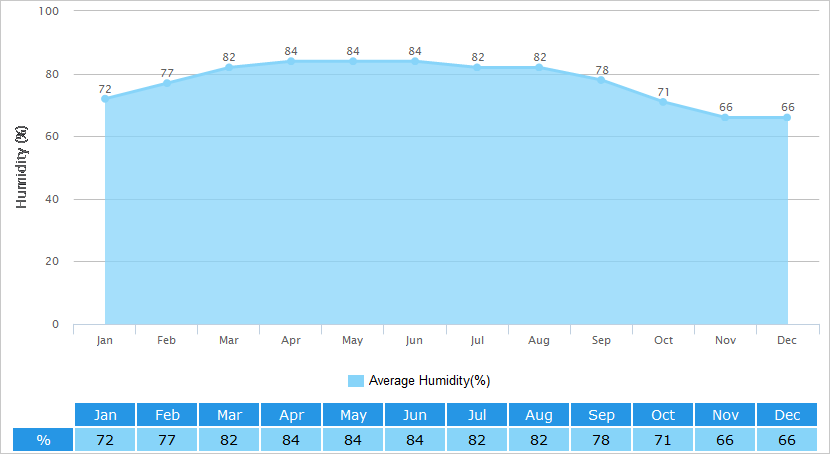 Average Rainfall of Guangzhou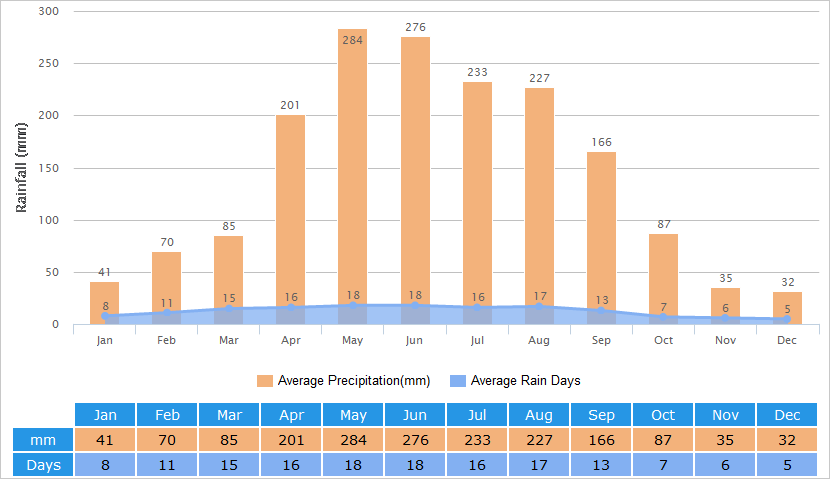 Air Quality of Guangzhou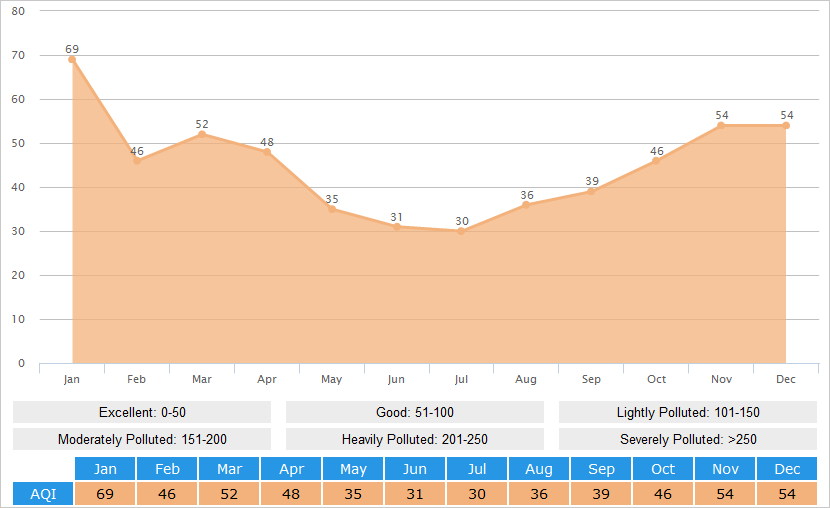 Guangzhou Climate - Seasons & Travel Advice
Guangzhou is located in the middle south of Guangdong, and north of the Pearl River Delta. With a moderate temperature all the year round, it is hard to give a clear division of the four seasons. The hottest time falls in July and August, with more than 40 days at the highest temperature above 30

C (86

F). The coldest time is from the late January to early February, with the lowest temperature of -3

C (27

F).

Spring (Feb. - Mar.)
Spring there is from February to March. The temperature rises gradually, but there can be sudden drizzle. You'd better take your sweater and light clothes in this season. The spring session of Canton Fair is usually held from April to May.

Summer (Apr. - Sep.)
The summer, April to September, is relatively long, with the hottest weather in July and August. There will be occasional typhoons and frequent afternoon thunderstorms, so it is strongly recommended to be prepared for the rain. Travel to Chimelong Water Park is the first choice in this season. You can not only get relief from the summer heat, but also enjoy the fun and excitement of the water activities.

There is a 'Thunderstorms Season' in the city usually from March 4th until October 12th, lasting for a total of 223 days every year. Thunderstorms happen more from May to August, occurring over 10 days of a month. Especially in August, there will be thunderstorms every two days. Therefore you's better avoid traveling at this period of time.


Autumn (Oct. - Nov.)
Autumn days, from October to November, are mainly sunny and cool. This is the best time for traveling there. You just have to bring light clothing such as long-sleeved shirts or T-shirts, plus one or two thin coats and sweaters. Besides visiting tourist attractions like Yuexiu Park, White Cloud Mountain or the Pearl River, you can also go to shopping at Beijing Road, Zhongshan 5th Road, People's Road, or Shangxiajiu Pedestrian Street, where you can get some local products like Cantonese embroidery, Canton enamel and Canton sculptures, with superior quality and at reasonable prices. Meanwhile, the Canton Fair will be held since November.

Winter (Dec. - Jan.)
The city has a short winter from December to January. The weather is a little chilly but with a little frost and snow, and sweaters and thick jackets are enough for this season. Quite different from north China, the city becomes a sea of flowers in this season. It is an excellent time for the flower-lovers to visit.



Further Reading: Guangdong Weather
- Last updated on Apr. 26, 2021 -
Questions & Answers on Guangzhou Weather
Asked by rafia from PAKISTAN | Feb. 24, 2021 10:01

Reply
what is the temperature in Guangzhou January, if i wanted to study there.
Answers (1)
Answered by Benson | Feb. 28, 2021 17:31

0

0

Reply
Based on the historical statistics, the temperature may range from 10 to 20°C. It would be cool and comfortable.
Asked by Yu from MYANMAR | Nov. 14, 2019 20:37

Reply
Hello there, what should I wear in Guangzhou in this month Nov2019. How is the weather?
Answers (2)
Answered by Rita from NEW ZEALAND | Nov. 18, 2019 00:43

0

0

Reply
Temperature could be about 15C to 25C according to previous statistics. You can bring some thick jackets and hoodies.
Answered by Herry | Apr. 26, 2021 02:18

0

0

Reply
you can wear an overcoat and light jeans
Asked by Sourav from INDIA | Jul. 23, 2019 11:24

Reply
Have to travel to Guangzhou in August., Please guide about the weather
Answers (1)
Answered by Jen from USA | Jul. 28, 2019 19:01

0

0

Reply
The temperature will be 25-35C during that period. It will be hot and moisture. You need to take breathable clothes.
Asked by Tan from MALAYSIA | Jun. 24, 2019 05:02

Reply
Hi we wanted to explore Shangxiajiu Pedestrian Street in December.
Wondering what time is the shopping mall closing in winter?
Answers (1)
Answered by Jenny from AUSTRALIA | Jun. 25, 2019 02:29

0

0

Reply
Most shops will close after 22:00.