Guangzhou Weather in May
Guangzhou starts its summer weather in May, with the highest temperature up to 29°C (84°F) or even higher if experiencing several sunny days continuously. The weather is very warm and even hot on a sunny afternoon. It is also the wettest month in Guangzhou, with an average rainfall of 280 to 300 mm. Cloudy and rainy days are the majority. Thunderstorms occur frequently, which helps cool down the city considerably.
The Canton Fair and May Day holiday often make travel to the city generally more expensive in early May. Hotels and air tickets are always fully booked many days in advance.
Averages for Guangzhou Weather in May
Temperature: 26°C / 79°F
High Temperature: 29°C / 84°F
Low Temperature: 23°C / 73°F
Humidity: 84%
Rainfall: 284 mm
Rainy Days:18 days
Sunrise: 05:41 ~ 05:54
Sunset: 18:55 ~ 19:09
Air Quality in May
Average AQI:60

What to Wear
Summer clothes are proper for the climate of May. Prepare a thin long-sleeved shirt for the early morning and evening coolness. Take an additional light over coat if mountain climbing is in your plan.


Things to Do
To escape the heat in the city, you can make a trip to the suburban areas, such as the Chimelong Safari Park, Nansha Bay, Nansha Wetland Park,
Baishui Village
in Zengcheng,
Baomo Garden
, or
Sunflowers Garden
in Panyu.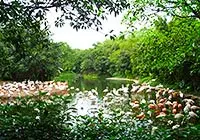 Chimelong Safari Park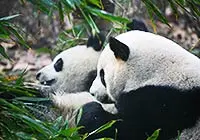 Guangzhou Zoo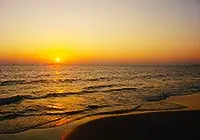 Nansha Bay
Try Local Seafood
Other Tips
Remember to wear sunblock, sunglasses in case of a sunny day. Always bring an umbrella to cope with unexpected rains or strong sunlight. If you have a history of allergies, try to avoid places with flowers.
What is the temperature in Guangzhou in May?
High/Low Temperatures of Guangzhou in May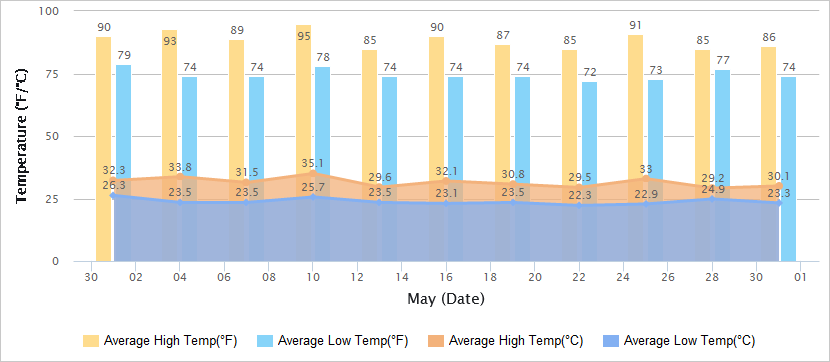 Air Quality of Guangzhou in May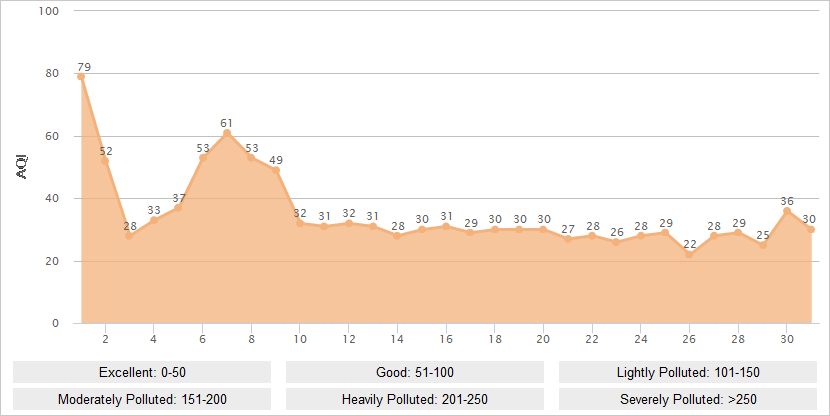 Historical Guangzhou Weather in May
May
Temperature
Sunrise / Sunset

Humi-
dity
(%)

High
Low
1
32.3°C / 90.1°F
26.3°C / 79.3°F
05:54 / 18:55
84
2
34°C / 93.2°F
25.6°C / 78.1°F
05:53 / 18:55
82
3
27.8°C / 82°F
23.3°C / 73.9°F
05:53 / 18:55
94
4
33.8°C / 92.8°F
23.5°C / 74.3°F
05:52 / 18:56
84
5
30.5°C / 86.9°F
23.2°C / 73.8°F
05:51 / 18:56
87
6
30.5°C / 86.9°F
23.6°C / 74.5°F
05:51 / 18:57
89
7
31.5°C / 88.7°F
23.5°C / 74.3°F
05:50 / 18:57
86
8
34.1°C / 93.4°F
25.2°C / 77.4°F
05:50 / 18:58
80
9
35.2°C / 95.4°F
25.2°C / 77.4°F
05:49 / 18:58
75
10
35.1°C / 95.2°F
25.7°C / 78.3°F
05:48 / 18:59
76
11
28.3°C / 82.9°F
24.9°C / 76.8°F
05:48 / 18:59
89
12
31.1°C / 88°F
23.3°C / 73.9°F
05:47 / 19:00
81
13
29.6°C / 85.3°F
23.5°C / 74.3°F
05:47 / 19:00
92
14
33.1°C / 91.6°F
24°C / 75.2°F
05:47 / 19:01
82
15
33.1°C / 91.6°F
24.1°C / 75.4°F
05:46 / 19:01
78
16
32.1°C / 89.8°F
23.1°C / 73.6°F
05:46 / 19:02
83
17
31.9°C / 89.4°F
24.5°C / 76.1°F
05:45 / 19:02
86
18
28°C / 82.4°F
23.8°C / 74.8°F
05:45 / 19:02
96
19
30.8°C / 87.4°F
23.5°C / 74.3°F
05:44 / 19:03
91
20
33.2°C / 91.8°F
23.7°C / 74.7°F
05:44 / 19:03
86
21
29.1°C / 84.4°F
24.3°C / 75.7°F
05:44 / 19:04
86
22
29.5°C / 85.1°F
22.3°C / 72.1°F
05:43 / 19:04
71
23
31.5°C / 88.7°F
21.1°C / 70°F
05:43 / 19:05
72
24
32.4°C / 90.3°F
21.2°C / 70.2°F
05:43 / 19:05
69
25
33°C / 91.4°F
22.9°C / 73.2°F
05:43 / 19:06
80
26
30.8°C / 87.4°F
24.5°C / 76.1°F
05:42 / 19:06
83
27
31°C / 87.8°F
24.6°C / 76.3°F
05:42 / 19:07
88
28
29.2°C / 84.6°F
24.9°C / 76.8°F
05:42 / 19:07
94
29
29.7°C / 85.5°F
24.2°C / 75.6°F
05:42 / 19:08
82
30
31.5°C / 88.7°F
23.4°C / 74.1°F
05:41 / 19:08
86
31
30.1°C / 86.2°F
23.3°C / 73.9°F
05:41 / 19:09
84