Guangzhou Weather in May
Guangzhou enters into summer in May, with the highest temperature up to 29°C (84°F) or even higher if experiencing several sunny days continuously. The weather is very warm and even hot on a sunny afternoon. It is also the wettest month in Guangzhou, with an average rainfall of 280-300mm. Cloudy and rainy days are the majority. Thunderstorms occur frequently, which helps cool down the city considerably.
The Canton Fair and May Day Holiday (May 1 - 3) often make the city generally more expensive in early May. Hotels and air tickets are always fully booked many days in advance.
Data of Guangzhou Weather in May

Average Temperature: 26°C / 79°F
Average High Temperature: 29°C / 84°F
Average Low Temperature: 23°C / 73°F
Average Humidity: 84%
Average Rainfall: 284 mm
Average Rainy Days: 18 days
Time of Sunrise: 05:41 ~ 05:54
Time of Sunset: 18:55 ~ 19:09

Air Quality in May
Average AQI:51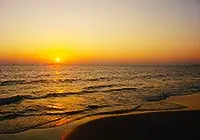 Sun Yat-sen Memorial Hall in May

Clothing Advice: Summer clothes are proper at this time. Prepare a thin long-sleeved shirt for the early morning and evening coolness. Take an additional light over coat if mountain climbing is in your plan.

Travel Advice: To escape the heat in the city, you can make a trip to the suburban areas, such as the Nansha Wetland Park, Baishuizhai Scenic Area in Zengcheng City, Baomo Garden & Garden of Million Sunflowers in Panyu City or the
Chimelong Resort
.

Other Tips: Remember to wear sunblock, sunglasses in case of a sunny day. Always bring an umbrella to cope with unexpected rains or strong sunlight. If you have a history of allergies, try to avoid places with flowers.

Historical Guangzhou Weather in May
May
Temperature
Sunrise / Sunset

Humi-
dity
(%)

High
Low
1
32.3°C / 90.1°F
26.3°C / 79.3°F
05:54 / 18:55
84
2
34°C / 93.2°F
25.6°C / 78.1°F
05:53 / 18:55
82
3
27.8°C / 82°F
23.3°C / 73.9°F
05:53 / 18:55
94
4
33.8°C / 92.8°F
23.5°C / 74.3°F
05:52 / 18:56
84
5
30.5°C / 86.9°F
23.2°C / 73.8°F
05:51 / 18:56
87
6
30.5°C / 86.9°F
23.6°C / 74.5°F
05:51 / 18:57
89
7
31.5°C / 88.7°F
23.5°C / 74.3°F
05:50 / 18:57
86
8
34.1°C / 93.4°F
25.2°C / 77.4°F
05:50 / 18:58
80
9
35.2°C / 95.4°F
25.2°C / 77.4°F
05:49 / 18:58
75
10
35.1°C / 95.2°F
25.7°C / 78.3°F
05:48 / 18:59
76
11
28.3°C / 82.9°F
24.9°C / 76.8°F
05:48 / 18:59
89
12
31.1°C / 88°F
23.3°C / 73.9°F
05:47 / 19:00
81
13
29.6°C / 85.3°F
23.5°C / 74.3°F
05:47 / 19:00
92
14
33.1°C / 91.6°F
24°C / 75.2°F
05:47 / 19:01
82
15
33.1°C / 91.6°F
24.1°C / 75.4°F
05:46 / 19:01
78
16
32.1°C / 89.8°F
23.1°C / 73.6°F
05:46 / 19:02
83
17
31.9°C / 89.4°F
24.5°C / 76.1°F
05:45 / 19:02
86
18
28°C / 82.4°F
23.8°C / 74.8°F
05:45 / 19:02
96
19
30.8°C / 87.4°F
23.5°C / 74.3°F
05:44 / 19:03
91
20
33.2°C / 91.8°F
23.7°C / 74.7°F
05:44 / 19:03
86
21
29.1°C / 84.4°F
24.3°C / 75.7°F
05:44 / 19:04
86
22
29.5°C / 85.1°F
22.3°C / 72.1°F
05:43 / 19:04
71
23
31.5°C / 88.7°F
21.1°C / 70°F
05:43 / 19:05
72
24
32.4°C / 90.3°F
21.2°C / 70.2°F
05:43 / 19:05
69
25
33°C / 91.4°F
22.9°C / 73.2°F
05:43 / 19:06
80
26
30.8°C / 87.4°F
24.5°C / 76.1°F
05:42 / 19:06
83
27
31°C / 87.8°F
24.6°C / 76.3°F
05:42 / 19:07
88
28
29.2°C / 84.6°F
24.9°C / 76.8°F
05:42 / 19:07
94
29
29.7°C / 85.5°F
24.2°C / 75.6°F
05:42 / 19:08
82
30
31.5°C / 88.7°F
23.4°C / 74.1°F
05:41 / 19:08
86
31
30.1°C / 86.2°F
23.3°C / 73.9°F
05:41 / 19:09
84
AQI(Air Quality Index) Graph for Guangzhou, China (May 2016)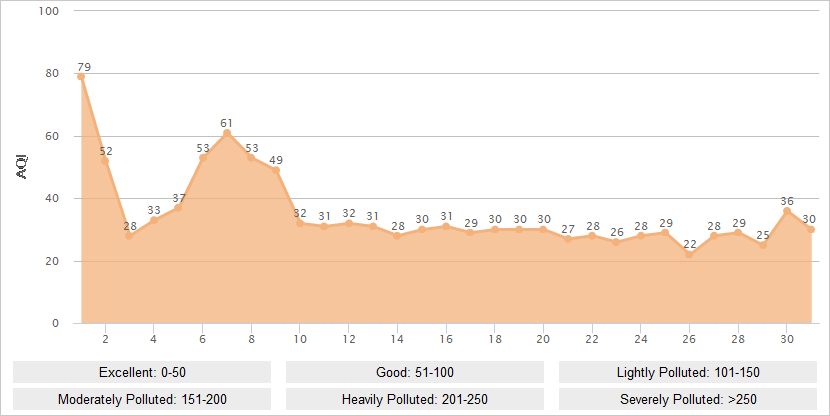 Guangzhou Weather by Month: