Guangzhou Weather in October
Guangzhou gradually enters its autumn and golden tourist season in October. Typhoon season has passed. The weather becomes very pleasant, with plenty of sunshine and little rain. It feels very cool in the mornings and evenings, but it may still hot during the afternoon, especially in early October.
The annual autumn China Import and Export Fair (
Canton Fair
) usually starts from middle October and lasts until early November. Thus, the hotels in Guangzhou and flights to the city are always fully booked in this month.
Data of Guangzhou Weather in October

Average Temperature: 24°C / 75°F
Average High Temperature: 29°C / 84°F
Average Low Temperature: 21°C / 70°F
Average Humidity: 71%
Average Rainfall: 87 mm
Average Rainy Days: 7 days
Time of Sunrise: 06:18 ~ 06:31
Time of Sunset: 17:50 ~ 18:14

Air Quality in October
Average AQI:46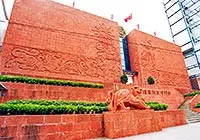 Temple of Six Banyan
Trees in Autumn

Clothing Advice: Summer clothes will still do for day time in early October in Guangzhou. If you come later, do take long-sleeved clothes and pants. A light over coat should be prepared in late October. Sports shoes with ventilation-holes are recommended at this time.

Travel Advice: You can go picnic, fly kites or appreciate the flowers in
South China Botanical Garden
. Mountain climbing is also a good choice in this month thanks to the clear and crisp autumn weather. Thus,
White Cloud Mountain
and
Lotus Hill
can be considered. If you are interested in Chinese culture, you can also make a visit to
Nansha Tin Hau Palace
,
Western Han Nanyue King's Tomb Museum
or
Ancestral Temple of the Chen Family
.

Other Tips: The diurnal temperature difference gets bigger and bigger as autumn advanced, so essential medicine for cold should be prepared. It becomes dry in this month, so do drink enough water and eat more fruits. Remember to wear sunscreen if going out in a clear day. You'd better get ready for crowds in attractions, considering the
China National Day
holiday.

Historical Guangzhou Weather in October
Oct
Temperature
Sunrise / Sunset
Humi-
dity
(%)
High
Low
1
31.6°C / 88.9°F
24.5°C / 76.1°F
06:11 / 17:57
83
2
28.3°C / 82.9°F
22.4°C / 72.3°F
06:11 / 17:55
84
3
23.5°C / 74.3°F
18.1°C / 64.6°F
06:12 / 17:54
78
4
24.1°C / 75.4°F
17.8°C / 64°F
06:13 / 17:52
80
5
26.8°C / 80.2°F
18.9°C / 66°F
06:14 / 17:51
74
6
25.6°C / 78.1°F
19.9°C / 67.8°F
06:15 / 17:49
84
7
29°C / 84.2°F
20°C / 68°F
06:16 / 17:48
81
8
30.5°C / 86.9°F
20.5°C / 68.9°F
06:17 / 17:46
76
9
31.6°C / 88.9°F
20.6°C / 69.1°F
06:18 / 17:44
78
10
32°C / 89.6°F
22.2°C / 72°F
06:19 / 17:43
78
11
27.7°C / 81.9°F
23.7°C / 74.7°F
06:20 / 17:41
88
12
26.1°C / 79°F
23.9°C / 75°F
06:21 / 17:40
93
13
27.3°C / 81.1°F
22.3°C / 72.1°F
06:22 / 17:38
94
14
27.5°C / 81.5°F
21.3°C / 70.3°F
06:24 / 17:37
88
15
28.5°C / 83.3°F
20.3°C / 68.5°F
06:25 / 17:35
71
16
29.1°C / 84.4°F
18°C / 64.4F
06:26 / 17:34
67
17
29.5°C / 85.1°F
16.9°C / 62.4°F
06:27 / 17:32
65
18
29°C / 84.2°F
15.6°C / 60.1°F
06:28 / 17:31
71
19
28.4°C / 83.1°F
17.2°C / 63°F

06:29 / 17:30

78
20
28.4°C / 83.1°F
17.8°C / 64°F
06:30 / 17:28
83
21
29.3°C / 84.7°F
17.3°C / 63.1°F
06:31 / 17:27
78
22
29.4°C / 84.9°F
17.8°C / 64°F
06:32 / 17:25
79
23
29.2°C / 84.6°F
19.6°C / 67.3°F
06:33 / 17:24
85
24
30.4°C / 86.7°F
20°C / 68°F
06:34 / 17:23
86
25
27.1°C / 80.8°F
19.9°C / 67.8°F
06:35 / 17:21
72
26
25°C / 77°F
18.4°C / 65.1°F
06:36 / 17:20
78
27
27.8°C / 82°F
19.4°C / 66.9°F
06:38 / 17:19
76
28
27.1°C / 80.8°F
18.1°C / 64.6°F
06:39 / 17:17
79
29
26.2°C / 79.2°F
18°C / 64.4°F
06:40 / 17:16
76
30
25.8°C / 78.4°F
17.7°C / 63.9°F
06:41 / 17:15
78
31
27.6°C / 81.7F
17.6°C / 63.7°F
06:42 / 17:14
82
AQI(Air Quality Index) Graph for Guangzhou, China (October 2016)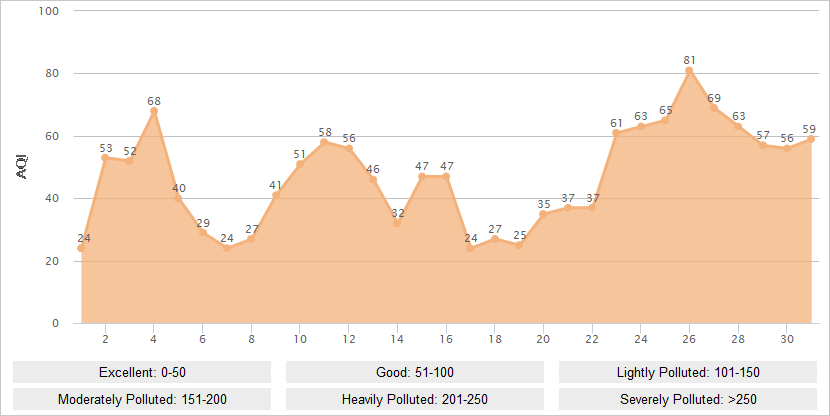 Guangzhou Weather by Month: