Canton Fair - China Import and Export Fair

130th Canton Fair will also be held online. If one cannot come to the site due to Covid-19 epidemic, they may attend it online and make orders there.
130th Canton Fair
2022 Spring Fair: April 15th - May 5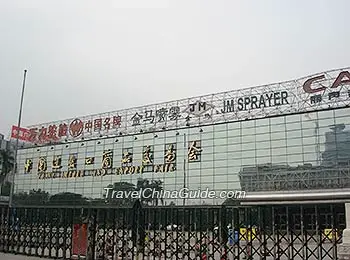 China Import and Export Fair
China Import and Export Fair (CIEF), also known as the Canton Fair, was originated in the spring of 1957 and held in Guangzhou every spring and autumn. During the history of 126 sessions, it has borne the record among the international comprehensive trade fairs, with the longest history, the highest level, the largest scale, the most attendances, the most complete varieties of goods and the highest business turnover.

The Canton Fair is composed of 48 trading delegations, including thousands of foreign trade companies, factories, scientific research institutions, foreign invested enterprises, wholly foreign-owned enterprises, private enterprises, all of which are of good credibility and strong financial capability.

Elites of business people visit Guangzhou to trade and communicate in various ways and provide a great deal of chances of commerce. In spite of the traditional negotiation against samples, the fair adds online way of trade. Based on export trade, it also deals with the import trade, economic and technological cooperation and exchanges, as well as commodity inspection, insurance, transportation, advertising, consultation, etc.

Covering an exhibition area of 118 hectares (1.18 million square meters), the 126th session of CIEF in 2019 offered 60,676 stands, which attracted 25,642 enterprises at home and abroad. The export turnover of about 28.08 billion USD surely would make great contribution to the development of foreign trade of China. The coming 127th Canton Fair in the spring of 2020 is expected to be more promising and magnificent.
130th Fair Phase
April 15th - May 5th
Venue
China Import & Export Fair (Pazhou) Complex
(No. 380, Middle Yuejiang Road, Haizhu District, Guangzhou)
Functional Offices
Secretary Office, Business Office, Foreign Affairs Office, Political Work Office, Security Office, Press Center, Sanitation Office, Certificate Service Center, Customer Service Center
Administration
Ministry of Commerce of P.R.C.,
Guangdong Provincial Government,
China Foreign Trade Center,
I/E Chamber of Commerce,
Trading Delegations
Contact Information
Inquiry: Foreign Liaison Department, China Foreign Trade Center
Add: No. 382, Middle Yuejiang Road, Guangzhou 510335, China
Tel: Chinese Mainland: 4000 888 999; Outside the Chinese Mainland: 86 20 28 888 999
E-mail: info@cantonfair.org.cn
Visa Application
Take the official invitation issued by the CIEF (China Import and Export Fair) to the Embassy or Consulate General of China to apply the visa to Guangzhou.

See
Canton Fair Visa Application
Canton Fair Invitation
If you hold an Invitation Card, you could apply for a visa to China, and get registered and free entry badge to the Fair. There are two kinds of Invitation Card for visitors. One is called E-invitation Card and the other is Paper Invitation Card. The invitation card can be applied before March 30th (Spring Fair) and before September 30th (Autumn Fair).

Paper Invitation Card: This type of invitation card is a precondition for the Canton Fair visitors applying for visa to China. One card can be shared by three representatives from the same company. A copied one is invalid. It is sent in the way of mailing.

E-invitation Card: Another type of official invitation extended by the Fair. A copied one is valid and can be shared by a group of representatives from the same company. It is sent by email.
To better serve overseas buyers, and provide easy pass for their Chinese visa application, necessary information including Buyer's Name, Nationality, Company Name & address will be requested to list on the invitation, please be kindly noted.Overseas buyers could apply for invitation card through the following ways:
Applying an E-Invitation Card: Trough BEST (Buyer E-Service Tool)
Applying Paper Invitation Card with the following organizations:
1. International Liaison Department, China Foreign Trade Center
Add: No. 382, Middle Yuejiang Road, Guangzhou 510335, China
Tel: 4000-888-999(Mainland China) 86-20-28-888-999(Outside Mainland China)
Fax: 86-20-28-395-166
E-mail: info@cantonfair.org.cn
2. The Economic & Commercial Counselor's Office of the Embassy (Consulate) of China in your region
3. Canton Fair Hong Kong Customer Service Center
4. Chinese foreign trade corporations (enterprises) with whom you are business-related
5. Overseas organizations cooperating with China Foreign Trade Center
Registration and Entry to Canton Fair
Registration should be done in person before the Fair starts. All the participants should take their Buyer Cards to register at the Fair Hall or some appointed hotels in the city, and follow certain rules to enter the exhibition hall.

See
Canton Fair Registration
Product Catalogue of 130th Fair
April 15th - May 5
Electronics & Household Electrical Appliances
Lighting Equipment
Vehicles & Spare Parts
Machinery
Hardware & Tools
Energy + Resources
Building Materials
Chemical Products
International Pavilion
Consumer Goods
Gifts
Home Decorations
Textiles & Garments
Shoes
Office Supplies, Cases & Bags, and Recreation Products
Medical Devices and Health Products
Food
International Pavilion (Foodstuffs & Agricultural Products; Medical, Health and Beauty Care Products;Gifts and Decorations)
Transport to Guangzhou
International flights should be the most convenient way. If there is no direct flight from your region, you can choose to fly to Beijing, Shanghai or Hong Kong first. Beijing and Shanghai offer half-hour flights to Guangzhou. If Hong Kong is your entry city, you can easily get to Guangzhou by air, train, or bus.


Guangzhou Transportation


From Hong Kong Airport to Guangzhou (and other cities in Pearl River Delta Area)



Further Reading:
Top 10 Things to Do in Guangzhou
15 Important Cities in China for Business Travel
- Last updated on Mar. 03, 2022 -
Questions & Answers on Canton Fair
Asked by Saber from CANADA | Jul. 16, 2021 13:14

Reply
I am in Toronto, how to apply for M visa. Consulate is closed temp.
Hello I've never been to China on a business Visa however I have a business in Toronto and I would like to go to Guangzhou and maybe Hainan for business to look around for products that I need I do not have a supplier in mind to send me invitation so I was wondering how do I obtain an invitation from a accompany or a supplier in China to invite me and submit along with my document. also the Toronto counselor office is closed temporary so how do I submit my application? is it by post or in person to another address? Thank You
Answers (1)
Answered by Derek | Jul. 25, 2021 20:59

0

0

Reply
Dear, you have to find a business partner to issue you the invitation letter.
If you indeed need to apply for a visa, you can make an appointment through sending an email to consulate.can

gmail.com
For further affairs, you can call 613-455-0117.
Asked by Jim from USA | Jan. 24, 2019 13:10

Reply
Best way to get to Canton Fair from Shenzhen Nanshan area?
What options are available?
Answers (1)
Answered by Daine from RUSSIA | Jan. 24, 2019 18:51

0

0

Reply
Take metro line 1 to Bao'an Center and transfer to metro line 5 to Shenzhen North Railway Station.
Then take high speed train to Guangzhou South Railway Station. After arriving, take metro line 2 to Changgang Station and change to metro line 8 to Xingangdong Station, Exit A. Walk east around 500 meters to find the destination.
Asked by Amethyst Leal from PHILIPPINES | Apr. 26, 2018 04:56

Reply
Do they have shuttle bus service from Guangzhou Landmark Canton to Fair Complex?
Vice Versa? What are the time
Answers (1)
Answered by Hede from SWEDEN | Apr. 28, 2018 01:02

0

0

Reply
No shuttle is available.
You are suggested to walk west for several minutes to Haizhu Square to take subway line 2 to Changgang and interchange to line 8 to Pazhou. Then, leave from Exit C, you will see the exhibition hall.
As for returning, you can take line 8 to Changgang and then line 2 to Haizhu Square.
Oh, it takes no more than 30mins for a single trip.
Asked by Keith from CANADA | Mar. 30, 2018 12:15

Reply
is there a shuttle bus service between Pazhou fair complex and Holiday Inn Express (airport)
Kindly advise if there is shuttle service between Holiday Inn Express ( airport) and Canton Fair Complex ?
Answers (2)
Answered by Reina from GERMANY | Apr. 01, 2018 21:34

0

0

Reply
No shuttle bus is available, but you can take shuttle bus line 10 to New Zhujiang Hotel and then transfer to a taxi to your destination.
Answered by IWEN | Apr. 12, 2018 22:20

0

0

Reply
use a didi app, they have English version and credit card payment method.