Guangzhou Food
Guangzhou, the city, lays claim to a variety of delicacies and the most famous are Cantonese cuisines. Residents customary consume traditional Guangzhou dim sum while taking early tea. Street food is quite popular. Following is a brief Guangzhou food guide to tell you what to eat in Guangzhou:
| | |
| --- | --- |
| White Cut Chicken (Bai Qie Ji) | Soup Rice (Bao Zai Fan) |
Top Cantonese Cuisines
Guangzhou delicacies are the main Cantonese Cuisine (Yue Cai), which also includes Chaozhou and Dongjiang dishes popular nation wide. This employs ingredients originating from the sky, the earth, and the water with only a sprinkle of seasonings. Relative to the country's other cuisines, they employ less spicy dressings in order to bring out the true food flavour.

White Cut Chicken (Bai Qie Ji)
White Cut (plain sliced) Chicken is a well known Guangzhou food. Visitors can enjoy the original taste of chicken from the carefully timed boiling. Visitors can expect the best priced Bai Qie Ji at these restaurants: Gaozhou Taiziji Restaurant, Huiai Restaurant, Youlian Restaurant, and etc.

Roasted Suckling Pig (Kao Ru Zhu)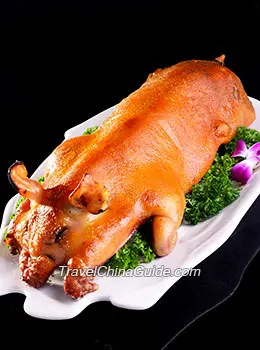 Roasted Suckling Pig
Roast suckling pig, a Guangzhou famous food, is mouth watering. A 3 kilogram piget is marinated with spices: sugar, salt, sweet, vinegar, fermented bean curd, cooking wine, and sesame paste. And, roast red over charcoal. Then, brush on with peanut oil. The roast suckling pig in Panxi Restaurant, Guangzhou Restaurant and Bingsheng Restaurant is quality assured.

Sweet and Sour Pork (Gu Lu Rou)
Sweet and Sour Pork is Guangzhou specialty of Qing Dynasty (1644- 1911) vintage. Pork is first boned, starch with seasonings, then knead into a ball ready for frying to a crisp. The finishing touch is to wrap it with sweet and sour condiments. Yongli Restaurant, Lao Feng Teahouse and To To Kui are where this delicacy is served.

Claypot Rice (Bao Zai Fan)
Claypot Rice is a kind of rice cooked together with vegetables and preserved meat. Although small in size, Minji Baozaifan, Wanxing Xiaoshi, and other street shops attracts many customers for yummy tastes and low price.

Wonton Noodle (Yuntun Mian)
Wonton Noodle is popular Guangzhou food. The main ingredients consist of cooked wonton, bamboo shoots, and fish broth, dried shrimp, scallops and chicken. Go to Shangxia Jiu Pedestrian Street, Xihua Road and Renmin Road, you come across many Wonton Noodles eateries. It is good for breakfast.

Seafood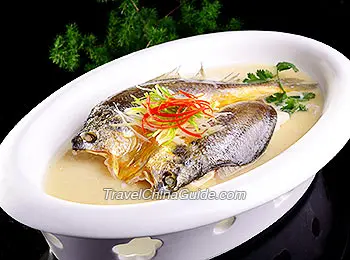 Guangzhou, near the sea, is rich in seafood, offering many delicious dishes. Reputable seafood dishes cover Salt and Pepper Shrimp, Salmon Sashimi, Steamed Scallops with Minced Garlic, Curry Crabs, Cheese Lobster, etc. Customers either go directly to the restaurant empty handed, or bring fresh seafood with them from the market. Huangsha Seafood Trading Market is the largest aquaculture integrated market, source of seafood products for the connoisseur.
Read More: 15 Best Cantonese Foods You Must Try
Best Dim Sum in Guangzhou
Shrimp Dumplings
Shrimp Dumplings are starch wrappers, filled with fresh shrimp, pork puree, and young bamboo shoots. It is steam cooked.

Steamed Shaomai
Steamed Shaomai is traditional Guangzhou dim sum, with pork and shrimp. The cooking method is "by steaming". The wrapper is translucent, a tempting palatable colour.

Radish Cake
Radish cake is Cantonese dim sum with fresh and salty taste. The ingredients are wheat flour, white radish, bacon, shrimps, etc.

Cantonese Egg Tart
Cantonese Egg Tart is a kind of western pie with egg pulp as filling. The crust is crisp, with sweet filling inside.



Where to eat in Guangzhou? Best Guangzhou teahouses and restaurants to enjoy dim sum include Panxi Restaurant, Guangzhou Restaurant, Bingsheng Restaurant, and so on.

See more: 15 Most Popular Dishes of Chinese Dim Sum
| | |
| --- | --- |
| Shrimp Dumplings | Egg Tart |
Must-try Guangzhou Street Food
Double-Skin Milk (Shuang Pi Nai)
Also called Simmered Milk, it is a choice street food in Guangzhou. It looks pure white and semisolid made of egg white and milk. It has two thin layers, one on top and one on the bottom, hence the name Double-Skin Milk. It tastes soft and sweet. And most importantly, it has much nutritional value. Nanxin Shuang Pi Nai is the specialty of Nanxin Milk Store on the Xia Jiu Road.

Rice Rolls (Chang Fen)
Rice Rolls are a major Guangzhou food. It looks like noodles, but much thinner and softer. This featured snack is popular. It is now a regular course in most teahouses and night markets. Yinji Changfen Restaurant stands out.

Guiling Gao
Looking for relief from pent up heat and or heart burn? Cantonese love to have Guiling Gao. That is a kind of brown jelly that holds the shape of the vessel. It is said the Guiling Gao can relief internal heat. The bitterer, the better.
- Last updated on Mar. 26, 2023 -
Questions & Answers on Guangzhou Food
Asked by mrs Heng from SINGAPORE | Mar. 22, 2023 21:11

Reply
i will go guangzhou on may 23, interest to find delicious food , more convenience hotel name.
want to find out near by have any tradition cantonese cuisine/tea brunch and seafood, not need to travel by transport.
Answers (1)
Answered by Dave | Mar. 26, 2023 18:14

0

0

Reply
I recommend you to stay near Shangxiajiu pedestrian street. Several old-brand tea brunch resaurants have branches there, like Lianxianglou and Taotaoju. There are many hotels there, too within the walking distance from these restaurants, like HomeInn Plus, and CityNote Hotel.

Asked by Wong Evelyn from MALAYSIA | Sep. 03, 2019 00:19

Reply
Is there any other vegetarian food near Beijing Road. Guangzhou other than Dahuazhi temple
Bring my father and Muslim friend to Guangzhou. Best choice is vegetarian food. My father is vegetarian.
Answers (1)
Answered by Miles from CANADA | Sep. 04, 2019 20:43

0

0

Reply
You can go to Dafosi Restaurant, which is located at No.21, Middle Huixin Street, Yuexiu District. Or Tianshui Restaurant, which is located at F2, Wende Square, No,68, North Wende Road.
Asked by Ina from MALAYSIA | Feb. 06, 2019 23:59

Reply
Hi, my friends and i were planned to visit to Guangzhou next month.
So, we decided to stay at Louidon Mega Apartment Hotel at Beijing road. Now, we still looking for any halal restaurant and food at that area. Kindly suggest it to us. We thank you for your thanks.
Answers (1)
Answered by Betty from CANADA | Feb. 17, 2019 22:05

0

0

Reply
I know one named Shache Halal Restaurant nearby. You can find authentic muslim food there. And the prices are reasonable. The exact location is No.43, Guangta Road. Hope helpful!
Asked by Zai from MALAYSIA | Jan. 17, 2019 23:33

Reply
im looking for halal restaurant at Guangzhou ximenkou area. kindly advise me pls.
thank you
Answers (2)
Answered by Alva from CANADA | Jan. 21, 2019 19:58

0

0

Reply
I know one halal restaurant named Kasi Erxin Xinjiang Restaurant. You can find authentic halal foods here. The exact location is No.823, North Jiefang Road, Yuexiu District.
Hope helpful!
Answered by ZAI from MALAYSIA | Jan. 29, 2019 23:09

0

0

Reply
Tq so much. Have a great day!
Asked by SHREYAAN VIKAS from INDIA | Jan. 05, 2019 12:12

Reply
Vegan restaurant near canton fair complex or near Royal Mediterranean Hotel Guangzhou
Answers (1)
Answered by Clara from RUSSIA | Jan. 07, 2019 19:42

0

0

Reply
I found one located nearby your hotel. Its name is Lvyuansu Shihui Restaurant. You can find nice vegetable dishes there. The detailed location is 2F, Huatian International Plaza, No.195, Middle Longkou Road.