Guangzhou Facts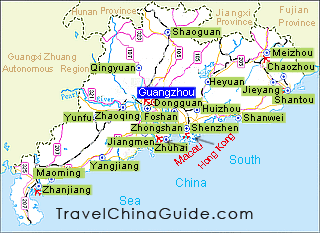 English Name: Guangzhou, Canton


Chinese Name: 广州 (guǎng zhōu)


Alias: Five-Goat City, Goat City, City of Spike, City of Flowers


Location: South-central Guangdong Province, Pearl River Delta, Southern China (34°16′N, 108°54′E)


Urban Land Area: 3,843.4 sq km (6,000 sq mi)


Postal Code: 510000


Area Code: 020


Airport: Baiyun International Airport


Railway Stations: Railway Station, East Railway Station, North Railway Station, South Railway Station


Events:


Canton Fair


The 16th Asian Games, 2010

Guangzhou, known as Canton, is a modern, vigorous metropolis. It is the third largest city in China and is the political, economic, sci-tech, educational and cultural hub of southern China. It is located in south-central Guangdong Province, north of the Pearl River Delta. It lies close to the South China Sea, Hong Kong and Macau. Pearl River (Zhujiang), the third longest river in China runs through the city and is navigable to the South China Sea. These geographical features bestow the name "South Gate of China" upon the city.

During the Zhou Dynasty (1045 B.C. – 256 B.C.) the Cantonese peoples suffered from famine for many years. Legend has it that one day five immortals riding five goats with rice ears each of a different color descended from heaven and blessed the area with favorable weather that produced rich harvests. Thus, this city is also known as the "Five-Goat City (Wuyangcheng)" and the "City of Spike (Suicheng)." To express their gratitude to the celestial beings, the locals erected the "Five Immortals Temple."
| | |
| --- | --- |
| Five Rams Sculpture | Sun Yat-sen Memorial Hall |
The local climate is sub-tropical. The average year-round temperature is 22℃ (71.6℉). The rainy season falls between April and August. The best time to visit the city is between October and December. Pleasant weather, abundant rain and sunlight provide ideal conditions for agriculture. Another alias of this city is the "City of Flowers" with evergreen plants and flowers blooming all year round. Detailed information of Guangzhou weather.

Many historic sights including the Western Han Nanyue King's Tomb Museum, and the Bright Filial Piety Temple tell us the ancient history of the city. Baiyunshan Scenic Area and Yuexiu Park showcase the natural scenery of the city. Shanmian Island retains some of its former grandeur in the mansions with its exotic mansions. The Guangzhou Museum of Art is one of the best in China and is definitely worth a visit. Apart from that the real highlights are the city's markets and vast bazaars.

The city has a massive number of malls and retail stores. Grand shopping malls such as the TeeMall Plaza, the China Plaza plus the trade fairs in the Guangzhou International Building provide easy access to top-notch products from all over the world. Visitors will enjoy stroll on the Shangxiajiu Pedestrian Street and Beijing Road Business Street. The city is a true shoppers'paradise.

The city also has a worldwide reputation for good food. It has more restaurants and teahouses than any other city in China. Cantonese cuisine (Yuecai), one of the eight famous cuisines of China, is redolent with color, fragrance, taste and presentation. Yuecai is an absolute "must do" when dining there. Try the famous Cantonese pastries well known for their wide range of varieties, delicate flavors and different hues.
| | |
| --- | --- |
| Chen Clan's Academy | Canton Fair Exhibition Hall |
As the most important center of foreign commerce in South China, this city has hosted the China Import and Export Fair (Canton Fair) twice a year since 1957. Do make a reservation in advance if you decide to visit the city during the fair. Individuals touring for pleasure should be aware that hotel rates become quite expensive during that period. You can book Canton fair hotels in advance with great discount.
- Last modified on Feb. 21, 2019 -
Questions & Answers on Guangzhou Facts
Asked by Tourist from USA | Oct. 10, 2018 09:28

Reply
I have a layover in Guangzhou Airport for about 12 hours.
What places can I see in that short amount of time and what is the best place close to the airport to eat authentic dum sum?
Answers (1)
Answered by Chloe from FINLAND | Oct. 10, 2018 20:32

0

0

Reply
According to your layover time, you have enough time to tour around downtown area and taste local authentic dum sum.
Shangxia Jiu Lu Pedestrian Street and Haizhu Plaza are nice choices. Hope helpful!
Asked by Cielo from AUSTRALIA | Jan. 13, 2018 08:00

Reply
Quickest way to travel fom Regal Palace hotel in Dongguan to HK international airport
Answers (3)
Answered by Mile from SINGAPORE | Jan. 15, 2018 02:16

3

1

Reply
You need to take subway line 2 to DG Railway station and then take a bullet train to Shenzhen Railway station. The train takes about 50 minutes.
After that, go east for 5 minutes to Luohu Port and through it to HK. Then, take the HK subway to HKIA.
Answered by Cielo from AUSTRALIA | Jan. 15, 2018 06:32

1

1

Reply
To MILE: From Shenzhen train station to Lohou port do we need to ride a taxi then connect to a train to the HKIA? Or is that just walking distance?
Answered by Mile from SINGAPORE | Jan. 15, 2018 19:54

1

1

Reply
It's a walking distance, less than 1km.
Asked by Jaypee from BELGIUM | Dec. 20, 2017 20:07

Reply
Old Guangzhou.
Ni hao from Belgium. I'm planning on a trip to Canton next june. I would like to experience a true taste of China in the heart of old GZ. In which borough or district would you recommend me to stay?
Best rgds.
Answers (1)
Answered by Chole from UK | Dec. 21, 2017 19:01

1

0

Reply
Go to Huangshan / Cultural Park or Shamian Island to feel the old life of the city.
Asked by Chie from PHILIPPINES | Sep. 21, 2017 04:18

Reply
What places in Guangzhou that is near the airport?
Can we visit within 6 hours including travel time from and going back to the airport?
Answers (1)
Answered by Cecilia from FRANCE | Sep. 21, 2017 05:03

3

0

Reply
Yes, you can pay a visit to Yuexiu Park. You need to take metro line 3 and transfer to line 2 at Jiahewanggang, and then get off at Yuexiu Park, which takes about 40 minutes and CNY7.
Have a nice trip!