Guangzhou Travel Tips
Passport holders from 53 countries and regions including the USA, UK, Canada, Australia, France, Germany, Italy, Portugal, Brazil, Mexico, etc. are granted a visa-free stay of up to 144 hours when taking an international transfer via Baiyun International Airport. Visitors from other countries are expected to obtain a valid Visa before their visit to Guangzhou.



See more about Do I Need A Visa for Guangzhou If Traveling from Hong Kong?

The Canton Fair is held twice a year from Apr. 15 to May. 5 and from Oct.15 to Nov. 4.

Due to the large number of attendees, the transportation system will bear heavier stress than at other times of the year. It is almost impossible to get on a bus or metro during rush hours. In addition, the prices of all things from a flight ticket to a hotel room will rise.

For attendees, it's highly recommended to plan your schedule ahead of time: book your flight tickets, train tickets and hotels as early as possible.

Must-go Attractions in Guangzhou
Guangzhou boasts many famous historical and cultural sites, such as the Ancestral Temple of the Chen Family, Sun Yat-sen Memorial Hall, and the Guangxiao Temple. Apart from these, popular modern sites are worth a visit, for example, Canton Tower and the Chimelong Tourist Resort. It's also advisable to take a leisurelly walk around the city's largest park, Yuexiu Park, to appreciate its picturesque scenery and enjoy a night cruise on the the Pearl River to appreciate a night view of this international metropolis. Shamian Island is worth visiting for its exquisite European-style architecture. Beijing Road and Shangxiajiu Pedestrian Street are dedicated to tourists for leisure shopping. If time allows, go to local wholesale markets for shopping, where visitors can buy some fashionable products at a low price.
| | |
| --- | --- |
| Ancestral Temple of Chen Family | Shrimp Dumplings |
Enjoying morning tea is an essential part of local life in Guangzhou. Surely you must try the elegant morning tea as well as have some delicious Cantonese dim sums, like shrimp dumplings, steamed shaomai and radish cake. Cantonese cuisine, one of China's eight cuisines, is characterized by exquisite style and mellow taste. Top dishes include White Cut Chicken, Wonton Noodles, Roasted Suckling Pig and seafood. Street food, like double-skin milk and rice rolls, is so tasty that people don't want to put down their chopsticks.

Visitors from many international cities can directly reach Guangzhou Baiyun International Airport by air, such as New York, London, Sydney, Toronto, San Francisco, Cairo, Melbourne, Bangkok and Bali. If you depart from Hong Kong, it would be easy to take a high speed train to Guangzhou. In terms of urban public transport, there are 14 metro lines serving the locals and tourists. Apart from metro, visitors can easily hail a bus or taxi to almost every corner of the downtown. In addition, intercity buses and trains are well-developed here, offering visitor alternative transportation to other cities in China.

As part of the subtropical monsoon climate, Guangzhou is warm and humid most of the time, without a clear distinction among the four seasons. The best time to visit is from October to December: the spring is quite wet and rainy; summer gets hot with occasional typhoons; but late autumn and winter is endowed with a moderate temperature and gentle breeze.

SIM Card can be easily purchased.
It's easy and convenient to purchase a SIM card at the airport or downtown area from the mobile operation service sites. Different SIM card packages are available to choose from. If it's just a short stay, you can rely on free WIFI instead of buying a SIM card. Free WIFI covers lots of places, like the airport, railway stations, hotels, shopping malls, and restaurants.

Bank of China in Guangzhou: Offers Money Exchange Service
Guangdong Branch of Bank of China is located in the Guangdong International Financial Building, No.197, Dongfeng Xi Road. You can have your money exchanged here, or at a sub-branch.

Sub-branches of Bank of China


Yanjiang Sub-branch: No.91, Changdi Road


Haizhu Sub-branch: No.162, Xingang West Road


Liuhua Road Sub-branch: No. 195, Zhanqian Road, close to Guangzhou Railway Station

Medical Service

Guangdong Provincial People's Hospital
Address: No.106, Zhongshan 2nd Road, Yuexiu District



Guangzhou First People's Hospital
Address: No.1, Panfu Road, Yuexiu District



The First Affiliated Hospital, Sun Yat-sen University
Address: No.58, Zhongshan 2nd Road, Yuexiu District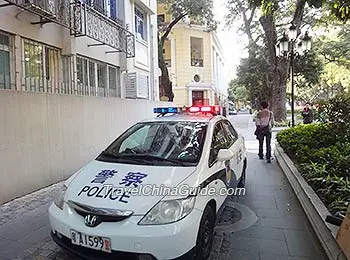 Guangzhou Police

Nanfang Hospital
Address: No. 1838, North Guangzhou Avenue, Baiyun District



The First Affiliated Hospital of Guangzhou Medical University
Address: No.151, Yanjiang Road

Useful Numbers

Medical Urgency: 120


Police Urgency: 110


Fire Urgency: 119


Traffic Accident: 122


Red Cross Urgency: 999


Tourism Complaint: 12345 or 12301
- Last updated on Apr. 25, 2021 -
Questions & Answers on Guangzhou Travel Tips
Asked by Tarek from CHINA | Apr. 20, 2021 21:23

Reply
is there any sea beach in guangzhou?
Answers (1)
Answered by Eli | Apr. 25, 2021 18:47

0

0

Reply
Yes, you can go to Nansha Tin Hau Palace Scenic Area.
Asked by Gwen from MALAYSIA | Aug. 19, 2019 23:14

Reply
Hi, will be going Guangzhou next year during canton fair.
1) My flight arrival is in the midnight, what kind of public transport shall i take instead of taxi since it's too expensive?

2) Any recommended apartment/ hotels for 4 adults near canton fair?

3) Apart from canton fair, where can i roam? Like shopping district?
Answers (1)
Answered by Amelia from CANADA | Aug. 22, 2019 00:52

0

0

Reply
1. Shuttle bus line 1 and line 2 will operate until the last flight arrival. Thus don't worry.
2. Yes, there are several hotels nearby Canton Fair. Would you mind provide your budget?
3. Shangxiajiu Street, Beijing Road and Haizhu Plaza are recommended shopping places to tour around.
Asked by Benjamin Limbert from GB | May. 15, 2019 09:39

Reply
If I want a one way flight from UK to Guangzhou, where can I get one?
I have wandered how much a journey would cost without a return but every travel site asks when I want to return... what if I decide to live there in the future
Answers (2)
Answered by Jonas from CANADA | May. 15, 2019 20:43

0

0

Reply
You can book a single ticket through booking

travelchinaguide.com.
Answered by Benjamin Limbert from UNITED KINGDOM | May. 17, 2019 05:43

0

0

Reply
Thanks buddy. I'll remember that for when I get chance to go.
Asked by Novi from INDONESIA | May. 01, 2019 18:57

Reply
Hi, I am going to travel to Guangzhou from Hong Kong from June 3rd - 5th with 2 teenagers.
Please advice the itinerary for us and the mode of transportation to get around that area as this is our first time going to GZ. Thanks
Answers (1)
Answered by Jessica from USA | May. 05, 2019 23:02

0

0

Reply
You can take a high speed train from West Kowloon, Hong Kong to GZ South. It takes about hour and the ticket fare is CNY215 per person. Anyway, it is better for you to book tickets in advance.