Guangzhou Nightlife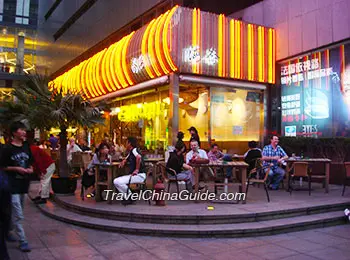 Local Street View
As one of the first Chinese cities that was opened to the outside world, Guangzhou is definitely a pioneer in introducing fresh overseas trends in the field of entertainment. And it is easy to find a place to relax in such a big city.
If you'd like to improve your health, there are golf courses, tennis courts and bowling clubs. If you just want to relax, the Karaoke parlors and pubs are good choices. Or you can take a boat on the Zhujiang (Pearl River) to enjoy the charming night scenery of the city.
Yue Ju (Cantonese Opera) is an opera style popular in Guangdong, Guangxi, Hong Kong, Macau and wherever overseas Chinese are found in Southeast Asia. It is sung and read in Guangzhou dialect. The vocals rise and fall in ever changing cadences, and the melodies are harmonious and graceful. You can have a listen when you are traveling there.
The schedules are 18:00 - 20:00, 20:00 - 21:30 and 20:30 - 22:30. It costs about CNY38 (or CNY48 including CNY10 for dinner) for tourist boat and about CNY68 (CNY98 including dinner expenditure) for deluxe boat. (The ticket fare is just for your reference.)
Address: Da Shatou Dock, Yanjiang Lu
Transportation: you can take bus 182, 184, 188, 125, 36, 44 543 to get to the dock.
Bars & Pubs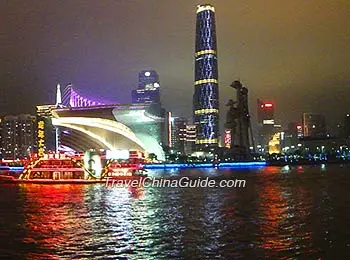 Pearl River Night Cruise
Three famous bar streets: Binjiang Lu, Huanshi Lu and Bai'e Tan, are the best known in Guangzhou. Binjiang Lu Bar Street is by the bank of the Zhujiang (Pearl River), and has lovely scenery. Huanshi Lu Bar Street is located in the city center. However, the Bai'e Tan Bar Street, located at Changdi Lu on the bank of Bai'e Tan (White Goose Pond), is the most exotic.
Amigo
Location: B03, Bai'e Tan Bar Street, Fangcun
The French pub downstairs is divided into compartments with wooden barriers and wooden winding stairs. Saddles, whips, western historical paintings, and antique wine bottles decorate every corner of the pub. A small western restaurant upstairs is a good place to enjoy the enticing Zhujiang (the Pearl River).
Golf Club
Location: at the north gate of Yuexiu Park, Huanshi Zhong Lu
There is a big outdoor garden in the Golf Club. The environment is tranquil and charming.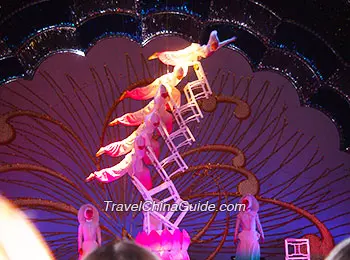 23 Club
Location: Floor 1, Guangdong International Electronic Mansion, No. 403, Huanshi Dong Lu
Baby Face
Location: Aiqun Mansion, No.83, Changdi Lu
Bridge House
Location: at the south gate of the Guangdong Arts Gallery, No.38, Yanyu Lu, Ersha Island
Party World
Location: Floor 1, Huihua Business Building, No.80, Xianlie Zhong Lu

Cinemas
China Plaza Theater
Location: Floor 8, Zhonghua Square, No.33, Zhongshan San Lu
It is the first five-star cinema in the city and it ranks as one of the Top Ten box office cinemas in China.
Yonghan Cinema
Location: No.186, Beijing Lu, Yuexiu District
It is easy to find in the commercial center of Beijing Lu.
- Last modified on Aug. 02, 2017 -
Questions & Answers on Nightlife in Guangzhou
Asked by R Wong from SINGAPORE | Aug. 02, 2017 07:48

Reply
Where can I find wine bars in Guangzhou?
Answers (1)
Answered by David from CANADA | Aug. 02, 2017 22:27

0

0

Reply
You are suggested to go to Yuexiu District, the famous Yangjiang Rd Bar Street lies there.
Baie Tan style Bar Street in Changdi Rd, Huadu Street, Liwan District, is another good choice.
Asked by Ron from NEW ZEALAND | Jul. 03, 2017 23:31

Reply
Hi I am visiting Guangzhou in Sept 2017 for about 30 days.
Have heard about nightlife fun and all that thing. Is there anything we need to taken care of ? Is it safe ? all bars and pubs are fully licensed ? any kind of help is appreciated.

Thank you
Answers (1)
Answered by Lan from UNITED KINGDOM | Jul. 04, 2017 01:57

0

0

Reply
Well, you can go to Baxing G5 Bar Street in Fengche Aquare in Baiyun District. Lots of bars here are with an aviation theme, decorated with many planes models. Generally speaking, the bars are safe and provide you with a pleasant nightlife enjoy. Have fun!
Asked by Harshdeep from AUSTRALIA | Nov. 24, 2016 01:09

Reply
I am staying in Guangzhou tommorow night what to have some fun.
And go to some night clubs and pubs where you can meet some English speaking girls and have good time. Is there anything around city or airport as I am staying just next to airport?
Any help will be appreciated
Answers (1)
Answered by Savannah from CANADA | Nov. 24, 2016 21:00

0

1

Reply
Oh, you can find several nice bars at Yanjiang Street, Yuexiu District. Among them, True Color Bar and Soho Bar are popular ones.
True Color Bar: No.276, Middle Yanjiang Road.
Soho Bar: No.87, Changti Damalu, Yuexiu District
Have fun!
Asked by Desmond from SINGAPORE | Sep. 12, 2016 01:43

Reply
We intend to take the evening river cruise near Haizhu Plaza.
What is the best time schedule and the type of tickets that we should purchase if we are interested in medium boat? Do you recommend to buy tickets that include dinner? And how to reach the dock or jetty for the cruise?
Answers (1)
Answered by Susan from USA | Sep. 13, 2016 03:15

1

0

Reply
Well, you may take the one that departs at 18:40 from Tianzi Wharf. The trip takes about 1.5 hours. To have a dinner on the cruise will be a delightful experience. The cruise with a buffet costs CNY 138. From Haizhu Square, you can walk east along Middle Yanjiang Road for about 600 yards to Tianzi Wharf. ;)