Guangzhou Shopping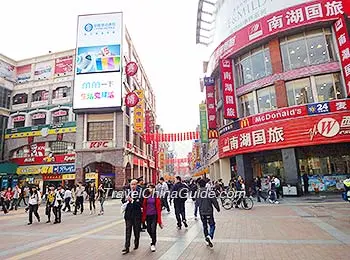 Shangxia Jiu Pedestrian Street
Lying next to Hong Kong and Macau, Guangzhou is aware of its commercial development. The biannual Canton Fair adds to the commercial atmosphere. To tourists, the city is really a 'Shoppers' Paradise'.

If a friend comes to Guangzhou from afar, Cantonese will take him/her to walk around the Shangxia Jiu Lu and Teem Plaza area. Just like the Wangfujing in Beijing, the Town God's Temple (Chenghuang Miao) in Shanghai and the Confucius Temple in Nanjing, Shangxia Jiu Lu is the most influential traditional commercial street there.

Shangxia Jiu Lu Pedestrian Street is located in the Liwan District of Xiguan, a prosperous traditional commercial district. It is the first commercial pedestrian street in the city. Walking into this street, you will see the featured Qi Lou, an old building style that exists in this city and its neighboring areas, on both sides of the road. It reflects the strong Lingnan Culture. On this street lie more than 200 stores, especially those brand name restaurants and teahouses open here. From 13:00 to 21:00 on weekends and holidays and on every night, Shangxia Jiu Lu is restricted to pedestrians only.

Be sure to go to Shangxia Jiu Lu. Even if you don't buy anything, just walking along it you will feel the cultural atmosphere there with Qi Lou on both sides.

Walking on the Beijing Lu, in the city center, however, you will find a world far different from Shangxia Jiu Lu. It is simultaneously fashionable and traditional.

If you are interested in Japanese and Korean fashion, go to Zhuangyuan Fang (Number One Scholar Lane) on Renmin Nan Lu. Although it is a small lane less than 200 meters (219 yards) long, the Zhuangyuan Fang attracts numerous visitors by its most fashionable clothes, ornaments, and small articles that are popular with young people.

The most famous department stores are Teem Plaza, China Plaza (Zhonghua Guangchang). The Teem Plaza has become the new commercial center of the city. Here boutiques, shops selling fantastic goods and restaurants come together.

Hualin Jadeware Street & Wende Calligraphy and Painting Street
Located on Xia Jiu Lu, Hualin Jadeware Street is a place mainly dealing with retail, wholesale and jade and jewelry processing. It is said the history of this street can be traced back to the Qing Dynasty (1644-1911). From that time, Hualin Jadeware Street has already been the famed Jadeware Fair. At present, hundreds of jadeware stores are found here. Best-quality jades from Burma and Yunnan Province are made into jade bracelets, rings and other wares.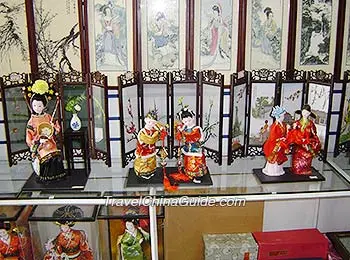 Souvenir Shops at Wende Street
Wende Calligraphy and Painting Street neighboring the Beijing Lu is known as 'Guangzhou Gallery'. Stores selling works of calligraphy and craftworks line both sides of the road.

Yide Lu Seafood Market is the home of famous dried seafood. You will find a wide variety such as oysters, abalone and cuttlefish... Shan Hai Cheng and Hai Zhong Bao are the most reputed seafood markets here.

The Clothes Wholesale Market: Gaodi Street from Beijing Nan Lu at the east to Qiyi Lu at the west and Hongmian Clothes Market at F1, 2 and 3, No.184, Huanshi Xi Lu.

Highsun Electrical Appliance Market is the right place for those who want to buy electrical appliances.



Local Products
Don't forget to buy some local products such as the Wang Laoji Herbal Tea, cooking materials, Canton Embroidery, Canton Enamel and Canton Sculpture.
1.Canton Sculpture includes Canton Ivory Carvings, Jade Sculpture, Wood Sculpture and Olive Sculpture.
2.Canton Enamel is short for Guangzhou Colorful Pottery. It has a history of over 300 years.
3. Canton Embroidery, namely Yue Embroidery, is one of the Four Famous Chinese Embroideries together with Su Embroidery, Xiang Embroidery and Shu Embroidery.
4.Canton Bacon is the general designation of cured meat in the this area.
5.Wang Laoji Herbal Tea is a kind of medicine that is healthy for the human body.
| | |
| --- | --- |
| Olive Carvings | Inkstone |
- Last modified on Nov. 20, 2018 -
Questions & Answers on Shopping in Guangzhou
Asked by Flower from SINGAPORE | Nov. 20, 2018 04:45

Reply
I'm travelling Guangzhou 27th Nov
wondering if am able to source for summer clothing during this season?
Asked by Chloe from SINGAPORE | Nov. 14, 2018 21:39

Reply
Hi, may I know if the apparel wholesalers in Guangzhou only sells winter wear in nov/dec?
Thanks
Answers (1)
Answered by Kent from SINGAPORE | Nov. 15, 2018 17:59

0

0

Reply
They not only sell the winter clothes but the autumn clothes, because this city to south and its temperature is not as cold as the northern cities.
Asked by eleni from ETHIOPIA | Oct. 31, 2018 18:58

Reply
i am coming to Guangzhou end of November.
i would like to buy fashionable wedding dresses and dinner clothes.so which place do u recommend me?
Answers (1)
Answered by Jeremiah from UNITED KINGDOM | Nov. 01, 2018 23:11

0

0

Reply
You are advised to go to Baima Clothes Wholesale Market. There are many stores that sell fashion clothes. Most of them have good quliaty and reasonable price. It is located at No. 16, Zhannan Road, Yuexiu District.
Asked by Ting from SINGAPORE | Oct. 24, 2018 21:58

Reply
Where should i stay so that is near Guangzhou downtown area with lots of food and shopping centers?
Answers (1)
Answered by Kenneth from USA | Oct. 25, 2018 20:48

0

0

Reply
Beijing Road Commercial Pedestrian Street is recommended to you. It is located at the city center and full of shops and restaurants that can meet your demand.
Asked by Abdullah from PAKISTAN | Oct. 06, 2018 02:41

Reply
How to reach Guangzhou Guangda Market?
Dear all,

Kindly tell me how i can reach to the Guangda clothing market, as i am in search of kids garments, and ladies tops & blouses at very reasonable prices...
Please also guide at what price i can get, ladies top, medium and best quality...
Kind regards...
Answers (1)
Answered by Ken from USA | Oct. 09, 2018 20:25

0

0

Reply
Dear, there are many Guangda Markets there and could you tell me the specific address?