Guangzhou Shopping
Guangzhou is a large manufactory for many products, which contributes a lot to the rapid development of wholesale markets. This attracts worldwide businessmen to go shopping in China Guangzhou. The biannual Canton Fair further adds to the commercial atmosphere. To tourists, Guangzhou is also a shopping paradise for buying most fashionable clothes and local specialties. The following briefly tells visitors what to buy and where to shop in Guangzhou.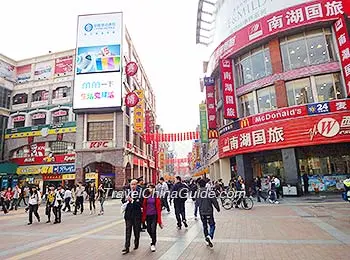 Shangxiajiu Pedestrian Street
What to Buy in Guangzhou
Clothing
The clothing industry in Guangzhou is developing quite rapidly and prosperously. The clothing market is always up to date, providing customers with the most fashionable clothes. Moreover, diversified clothes of different price levels are also provided to meet customers' needs.

Electrics and Electrical Appliances
The electronic industry in Guangzhou is also well developed. The main electrical appliances available are as follows: audio-visual products, communication equipments, household appliances, lightning products and so on.

Local Specialties
Located in the fertile Pearl River Delta and with a history of about 2,800 years, Guangzhou is rich in local products. Also, due to its location along China's south coastal line, many products gather here. All these contribute to the unique, colorful and various local specialties.

Where to Buy Clothes in Guangzhou
Clothing Wholesale Markets
Wholesale markets are favored by customers who want to buy clothes in bulk at lower prices. Generally speaking, the more clothing one buy, the bigger discount one will get. Around Guangzhou Railway Station, gather many clothes wholesale markets, like Tianma Wholesale Markets and Zhanxi Wholesale Markets. Moreover, Baima Clothing Wholesale Markets and Shahe Clothes Wholesale Markets are quite large and bustling markets.

Pedestrian Streets
Pedestrian streets are more suitable for shopping at a leisurely pace. Beijing Road and Shangxiajiu Pedestrian Street rank the most popular among locals and visitors. Hundreds of small shops stand along either side of the streets selling clothes, shoes, and other unique products. Prices are generally higher here than at the wholesale markets.

High-end Shopping Malls
Among all the shopping districts in Guangzhou, Tianhe CBD is the largest centralized area of high-end shopping malls, such as K11, Tianhui Square, Tianhe City, Gaode Zhidi Square… These shopping malls provide tourists with upscale service and exquisite high-end clothes from top domestic and foreign brands.

Where to Buy Electrics and Electrical Appliances
There are many electrics or electrical appliances wholesale markets. The top shopping area in Guangzhou for those items is around Haiyin Square. Hanyin Electrical Appliance Market, Xingzhiguang Market and Stage Appliance Market are highly advised for customers.

Top Souvenirs to Buy in Guangzhou & Where to Buy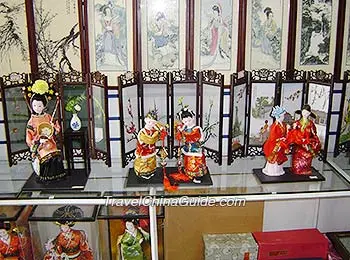 Cantonese Embroidery Souvenirs
Cantonese Embroidery
Cantonese embroidery, famous for its bright color and vivid pattern, must deserve buying as a precious gift. Guangxiuzhuang, located in No.100 Yuehua Road, is specialized in selling Cantonese embroidery.
See more Chinese Embroidery

Jade Sculpture
Located on Xia Jiu Lu, Hualin Jadeware Street is a place mainly retail and whole sell jade and jewelry items. It is said the history of this street can be traced back to the Qing Dynasty (1644-1911). From that time, Hualin Jadeware Street has already been the famed Jadeware Fair. At present, hundreds of jadeware stores are found here. Best-quality jades from Burma and Yunnan Province are made into jade bracelets, rings and other wares.
See more about Chinese Jade

Nangfang Tea Market must be a wonderful place for you to choose any kinds of tea, including black tea, green tea, bitter tea, Pu'er tea, Tie Guan Yin, flower tea and so on.

Since Guangzhou is a distribution of Chinese herbal medicine in southern China, visitors can try picking up some at a reasonable price. If you are interested, go to Qingping Market, one of the largest Chinese herbal medicines market in Southern China.

Other Specialties: Various carvings including olive carvings, wood carvings, inkstones with delicate carvings; Cantonese sausage; Cantonese dim sum…
| | |
| --- | --- |
| Olive Carvings | Inkstone |
Guangzhou Airport Shopping
To meet transfer passengers' needs, shopping areas have been set at Guangzhou Airport. Due to its special location, the products here are various, including both local specialties and luxury products from international brands. The product price at those duty free shops is generally lower than that in downtown, while in other regular shops are higher.
- Last modified on Apr. 03, 2019 -
Questions & Answers on Shopping in Guangzhou
Asked by Pretty from SOUTH AFRICA | Apr. 18, 2019 03:54

Reply
Where can I buy Brazilian or Peruvian hair weaves around Guangzhou city?
Asked by Lily from SINGAPORE | Mar. 28, 2019 08:06

Reply
Can i check if i go guang zhou in pct will they still sell spring clothing?
Answers (1)
Answered by Sebastian from UNITED KINGDOM | Apr. 03, 2019 20:51

0

0

Reply
Do you refer to October? If yes, you can still find many stores that sell spring and autumn clothes.
Asked by Kamal Khetpal from NEW ZEALAND | Mar. 20, 2019 16:58

Reply
Where can I find good quality clothing in Guangzhou market to buy in bulk?
Answers (1)
Answered by Banner from NEW ZEALAND | Mar. 20, 2019 20:34

0

0

Reply
The Baima Wholesale Market located in No.16 Zhannan Road, Yuexiu District is available.
Asked by Cindy from SINGAPORE | Mar. 06, 2019 15:49

Reply
Hi, where can I get the baking tools in Guangzhou? Thanks
Answers (1)
Answered by Amy from USA | Mar. 06, 2019 19:32

0

0

Reply
There are some shops selling baking tools in Nantai Road, Zhuhai District. You can go and see.