Guangzhou Private One Day Tour
Dr. Sun Yatsen's Memorial Hall - Temple of Chen Family - Temple of the Six Banyan Trees - Huacheng Square
At about 08:00 in the morning, your local professional guide will wait for you at the lobby of your own booked downtown hotel with private transfer. Your one-day Guangzhou tour will start with a visit to the Dr. Sun Yatsen's Memorial Hall. The next stop of your private tour is the Ancestral Temple of the Chen Family to enjoy Chinese traditional fine arts and crafts.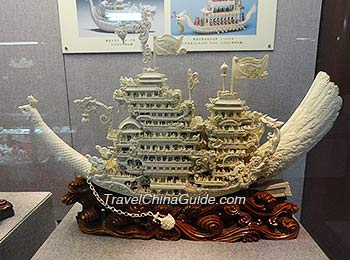 Ivory Carving of Ship at Chen Family's Temple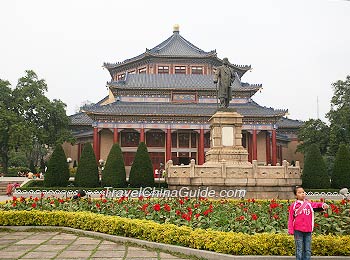 Dr. Sun Yatsen's Memorial Hall
Lunch is left for you to explore the popular Cantonese cuisine on your own. You may ask your guide for some recommendations of delicious local food and decent restaurants. After that, we will transfer you to the 1500 years old Temple of the Six Banyan Trees. The last stop is Huacheng Square (Flower City Square), where you will get impressive views of the buildings surrounding the square, including the Canton Tower, Guangdong Museum, Guangzhou Library, Guangzhou Opera House and the IFC Tower.
To conclude the Guangzhou day trip, your guide and driver will transfer you back to your hotel or another place where you would like to have your dinner. Then after the dinner, please find your own way back to the hotel.
Dr. Sun Yatsen's Memorial Hall
It is one of the many memorial halls in the country for this great forerunner in the revolutionary history, the founder of Nationalist Party of China and Republic of China. Built in 1929, the whole architectural complex covers an area of 62,000 square meters. The main building is a 3,700 square meters majestic octangle hall with no pillars in the middle. The plaque of the hall is inscribed with Dr. Sun's own handwriting: "the world is for all" which was also the guidance and goal of his revolutionary life.

Ancestral Temple of the Chen Family
It was built in 1894 of the Qing Dynasty by the joint-venture of all the Chens in the province. It was originally used as a residence for the Chens' children when they came to Guangzhou to take part in the imperial examinations. But after the system was abolished, it became the family's academy. This family temple is large scaled, garishly decorated and very well preserved. The whole area of structure occupies an area of 8,000 square meters which contains incomputable elegant and complicated sculptures, screens, windows and railings, etc. The buildings themselves are art works which were visited and highly praised by many architects from all over the world.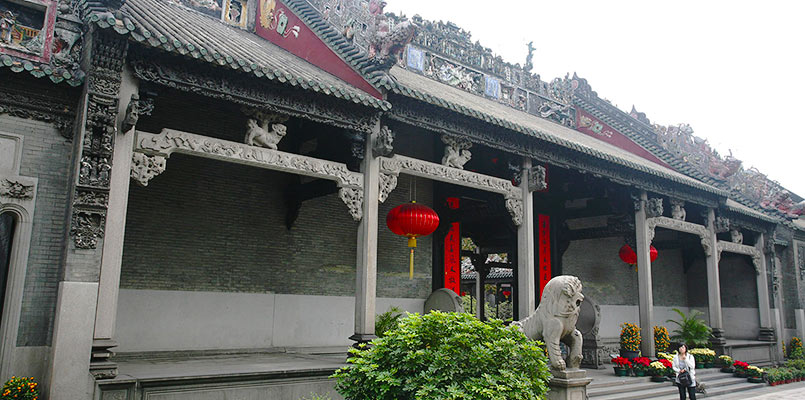 Exquisite buildings in the Ancestral Temple of the Chen Family
Prices (US$ Per Person)
1 person

$273

2 persons

$157

3 persons

$157

4 persons

$121

5 persons

$121

6 persons

$80

7 persons

$80

8 persons

$80

9 persons

$80

10+

$59

Recommended reading:
Tips & Traps for One-day Tours
Price Includes
Private English-speaking guide
Private driver & air-conditioned vehicle
Entrance fees to tourist sites
Price Excludes
Hotel accommodation with breakfasts
Lunches and Dinners
Tips or gratuities for guide and driver
Why Travel With Us
Itineraries you may also like:
Questions & Answers
Asked by Zhang from USA | Jan. 25, 2020 17:15

Reply
Visa
I am traveling from US-Guangzhou-back to US. Is this an eligible route?
Answers (2)
Answered by Zhang from USA | Jan. 25, 2020 17:30

0

0

Reply
And total time in between is less than 72 hours. Arrival on Satuday Feb 29 and Departure Monday AM.
Answered by Charles | Mar. 30, 2020 17:29

0

0

Reply
You are not eligible for 72-hour visa free because your departure and destination are the same places. 72-hour visa free policy allows air travelers from a country to transit in China within 3 days and then onto another country or region rather than China and the departure country.
Asked by Kimberlee from USA | Dec. 07, 2019 22:46

Reply
I have a 6 hour layover in Canton
Is there anything that I can see in that amount of time? I arrive at 15:40 on Dec 30th, depart at 22:00 Dec 30. I am looking to book a tour to a historical site hopefully, if not what ever is recommended for that time period that is of cultural significance.
Answers (1)
Answered by Edwin | Dec. 08, 2019 19:16

0

0

Reply
If you arrive at Guangzhou Baiyun Airport at 15:40 and then depart at 22:00, you will have no more than 4 hours for a tour. As I know, there is no historical sites near the airport. However, Yuexiu Park where you can see Five-Ram Sculpture is about 30 km distance away from the airport. You can take the subway to park, and the round way subway trip will take around 2 hours so that you have only 2 hours to wander around. After arriving at the airport, you can find the Airport South Station (T1) and get on Subway Line 3 North Extension Line to Jia He Wang Gang Station. Then transfer to Subway Line 2 to Yuexiu Park Station. Exit B1, you can find the park. The subway ticket fee is around CNY 7. To save some time on the way, you can also consider to take a taxi, the taxi fare to Yuexiu Park is around CNY 90.
Asked by Ryan Teo from SINGAPORE | Aug. 08, 2019 19:56

Reply
Shenzhen to Guangzhou - Visa required?
Hi, I am travelling to Shenzhen on a Tourist L Visa (1 time entry). I would like to do a day trip to Guangzhou. Do I need an additional visa to enter back into Shenzhen?
Answers (1)
Answered by John Doe | Aug. 10, 2019 10:43

0

0

Reply
There are no border controls within Mainland China and a visa is valid for all parts of Mainland China except Tibet.
Asked by ARNEL HERNANDEZ from PHILIPPINES | May. 22, 2019 20:13

Reply
Im a filipino , vacationing in HK , want to visit Guangzhou,overnight stay can we get a 144 visa?
Answers (1)
Answered by Olivia | May. 23, 2019 17:45

0

0

Reply
As I know, the Philippines is not included in the 53 countries that can apply for 144-hour transit visa exemption, and your itinerary is not applicable to apply for a transit visa.
Asked by Bill from NZ | May. 15, 2019 18:33

Reply
Travelling from AKL to Guangzhou to Taiwan and return same route
Can I get a 144 hr visa free in Guangzhou in each direction?
Answers (1)
Answered by ZUPAN | May. 16, 2019 02:01

0

0

Reply
Auckland - Guangzhou - Taiwan is definitely eligibe for 144 hours visa free transit in both ways in case that you have mentioned all your stops and in case that your citizenship is eligible. New Zealand citizenship is eligible.