Guangzhou Private One Day Tour
Dr. Sun Yatsen's Memorial Hall - Temple of Chen Family - Temple of the Six Banyan Trees - Huacheng Square
At about 08:00 in the morning, your local professional guide will wait for you at the lobby of your own booked downtown hotel with private transfer. Your one-day Guangzhou tour will start with a visit to the Dr. Sun Yatsen's Memorial Hall. The next stop of your private tour is the Ancestral Temple of the Chen Family to enjoy Chinese traditional fine arts and crafts.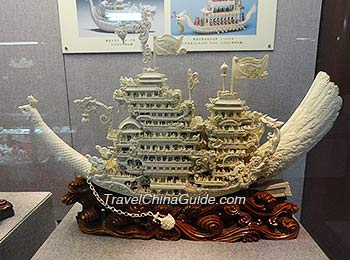 Ivory Carving of Ship at Chen Family's Temple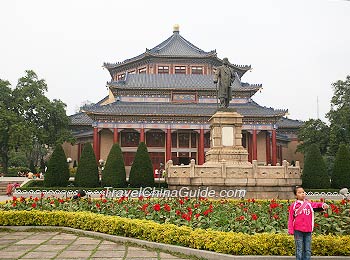 Dr. Sun Yatsen's Memorial Hall
Lunch is left for you to explore the popular Cantonese cuisine on your own. You may ask your guide for some recommendations of delicious local food and decent restaurants. After that, we will transfer you to the 1500 years old Temple of the Six Banyan Trees. The last stop is Huacheng Square (Flower City Square), where you will get impressive views of the buildings surrounding the square, including the Canton Tower, Guangdong Museum, Guangzhou Library, Guangzhou Opera House and the IFC Tower.
To conclude the Guangzhou day trip, your guide and driver will transfer you back to your hotel or another place where you would like to have your dinner. Then after the dinner, please find your own way back to the hotel.
Dr. Sun Yatsen's Memorial Hall
It is one of the many memorial halls in the country for this great forerunner in the revolutionary history, the founder of Nationalist Party of China and Republic of China. Built in 1929, the whole architectural complex covers an area of 62,000 square meters. The main building is a 3,700 square meters majestic octangle hall with no pillars in the middle. The plaque of the hall is inscribed with Dr. Sun's own handwriting: "the world is for all" which was also the guidance and goal of his revolutionary life.

Ancestral Temple of the Chen Family
It was built in 1894 of the Qing Dynasty by the joint-venture of all the Chens in the province. It was originally used as a residence for the Chens' children when they came to Guangzhou to take part in the imperial examinations. But after the system was abolished, it became the family's academy. This family temple is large scaled, garishly decorated and very well preserved. The whole area of structure occupies an area of 8,000 square meters which contains incomputable elegant and complicated sculptures, screens, windows and railings, etc. The buildings themselves are art works which were visited and highly praised by many architects from all over the world.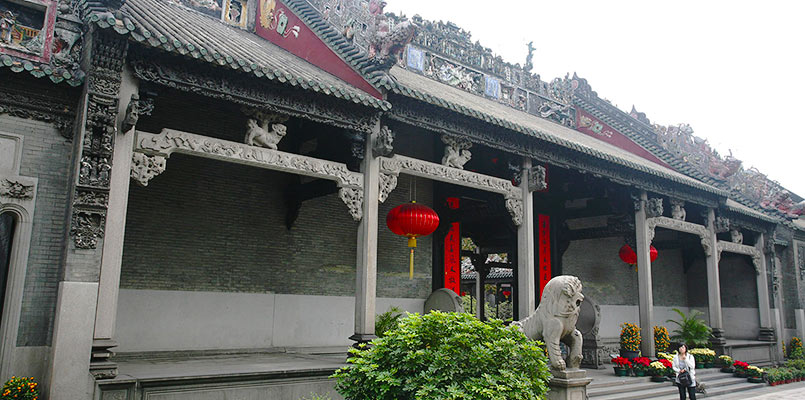 Exquisite buildings in the Ancestral Temple of the Chen Family
Tour Prices
| 1 traveler | 2-3 travelers | 4-5 travelers |
| --- | --- | --- |
| USD249 | USD149 | USD109 |
Prices are per person in US Dollars.

Price Includes
Private English-speaking guide
Private driver & air-conditioned vehicle
Entrance fees to tourist sites
Price Excludes
Hotel accommodation with breakfasts
Lunches and Dinners
Tips or gratuities for guide and driver
Why Travel With Us
Itineraries you may also like: