Guangzhou Weather in March
As the temperature rises, Guangzhou weather sees more rainy days in March than in February. Thus, the humidity in the air becomes higher. The weather is still unstable, with the highest temperature up to 30°C (86°F) and the lowest temperature down to 10°C (50°F). Fog may possibly occur after several days' rain. There is still a big temperature difference between day and night.
The
Chinese New Year
has just passed, and the spring session of the
Canton Fair
hasn't started yet. As a result, Guangzhou comes to a short low tourist season in March.
Averages for Guangzhou Weather in March
Temperature: 18°C / 64°F
High Temperature: 21°C / 70°F
Low Temperature: 15°C / 59°F
Humidity: 82%
Rainfall: 85 mm
Rainy Days:15 days
Sunrise: 06:20 ~ 06:48
Sunset: 18:30 ~ 18:42
Air Quality in March
Average AQI:52

What to Wear in Guangzhou in March
Generally, a long-sleeve shirt/T-shirt with pants is sufficient for the spring climate in Guangzhou. Carry a thin overcoat or warm cardigan to manage the cooler mornings and evenings. Bring enough clothes for change, as the high humidity in the air that will make clothes drying more difficult..


Where to Go in Guangzhou in March
March is a good time to enjoy the magnificent spring blooms all over Guanzhou. Ideal outings include Chimelong Resort, Lotus Hill, White Cloud Mountain, and South China Botanical Garden.
Top 10 Things to Do in Guangzhou
Other Tips
For those who are allergic to pollen, it's suggested to wear a mask and take an anti-allergen before going out. Remember to wash your hands afterwards, too. Bring some cold medicine due to the variable weather, and an umbrella is also a necessity for a trip to Guangzhou in March.
What is the temperature in Guangzhou in March?
High/Low Temperatures of Guangzhou in March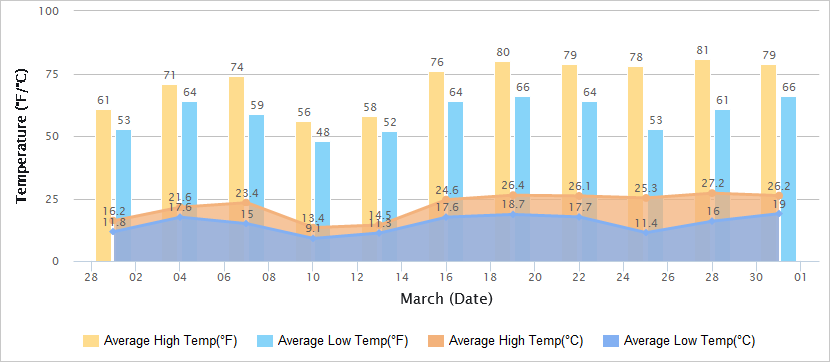 Air Quality of Guangzhou in March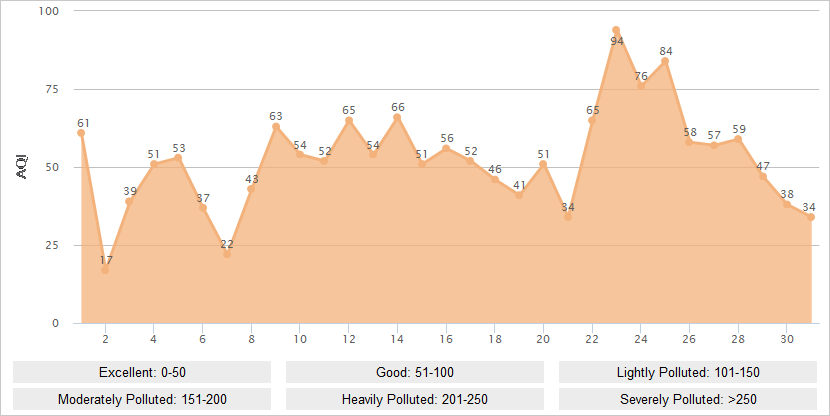 Historical Guangzhou Weather in March
Mar
Temperature
Sunrise / Sunset
Humi-
dity
(%)
High
Low
1
16.2°C / 61.2°F
11.8°C / 53.2°F
06:48 / 18:30
97
2
25.7°C / 78.3°F
15.2°C / 59.4°F
06:48 / 18:30
87
3
19.7°C / 67.5°F
15.3°C / 59.5°F
06:47 / 18:31
91
4
21.6°C / 70.9°F
17.6°C / 63.7°F
06:46 / 18:31
93
5
24.7°C / 76.5°F
19°C / 66.2°F
06:45 / 18:32
92
6
25.7°C / 78.3°F
22.1°C / 71.8°F
06:44 / 18:32
92
7
23.4°C / 74.1°F
15°C / 59°F
06:43 / 18:33
95
8
15°C / 59°F
12.4°C / 54.3°F
06:42 / 18:33
97
9
12.4°C / 54.3°F
10.3°C / 50.5°F
06:41 / 18:34
91
10
13.4°C / 56.1°F
9.1°C / 48.4°F
06:40 / 18:34
76
11
11.5°C / 52.7°F
8.7°C / 47.7°F
06:39 / 18:34
94
12
14°C / 57.2°F
9.5°C / 49.1°F
06:38 / 18:35
88
13
14.5°C / 58.1°F
11.3°C / 52.3°F
06:38 / 18:35
91
14
18°C / 68.4°F
11.8°C / 53.2°F
06:37 / 18:36
91
15
21.4°C / 70.5°F
15.6°C / 60.1°F
06:36 / 18:36
91
16
24.6°C / 76.3°F
17.6°C / 63.7°F
06:35 / 18:36
93
17
25.9°C / 78.6°F
19.9°C / 67.8°F
06:34 / 18:37
92
18
28.5°C / 83.3°F
18.8°C / 65.8°F
06:33 / 18:37
88
19
26.4°C / 79.5°F
18.7°C / 65.7°F
06:32 / 18:32
87
20
25.3°C / 77.5°F
19.8°C / 67.6°F
06:31 / 18:38
86
21
23.6°C / 74.5°F
19.8°C / 67.6°F
06:30 / 18:38
84
22
26.1°C / 79°F
17.7°C / 63.9°F
06:29 / 18:39
81
23
22.5°C / 72.5°F
12.3°C / 54.1°F
06:28 / 18:39
84
24
22.1°C / 71.8°F
10.4°C / 50.7°F
06:27 / 18:39
68
25
25.3°C / 77.5°F
11.4°C / 52.5°F
06:26 / 18:40
68
26
25.2°C / 77.4°F
10.7°C / 51.3°F
06:25 / 18:40
73
27
26.7°C / 80.1°F
10.5°C / 50.9°F
06:24 / 18:41
62
28
27.2°C / 81°F
16°C / 60.8°F
06:23 / 18:41
72
29
27.2°C / 81°F
17°C / 62.6°F
06:22 / 18:41
75
30
27.3°C / 81.1°F
18.4°C / 65.1°F
06:21 / 18:42
80
31
26.2°C / 79.2°F
19°C / 66.2°F
06:20 / 18:42
88
- Last modified on Aug. 26, 2019 -