Guangzhou Weather in April
Guangzhou gradually enters into summer and its rainy season in April. A popular Chinese poem tells how it rains heavily when the annual
Qingming Festival
comes around. So it is not surprising that the weather is normally very wet in April, when storms are possible. However, the temperature stays around 22

C (72

F), very comfortable for outdoor activities, provided you come properly prepared.
The annual spring China Import and Export Fair (
Canton Fair
) usually starts from middle April and lasts until early May. Thus, the hotels in the city are always fully booked in this month.
Data of Guangzhou Weather in April
Average Temperature: 22

C / 72

F
Average High Temperature: 26

C / 79

F
Average Low Temperature: 19

C / 66

F
Average Humidity: 84%
Average Rainfall: 201 mm
Average Rainy Days: 16 days
Time of Sunrise: 05:55 ~ 06:19
Time of Sunset: 18:42 ~ 18:54
Air Quality in April
Average AQI:54


Clothing Advice: A short-sleeved shirt plus a pair of long jeans is enough for the day. Take enough clothes for change, since it's not that easy to dry clothes in Guangzhou. Bring a light overcoat with you for early morning and evening. Waterproof sports shoes are comfortable for walking and should keep your feet dry.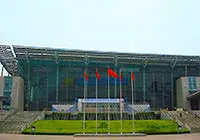 Canton Fair Exhibition Hall in April

Travel Advice: It's a good time to go for an outing to enjoy the beauty of nature. Recommended places are Baishuizhai Scenic Area in Zengcheng City, Baomo Garden & Garden of Million Sunflowers in Panyu City as well as Ling Nan Impression Garden in Guangzhou University Town.

Other Tips: An umbrella is essential in case of rain while you are out and about. Essential medicines for cold and carsickness should also be prepared. Pay attention to the weather variations, and wear proper clothes. Try to avoid visiting the city during the Canton Fair period, in view of the shortage of accommodation & transportation as well as the high cost.

Historical Guangzhou Weather in April
Apr
Temperature
Sunrise / Sunset
Humi-
dity
(%)
High
Low
1
27.4°C / 81.3°F
13.1°C / 55.6°F
06:19 / 18:42
67
2
27.9°C / 82.2°F
14.9°C / 58.8°F
06:18 / 18:43
77
3
28.3°C / 82.9°F
16.7°C / 62.1°F
06:17 / 18:43
79
4
23.8°C / 74.8°F
15.2°C / 59.4°F
06:16 / 18:44
70
5
21.8°C / 71.2°F
15.1°C / 59.2°F
06:15 / 18:44
69
6
25.5°C / 77.9°F
16.8°C / 62.2°F
06:14 / 18:44
67
7
27.2°C / 81°F
16.7°C / 62.1°F
06:13 / 18:45
69
8
28.2°C / 82.8°F
18.7°C / 65.7°F
06:13 / 18:45
83
9
28.5°C / 83.3°F
19°C / 66.2°F
06:12 / 18:45
76
10
29.3°C / 84.7°F
17.7°C / 63.9°F
06:11 / 18:46
78
11
32.2°C / 90°F
17.6°C / 63.7°F
06:10 / 18:46
76
12
27.1°C / 80.8°F
20.9°C / 69.6°F
06:09 / 18:47
62
13
29.7°C / 85.5°F
20.4°C / 68.7°F
06:08 / 18:47
65
14
29.6°C / 85.3°F
17.1°C / 62.8°F
06:07 / 18:47
76
15
29.2°C / 84.6°F
19.1°C / 66.4°F
06:06 / 18:48
76
16
30.1°C / 86.2°F
22.5°C / 72.5°F
06:05 / 18:48
76
17
28°C / 82.4°F
21.5°C / 70.7°F
06:05 / 18:49
91
18
29.3°C / 84.7°F
20.2°C / 68.4°F
06:04 / 18:49
66
19
31.8°C / 89.2°F
17.5°C / 63.5°F
06:03 / 18:49
61
20
27.5°C / 81.5°F
16.1°C / 61°F
06:02 / 18:50
72
21
27.3°C / 81.1°F
19.4°C / 66.9°F
06:01 / 18:50
69
22
28.5°C / 83.3°F
21.8°C / 71.2°F
06:01 / 18:51
73
23
28.2°C / 82.8°F
18.9°C / 66°F
06:00 / 18:51
63
24
30.4°C / 86.7°F
16.6°C / 61.9°F
05:59 / 18:51
67
25
30.9°C / 87.6°F
15.9°C / 60.6°F
05:58 / 18:52
62
26
30.6°C / 87°F
17.9°C / 64.2°F
05:57 / 18:52
69
27
33.5°C / 92.3°F
21.3°C / 70.3°F
05:57 / 18:53
71
28
32.6°C / 90.7°F
23.2°C / 73.8°F
05:56 / 18:53
78
29
25.8°C / 78.4°F
21.8°C / 71.2°F
05:55 / 18:54
90
30
27.6°C / 81.7°F
22.3°C / 72.1°F
05:55 / 18:54
89
AQI(Air Quality Index) Graph for Guangzhou, China (April 2016)