Guangzhou Zoo
Guangzhou Zoo is one of the three largest urban zoos in China. With an area of over 42 hectares (103.7 acres), there are more than 4,500 animals of 450 species, including rare animals like giant pandas, south China tigers, lions, golden monkeys, and black-necked cranes. It contains three sightseeing districts: Central Area of mammals, Bird's Paradise, and Panlong Park with about 200 amphibians and reptiles. In addition, many entertainment activities are also provided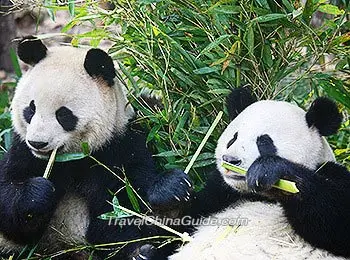 . Visitors can watch the animals performing acrobatics, or have a close contact with the cubs in the Children's Jungle.

As the symbol of China, those cute giant pandas are also known as 'national treasure'. With the black-white coat, they capture the hearts of all visitors. The Giant Panda House is the most popular place in Guangzhou Zoo. But remember to visit them in the morning, since they are easy to get sleepy after eating enough in the afternoon.
The fierce tigers in the Guangzhou Zoo are kept inside cages. Visitors can have a close visit to the King of the Forest.
There are a couple of African lions and two white lions. They eat 6-7.5 kilograms of meat a day. If the lions are fed a few minutes later than their meal time, they will impatiently walk around the cage and growl. After eating and drinking, they usually lie down on the ground and sleep drowsily..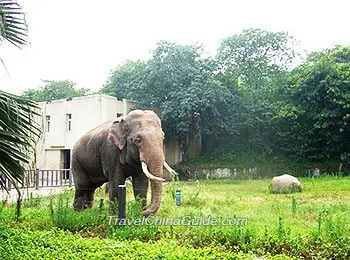 The Goldfish Garden exhibits nearly 100 species in total of 10,000 famed and precious fishes, including goldfish, koi, and freshwater tropical fish, like angelfish, arowana, and silver arowana. Children can have an experience of scooping fish and angling in the Goldfish Garden.
Animal Performance has performers like lions, tigers, monkeys, dogs and horses. They are trained to perform acrobatics and other interesting shows, like riding bikes, and playing scooters.
How to get to Guangzhou Zoo
1. Take
metro line 5
and get off at Zoo (Dongwuyuan) Station. Then get out from Exit B, and enter from the South Gate.
2. Take bus 6, 16, 65, 78, 85, 112, 192, 199, 201, 219, 236, 246, 290, 535, 547, 833, 862b, 862 or University Town Line 4, and get off at Dongwuyuan (Zoo) Station. Then enter from the North Gate.
3. Take bus 72, 74, 84a, 84, 127, 220, 482, 706, Peak Express Line 8 or Peak Express Line 79, and get off at Zoo Bus Terminal.
Guangzhou Bus / Metro Search
Admission Fee
Ticket Type
Adults
Children from 1.2 - 1.5m (3.9 - 4.9ft)
Guangzhou Zoo
CNY 20
CNY 10
Visitors enjoy 20% discount for the entrance fee from Oct. 1 to 7.
Ocean World + Guangzhou Zoo
CNY 120
CNY 70
Ocean World + Guangzhou Zoo + Goldfish Garden + 3D Movie Hall
CNY 140
CNY 90
Free for children under 1.2m.
Apr. 16 - Oct. 15: 8:00 - 16:30
Oct. 16 - Apr. 15: 8:00 - 16:00
Animal Feeding Show Schedule
| | |
| --- | --- |
| Lesser Panda | 10:00, 16:00 |
| Pelican | 10:20, 15:50 |
| Hippo | 10:00, 16:30 |
Print

- Last modified on Oct. 09, 2018 -