Guangdong Museum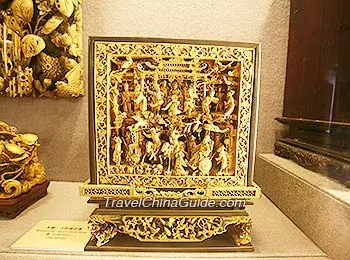 Chaozhou Woodcarving
Guangdong Museum is a first-rate provincial museum in China, containing 166,000 items, including
calligraphy
,
paintings
, ceramics, woodcarvings, and gemstones. Covering an area of 67,000 square meters (721,182 square feet) in
Tianhe District
Guangzhou, it looks like a jewel box from the outside with five floors above ground and one floor below. There are five permanent exhibitions in the museum: Guangdong History and Culture, Chaozhou Gilded Woodcarvings, Natural Resources, Ceramics, and Duan Inkstones.
Guangdong History and Culture
With an area of 4,000 square meters (43,056 square feet), this exhibition displays over 1,500 items, including relics, pictures, oil paintings, sculptures, and models. Using multi-media and reproductions, it presents the history of the province. The Liede Dragon Boat, Ivory Carving Tiered Food Carrier, and many other precious items can be seen in this exhibition.
It is divided into four sections according to a time line. The first section demonstrates the origin of the local people, the ethnic fusion process, and covers three main ethnic groups: Cantonese, Hakka, and Chaoshan People. Many rare items are displayed, such as a Maba Man Skull (the ancestors of local people), a Nanyue King Oil Painting, and Chaozhou Clay Sculptures. Tourists will be transported in the second section to the
Maritime Silk Road
to experience the wonderful course of this region's opening up to foreign countries with various exhibits, such as ceramics, Cantonese faience, Cantonese sculptures, and trade paintings. The third section reviews the contributions local people made in many important historical events in China's Modern History (1840 – 1949), while the fourth part presents their bravery during the Sino-Japanese War (1937 – 1945) through a large number of black-and-white photos.
| | |
| --- | --- |
| Canton Style Furniture | Bronze Wine Vessel |
Chaozhou Gilded Woodcarvings
Chaozhou Gilded Woodcarving in Guangdong Museum is a famous traditional craft school in China, popular in the east of Guangdong Province. It is renowned for its complicated patterns, exquisite and delicate designs, and glorious gold lacquering technique. More than 200 items are displayed here, such as shrines, censers, lunch boxes, and wooden screens. Traditional halls, bedrooms, and studies are reproduced to immerse visitors in the cultural atmosphere of Chaozhou.
Natural Resources
This exhibition covers an area of 4,000 square meters (43,056 square feet). Using simulation landscapes, pictures, samples, and other multi-media, it gives visitors a comprehensive understanding of the natural resources of the province from seven aspects: geologic landforms, minerals, gems, herbal medicines, terrestrial wildlife, sea creatures, and ancient animals.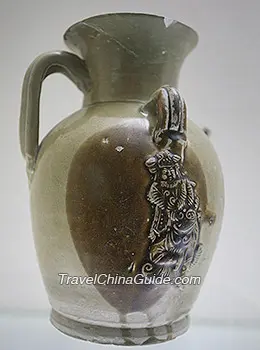 Celadon Pot
Hailed as the Nation of Ceramics, there are plenty of kilns distributed throughout many parts of China. Through a half-century of collecting, Guangdong Museum has gathered a large selection of exquisite ceramics, including various Jingdezhen Ceramics, local Shek Wan Pottery, and Cantonese faience. This exhibition presents the history of Chinese ceramics from the
Neolithic times
to the
Qing Dynasty
(1644 – 1911) with 300 fine exhibits.
Duan inkstones are native to Duanzhou (now
Zhaoqing
, Guangdong), ranking as the first of the Four Great Inkstones of China. Among the traditional local craftworks, Duan inkstone has the longest history. There are 1,000 Duan inkstones in the museum with the oldest ones dating from the
Tang Dynasty
(618 – 907). This exhibition of Guangdong Museum introduces their history, quality, and workmanship in the 6,458-square-feet (600-square-meter) exhibit area with 200 inkstones on display.
How to get to Guangdong Museum
By bus
1. Take bus 18, 293, or 886, and get off at Xicun Lunan Station. Enter from the north gate or the east gate.
2. Take bus 44, 138, or 499 to Linjiang Dadao Zhong, and then walk northwest for 10mins to Guangdong Museum.
By Metro
1. Take metro
APM Line
to Guangzhou Opera House and you will see Guangdong Museum.
2. Take
metro line 3
or
line 5
, and get off at Zhujiang New Town (Zhujiang Xincheng) Station. Get out from Exit B1, and go straight to Guangzhou Opera House. Then walk 200 m (219 yards) east along Linjiang Avenue to the museum.
Guangzhou Bus / Metro Search
Admission Fee:

1. The museum issues 5,000 free tickets a day.
2. Children under 1.4m (4.6ft) can enter without a ticket.
3. Individuals can get tickets at the ticket office with passport.

Opening Hours:

9:00 – 17:00 (Ticketing Time: 8:50 – 16:00)
*Closed on Monday (Except the public holidays in China).

Other museums in Guangzhou:
Guangzhou Museum
Print


Further Reading:
12 Best Places to Visit in Guangzhou
- Last updated on Apr. 15, 2021 -
Questions & Answers on Guangdong Museum
Asked by Max Bond from USA | Aug. 24, 2014 15:13

Reply
Security Check Required to Enter Guangdong Provincial Museum ?
If a security check is required to enter the building is it only same sex? That is do only men search men and only women search women? Or does the museum use only women to search both? I think that would be very disrespectful
Answers (4)
Answered by Bonnie from USA | Aug. 24, 2014 20:56

2

4

Reply
Actually, they use automatic security check system. Only if any alarm rings (sometimes, it rings when someone takes metal things), the staff will check the visitor. There are female and male security staff, without regulation saying that man checking man and woman checking woman.
Answered by max Bond from USA | Aug. 24, 2014 22:07

2

1

Reply
Bonnie when you say there are: "male and female staff without regulation saying male search male and female search female" does that mean men can search women and women can search men?
Answered by Bonnie | Aug. 24, 2014 22:37

4

4

Reply
As I know, it is randomly arranged so that a male may be searched by a woman if there is an alarm. But if you really care about that, you can ask for the security by a person of the same gender.
Answered by Max Bond from USA | Aug. 24, 2014 23:25

5

3

Reply
Sounds like the museum practices gender discrimination they do not treat both genders with the same equal respect.
No one should ever be forced to ask to be treated respectfully.