Guangzhou Museum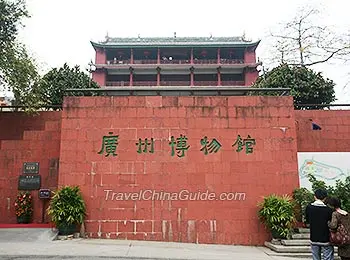 Zhenhai Tower
Located in the
Yuexiu Park
in Guangzhou City (Canton), Guangzhou Museum is a comprehensive history museum with local characteristics. Established in 1929, it is a place used for collection and exhibition of historical data and cultural relics of the city. It has two major exhibition areas – the Zhenhai Tower housing the historical relics and the Art Gallery showing many exquisite local craftworks.
The historical exhibition of Guangzhou Museum is housed in a five-story building named Zhenhai Tower (Sea Guard Tower), which dates back to 1380. Zhenhai Tower is 28 meters (92 feet) high and 31 meters (102 feet) wide. It has been destroyed and rebuilt five times and was changed from a wooden structure to reinforced concrete in 1928. The reddish-brown bricks and grey tiles made the building primitively simple and unique. At the front of the building, there is a pair of two-meter-high stone lions in red sandstone made in the
Ming Dynasty
(1368-1644).
The tower houses nearly a thousand pictures, data and other exhibits on history of the city's history. Those collections display the changes of culture, custom and city developments. Walking into it, you can see a geographical model and a diagram of the ancient Guangzhou city at the first floor. On the second floor, there are historical relics (4000 BC - 589 AD) and unearthed remains of the
Neolithic Age
. When you come to the third floor, you can look around the historical relics of Sui, Tang, Song, Yuan, Ming and Qing Dynasties. The fourth floor mainly exhibits plentiful historical relics of the
Qing Dynasty
(1644 - 1911). Modern Chinese cultural relics since the Opium War (1840 - 1842) are displayed on the fifth floor. Besides, there are also special showrooms at the east side of the tower where all kinds of temporary or memorable special exhibitions are often held. At the west side, there is a barbette with cannon on it and 23 ancient stone tablets.
To the east of the Zhenhai Tower lies the Art Gallery ofGuangzhou Museum. Zhongyuan Tower, the major building of the museum, was built in 1930 and imitated the architectural style of the Hall of Literary Glory in the
Forbidden City
in Beijing. There are two exhibition halls – one in front of the Zhongyuan Tower and the other to the east - housing steles representing masterpieces of
Chinese calligraphy
from the Jin Dynasty to the Qing Dynasty.
| | | |
| --- | --- | --- |
| Cantonese Clock | Bronze Vessel | Glazed Kettle |
Since the end of the Ming Dynasty, Guangzhou acted as an important port for foreign trade on the marine
Silk Road
. Many delicate local craftworks with features of south China became more and more popular among western countries. The Art Gallery exhibits some culture relics and handicrafts showing the Chinese and Western culture exchange at that time. On the ground floor exhibits the silk, textile and embroidery artwork, which are for long the favorites of westerners. The second floor shows porcelain and a large number of Chinese paintings of various dynasties in ancient Chinese history. The painted porcelain, lacquer work and ivory carvings are on the third floor. Apart from these precious collections, there is a Paleontology Exhibition Hall to the east of the Zhongyuan Tower, displaying the Paleozoic and Mesozoic fossils and the models of the life scenes of the ancestors of human beings in the remote past.
Sanyuanli Revolution Memorial Hall & Site of Headquarters of Mar. 29 Uprising
Besides the Zhenhai Tower and the Gallery, Guangzhou Museum offers another two exhibition areas (Sanyuanli Revolution Memorial Hall and Site of Headquarters of Mar. 29 Uprising) for special interest in the city's revolutionary history. There are also some other popular nearby spots which you can visit if you have extra time.
White Cloud Mountain
with great natural scenery is only 2.1 kilometers (about 1.3 miles) from the Guangzhou Museum. About 4.9 kilometers (about 3 miles) away lies the
South China Botanical Garden
.
How to get to Guangzhou Museum
How to get to Yuexiu Park
By Metro:
Take
metro line 2
, get off at Yuexiu Park Station, get out from Exit B1 and walk around 180 meters (200 yards) toward north to find the gate of Yuexiu Park.
By Bus:
1. Take bus 5, 7, 21, 24, 58a, 180, 182, 211, 256, 265, 284, 528, 543, 555, 556, or Guang 42 to Yuexiu Gongyuan (Yuexiu Park) Station, and then enter the front gate of the park. Follow the guideboard to find the museum.
2. Take bus 56 to Jiefang Beilu, and then walk 200 meters (656 yards) and enter the west gate of the park.
3. Take bus 58, 85, 103, 105, 109, 273, or tour bus line 1 to Panfulu and then you will see the park.
How to get to Sanyuanli Revolution Memorial Hall
1. Take metro line 2, get off at Sanyuanli Station and get out from Exit B. Then walk around 500 meters (550 yards) from Guangyuan West Road to Guangyuan Middle Road to find the memorial hall.
2. Take bus 46, 175, 179, 241, 278, 470, 540, 661, or 752 to Sanyuanli Gumiao.
How to get to Site of Headquarters of Mar. 29 Uprising
Take bus 2, 56, 62a, 62, 74, 85, 204, 209, 229, 261, 297, 305, b3c, b3, b4a, b4 express, Guang 276, or Guang 283 to Dongfeng Zhonglu and then walk south for 2 minutes to get there.
Guangzhou Bus / Metro Search
Entrance Fee
CNY 10 ( Zhenhai Tower and Art Gallery);
CNY 32 for a combo ticket including Sun Yat-sen Memorial Hall, Museum of the Western Han Dynasty Mausoleum of the Nanyue King and Guangzhou Museum.
* Visitors can visit the museum for free on Wednesday of the third week in each month except in June. On the second Saturday of June (National Cultural Heritage Day), visitors can enjoy the free ticket.
Opening Hours
09:00 - 17:30, tickets selling stops at 17:00 (closed on Mondays)
Guide Service
The museum offers English guide service at a price of CNY 60 for less than 30 persons (CNY 4 for every extra person).

Other museum in Guangzhou: Guangdong Museum



Nearby Attractions:


Museum of the Western Han Dynasty Mausoleum of the Nanyue King


Yuexiu Park


Sun Yat-sen Memorial Hall


Guangxiao Temple



Top 10 Things to Do in Guangzhou
- Last updated on Apr. 15, 2021 -
Questions & Answers on Guangzhou Museum
Asked by woon from MALAYSIA | Jul. 31, 2019 20:49

Reply
hi,where is Heyuan museum ?
Answers (1)
Answered by Appert from AUSTRALIA | Aug. 05, 2019 00:26

0

0

Reply
It is located at foot of Guifeng Tower, Nanti Road, Yuancheng District, Heyuan City.