Guangzhou Transportation -- By Air
Located in the middle of south China, Guangzhou is one of the prosperous cities on the north border of the Pearl River Delta. This advantageous position makes the city a transportation hub for south China by air, road and water. This transportation system has helped the city become one of the most developed regions in south China.
New Baiyun International Airport
(CAN) has been in operation since August 5, 2004. The new airport is located between Renhe Town of Baiyun District to the north and Xinhua Town of Huadu District to the east, 17 kilometers (10.6 miles) away from the old one and 28 kilometers (17.4 miles) away from Haizhu Square, the city center.
Flights from New Baiyun International Airport (CAN) connect the city with more than 150 domestic cities and over 70 international cities. The domestic flights go to Beijing, Shanghai, Xi'an, Kunming, Chongqing, Haikou, Chengdu, Hangzhou, Guiyang, Ningbo and Lianyungang, etc. The direct international flights are to Singapore, Kuala Lumpur, Bangkok, Osaka, Seoul, Ho Chi Minh City, Hanoi, Tokyo, Jakarta, Taipei, Hong Kong, Sydney, Amsterdam, Frankfort, Paris and New York, etc. Flying in around 16 hours, the flight to New York departs at 18:05 every Thurs. at present.
Airport Inquiry Hotline: (+86) 020-96158 (Mandarin, Cantonese and English languages are available.)
| | |
| --- | --- |
| Guangzhou Airport | Check-in Counters |

Guangzhou Airport Transfer



Passport holders from 53 countries and regions can be granted a 144-hour visa-free transit while in transit via Baiyun Airport. Visa is not required either for passengers by international flights who pass directly through CAN with a stopover less than 24 hours. They must however have a connecting flight and a booked seat.


Airport Transportation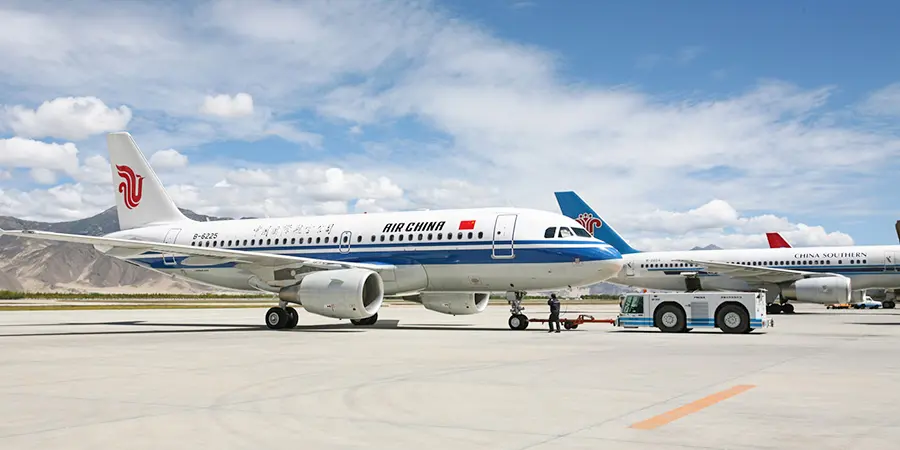 Coach Information of
the Express Bus Station

Airport Shuttle Bus
There are 15 shuttle bus lines supplying convenient transportation for passengers between Baiyun Airport and the downtown area, including the special lines to Zengcheng and Guangzhou South Railway Station. The boarding spots are located at Gate B10-B13 of Zone B, T1; and the Bus Station west to the transportation center of T2.

Airport Intercity Bus
The airport intercity buses are operationg between Guangzhou and Zhuhai, Shenzhen, Dongguan, Shunde, Zhongshan, Jiangmen, Yangjiang, Foshan, Zhaoqing, Qingyuan, Shaoguan, Huizhou or Heyuan.

Taxi
A taxi charges CNY12 for the first 3 kilometers (1.9 miles), and CNY2.6 for succeeding per kilometer. The waiting time charge is priced at CNY44 per hour. If the distance exceeds 15 kilometers (9.3 miles), additional 20% will be charged per next kolimeter; if it's over 25 kilometers (15.5 miles), additional 50% for every succeeding kolimeter. It's very convenient to shuttle between the downtown and the Baiyun Airport; However, it may cost much money. For example, it costs you about CNY100 from the airport to the City Railway Station.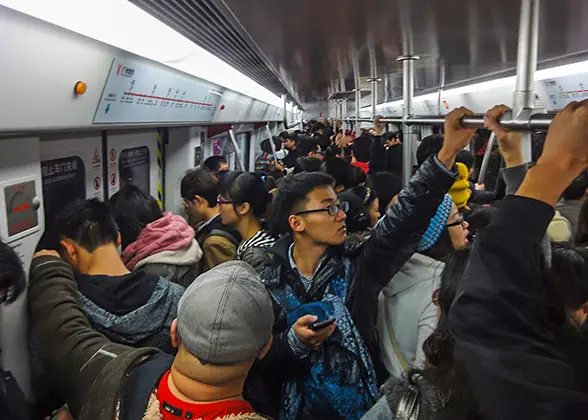 Crowed Metro

Metro Line 3
From the underground floor of the terminal building, one can take the metro line 3, which runs to downtown Guangzhou, passing East Railway Station, South China Normal University, and Canton Tower.
Hours: 6:00 to 00:08
Frequency: 2-3 minutes in rush hours; not more than 7 minutes in off-peak hours
Metro Maps



Transportation from Airport to Railway Station
There are four railway stations in the city, including the Railway Station, East Railway Station, South Railway Station and North Railway Station. All the railway stations are very important transportation hubs. Especially, the South/East Station is the transfer station to Hong Kong. If you have already arrived at Baiyun Airport and wants to go to the railway station, you may adopt the following itineraries:



To Guangzhou Railway Station
Suggestion: You can take the Airport Express Bus Line 1 outside of Gate B10-B13, B Zone, Arrival Hall of the Terminal 1, or at the west bus station of Transportation Center, Terminal 2. This line reaches CAAC Ticket Office, which is very near to the Railway Station.

You can also take the metro Line 3 and transfer to Line 2 at Jiahewanggang, to exit at Guangzhou Railway Station.



To East Railway Station
Suggestion: The metro line 3 could take you to reach East Railway Station directly.



To South Railway Station
Suggestion: The Airport Shuttle Bus South Railway Station Line run between Baiyun Airport and Guangzhou South Railway Station.
You may also take the metro Line 3 to Jiahewanggang, where to transfer to metro Line 2, which ends at South Railway Station.



To North Railway Station
Suggestion: Taking the metro Line 3 to Gaozeng, you can transfer to the metro line 9 to North Railway Station.



See more about:
How do you get from Guangzhou airport to the city?
How to Travel between Guangzhou Airport and Shenzhen
How to Travel between Guangzhou Airport and Dongguan
- Last updated on Aug. 21, 2023 by Nancy He -
Questions & Answers on Guangzhou Transportation by Air
Asked by Shabbir from KUWAIT | Aug. 19, 2023 05:58

Reply
Where to buy a sim card in baiyun airport?
Answers (1)
Answered by Bob | Aug. 21, 2023 00:26

0

0

Reply
You may buy one at one of the 711 Stores or the counters of China Telecome,China Mobile or China Unicom in the airport.
Asked by Deirdre Shaw from UNITED KINGDOM | Aug. 03, 2019 03:49

Reply
What is the best way to get from Guangzhou South Railway station to Baiyun airport north terminal?
Answers (1)
Answered by Morin from USA | Aug. 06, 2019 19:01

0

0

Reply
Take metro line 2 to Jiahe Wanggang Station, then transfer to metro line 3 to the airport station. It takes around 75 minutes with CNY10.
Asked by Joceline from UAE | Nov. 14, 2018 23:03

Reply
Tourist spot near Guangzhou Baiyun Airport
I have a 7hr transit time at CAN on january. What is the closest tourist attraction to explore? Iv got a Philippines passport and a UAE residence visa, I believe that makes me entitled for a free transit visa, correct? Flying by China southern Airlines.
Answers (1)
Answered by Helen from USA | Nov. 15, 2018 19:34

0

0

Reply
yes, you are eligible for 24-hour free visa. You are advised to take the metro line 3 to New city of Pearl River, taking about 45 minutes; and its nearby attractions includes the Huacheng Square and GZ Canton. Don't forget to reserve 2 hours at least for boarding your connecting flight.
Asked by NARAYA from SG | Oct. 22, 2017 16:24

Reply
Is there any cafe i.e. Starbucks at International Arrival Hall, Guangzhou Airport?
Thank you.
Answers (3)
Answered by Olivia from AUSTRALIA | Oct. 23, 2017 04:47

1

0

Reply
Well, as I know, no café is in the International Arrival Hall. Many cafés are in the third floor of Departure Hall, such as Starbucks. If you still wanna find on at International Arrival Hall, you are advised to go to Mcdonald's. It provides coffee. :)
Answered by NARAYA from SG | Oct. 28, 2017 05:58

0

0

Reply
Thanks Olivia. As I'll be here for 10 days. Can I get China tourist sim card at the Arrival hall? Which telco provider is the best for foreigner mobiles and what is the price?
Answered by Ellen from FRANCE | Oct. 29, 2017 20:57

0

0

Reply
You can get a SIM card from the Convenience near No. 19 Gate of the first floor. For more info, you can also go to the information center at the airport for consultation.

As for price, you need to figure out which carrier your mobile suits first. China Mobile, Telecom or Unicom? They have different charging standards.