Taibai Mountain National Forest Park
Lying at the north foot of Taibai Mountain (the peak of Qinling Mountains), Taibai Mountain National Forest Park, is located in Meixian County, in Baoji City of Shaanxi Province. Covering an area of 2,950 hectares (7,290 acres), 94.3% of which is covered with forest, it contains 10 scenic districts and over 180 attractions. Since its height above the sea level varies from 0.63 km (0.39 miles) to 3.5 km (2.18 miles), it is the highest national forest park of China. It was officially established in 1991 and has been formally open to the public since July, 1992.
Taibai means 'too white' in Chinese, used here to describe the color of the mountain. Because of the cold climate in the mountain, thick layers of ice have always been covering its summits all the year round. Endowed with prosperous forest resources, rich animal species, odd mountainous physiognomy together with its profound historical scenes, Taibai Mountain National Forest Park has attracted countless visitors from home and abroad.
Various Creatures
Titled as the 'Asian Natural Botanical Garden' and the 'Natural Zoo of China', the forest park has more than 1,850 kinds of seed plants and over 1,690 kinds of insects and animals, including more than 230 kinds of birds and over 40 kinds of beasts. Among them are some rare animal species, such as pandas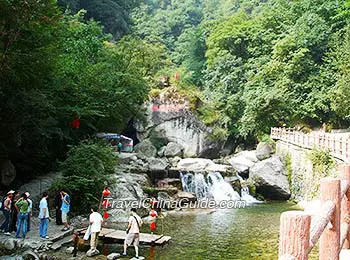 and golden monkeys. Thanks to this natural advantage, the park is also considered to be an inartificial gene warehouse of natural species.
Lively Mountainous Scenery & Wonderful Hot Spring
Traveling here, visitors cannot help but admire the unique appearance of the rocks and the streams joyfully tottering along the winding mountain road. Your eyes will be stricken by the continuous chains here, while your ears will be pleased by the melodious song of the running water. Unconsciously, you will find yourself absorbed in the beautiful natural scenery. Another wonder of the park is its natural mineral water. There are abundant supplies of terrestrial heat in the low mountainous area in the park. The temperature of the hot spring can reach as high as 72

C (162

F) and it contains scores of mineral substances and microelements that are beneficial to people's health. There are also three lakes and several pools on the mountain top called Daye Hai, Erye Hai, Sanye Hai, Yuhuang Pool and Star Pool respectively.
Profound Historical Sights
Charm is added to Taibai Mountain National Forest Park by its profound historical sights. Historically, Mount Taibai has received recognition fr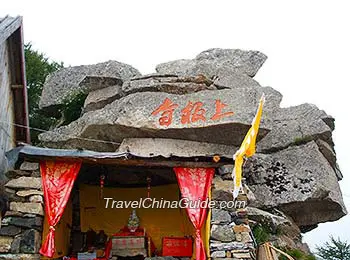 om many emperors in past dynasties. Plentiful cultural relics, poetries and folklores have been left through generations. Many Chinese ancient poets, such as Li Bai, Du Fu (the two most prominent poets in
Tang Dynasty
(618 - 907)) and Su Shi (a famous poet of
Northern Song Dynasty
(960 - 1127)), traveled here and wrote some of their notable poems. There is also plenty of ancient architecture in this park, including 14 sites of temples, 32 ancient houses, 5 stone steles, 10 iron tablets, over 110 iron Buddha statues, 64 woodcarvings and several iron bells and furnaces.
Taibai Mountain National Forest Park is a fantastic place for visitors to find relaxation and refreshment. With respect to its climate, it is better to travel here in July and August, but do not forget to bring a cotton coat and rain gear. Traveling by ropeway (with a length of 1.1 km (0.68 mile)) gives visitors the chance to appreciate the marvelous spectacle of glacier relics and sea of clouds.
How to Get to & Travel Around Taibai Mountain
Getting There:
1. From Xi'an:
Take a tour bus to Taibai Mountain at Xi'an Bus Station close to
Xi'an Railway Station
. Buses depart at 08:00-18:00 and return at 08:30-18:00. The bus fare is about CNY 37.5 per person.
Take a regular bus to Meixian County at Xi'an West Bus Station. The bus fare is about CNY 37 per person. Then transfer to bus No. 203 to arrive, which costs about CNY 4 per person.
Xi'an Bus /Metro Search
2. From Baoji:
Take a tour bus to Mount Taibai at Baoji West Bus Station. The bus fare is about CNY 29 per person.
Take a regular bus (every 30 mins) to Meixian County at Baoji Passenger Station. The bus fare is about CNY 23 per person. Then transfer to bus No. 203 to arrive.
Getting Around:
Visitors can travel around by shuttle bus between Tangyukou and Xiabansi.
Admission Fee

March-November: CNY 90
December-next February: CNY 54
Children under 1.2 m (3.9 ft): Free

Tianxia Ropeway
CNY 130 (single uphill trip); CNY 100 (single downhill trip)
Fuyunge Ropeway
CNY 90 (round-trip); CNY 50 (one way)
Shuttle Bus
CNY 60 (round-trip)
Opening Hours
March-November: 07:30-16:00
December-next February: 08:00-16:00

Recommended Nearby Attractions:


Heihe National Forest Park


Louguantai


Xianyou Temple Museum
- Last updated on Jun. 09, 2019 -
Questions & Answers on Taibai Mountain National Forest Park
Asked by Mike from SRI LANKA | Nov. 28, 2017 23:09

Reply
Mike from Xi'an is planing to visit TaiBai Mountain
1. If i take a bus from Xi'an Railway Station, What about the duration from Xi'an to the starting point of mountain?
2. I wish to back to Xi'an in the same day of my travel, do i need a buy a return ticket or is that possible to buy tickets from there?
3. In general what about the duration of the climb with help of Rope ways.
4. Any idea about Tianxia Ropeway , Fuyunge Ropeway?
5. Any idea about Shuttle Bus - CNY 60 (round-trip) ??
Answers (3)
Answered by Elina from CANADA | Nov. 29, 2017 02:28

1

0

Reply
The direct bus from the railway station takes around 2h. As I heard, they don't sell the return trip ticket. You can get the ticket at the Visitors' Service Center of the scenic area and the last bus gets back at 18:30.

At least 5h is needed for the trip at the mountain including the shuttle bus. And you can use either rope way. CNY60 is for round trip indeed.
Answered by Mike from SRI LANKA | Nov. 29, 2017 03:03

1

0

Reply
Thank You Elina...
it seems you have been there.That is great.
as you mentioned the last bus is at 18.30 from Taibai to Xi'an.
I dont have a idea about two rope ways and what it is.Is that similar to cable car?
If I select the rope way do i need to take the shuttle bus?
Answered by Elina | Nov. 29, 2017 19:29

1

0

Reply
Yes, it's like cable car. But its route is not the same as shuttle bus. The ropeway can only up and down the mountain. Have a nice trip!
Asked by Suwarto Atjing from INDONESIA | Sep. 18, 2014 08:54

Reply
Hi there, I am Suwarto, will arrive in Baoji at Oct 14 to attend a meeting on Oct 15 afternoon.
I wish to spend my half day time from morning to afternoon on Oct 15, so to where can I visit ? I prefer the scenic tour and or natural view. thanks for your help and take my regards.
Answers (1)
Answered by molly from INDIA | Sep. 21, 2014 22:13

0

0

Reply
You're suggested to visit some scenic sites in Baoji since you just have half of the daytime. You can visit Baoji Botanical Garden, and Weihe Park because they're near the city center.
Asked by chris from UNITED KINGDOM | Jul. 05, 2014 09:49

Reply
rope way, strop, bus from weinan to Mt. Taibai
hi there, here are some of my queries:

1.what is rope way? is it like the cable car? how long will it take to reach the peak?
2.what is strop? like you will walk the trail of the mountain? how long will it take to reach the peak?
3. is it possible to do camping? we would like to bring tent and stuff to stay for overnight and descend the next morning.
4. can watch the sunrise?
5. any bus that go direct to taibai from weinan linwei? if there is, which bus line?

thanks

Answers (10)
Answered by Chen | Jul. 06, 2014 01:02

0

0

Reply
The rope way is like the cable car, which takes around 15 to 20 minutes to the top of the mountain.

For the strop, I am not very clear what it exact is.

Camping is available on the mountain, but you need to prepare thick coats and necessary stuff. You can see the sunrise if it is a sunny day. So you are suggested to watch the weather forecast in advance.

There is no direct bus, but I think you can catch a train from Weinan to Baoji and then hire a local car to reach Tangyu, Meixian County. Then you can start your journey. If possible, you are suggested to book a Baoji car in advance.
Answered by linah from UGANDA | Jul. 17, 2014 03:19

0

0

Reply
thank you for the reply one more question? if we will climb up and down by cable car should we pay the entrance and the cable car?
or just pay one? more info also about the camp site at the peak, any pictures of campers?

thanks
Answered by chris from UNITED KINGDOM | Jul. 17, 2014 04:11

0

0

Reply
hello,

i am a little confused on how many buses should we take to reach taibai shan from xian?

enlightened me with this, we just need to choose from three options to travel going to taibai shan right? which are:

A.TOUR BUS NO.2 FROM XIAN RAILWAY STATION EAST SQUARE TO TAIBAI MOUNTAIN DIRECTLY. COST(22RMB) via Famen Temple departs 8am arrives 5pm back in Xi'an.

Question:this bus only departs at 8am??? so once a day?
Question:how long to reach the destination?

_______________________________________________________________________
B.Regular Bus to Mexian County or Baoji at Xi'an West Coach Station. with transfer bus at TangYu. COST (23RMB).

Question:this bus have no specific time of depature and arrival???
Question:how often does this bus travel back and forth xian?
Question:how long to reach the destination?

thank you very much

chris
__________________________________________________________________
C.Take bus to TangYu at the Coach Station of Xi'an Railway Station. departs at 3pm in the afternoon. COST(13RMB).

Question: this bus departs once a day?
Question: and what's the schedule of return to xian?
Question: how long to reach the destination?

_______________________________________________________________




Answered by Chen | Jul. 17, 2014 21:10

0

0

Reply
The tourism bus lin 2 only departs once a day at around 08:00 and it takes around 2.5 hours.

The buses to Baoji or Mexian County and back to Xi'an leave with interval around 15 to 20 minutes without fixed schedule. The exact traveling time is hard to tell, because you need to transfer several times during the process. As I know, the buses to Baoji costs around two hours. From Baoji to Meixian, it takes round 40 minutes. The buses from Meixian to Tangyu costs around 30 to 40 minutes.

I did not try the third method, so I cannot tell you some information about it. Sorry for that.
Answered by chris from UNITED KINGDOM | Jul. 19, 2014 08:38

0

0

Reply
hi chen,



so we need to take three buses to reach tangyu where the start of the journey to taibai shan begin?



like bus from XIAN going to BAOJI 2hrs, then BAOJI to MEIXIAN COUNTY 40mins, then MEIXIAN COUNTY to TANGYU 40mins? so its around 3hrs and 30mins?



so each bus have different fare? do you have any idea about it? how much does each bus costs?



my chinese is not very good so might also help if there's a chinese translation of the bus station and coach stations?



CAMPING with tent is free or we need to pay something?



do you think we can reach taibai mountain and ride the cable car up to the peak and reach the camping site if we will leave at 2pm in Xi'an?
please bear with me. we are travelling next week tuesday afternoon.
thank you so much
chris
Answered by James from USA | Jul. 19, 2014 22:27

0

0

Reply
If you travel Xi'an - Baoji - Meixian - Tangyu, it takes at least around 3.5 hours.


From Xi'an West Bus Station, there are frequent buses to Meixian County with duration no more than 2 hours and fare around 37RMB per person. The bus will reach Meixian Bus Station (眉县汽车站) and it is just in the same station, you can find the buses for Tangyu (汤峪). This method saves time.

The buses from Meixian County to Tangyu is less than 10RMB per person, but I am sorry that I forget the exact price.

Following the method I give you, I think you can reach the camping site before dark. You do not need to pay for camping after you purchase the entrance ticket.

Hope it helps ~
Answered by chris from UNITED KINGDOM | Jul. 20, 2014 05:37

0

0

Reply
hi james,
thanks for the info. its a relief coz i am afraid we might get lost along the way to the camping site.

add on queries:
1.where is the location of the xian west bus station?
2.is there a specific trail or way going to the campsite?

thank you very very much...

chris


Answered by Marsha from UAE | Jul. 20, 2014 22:37

0

0

Reply
1. The West Bus Station is located at No. 92, East Zaoyuan Road, Lianhu District. Show this to a Chinese or taxi driver: 城西客运站.
2. There is no specific campsite, let alone ways to get there. Just hike onto the mountain to find proper place to put up your tent or something for camping.
Answered by kerrie from UNITED KINGDOM | Aug. 14, 2014 22:33

0

0

Reply
hi. did you ever do this trip? i wondered how you got on as i went to taibai mountain a few days ago. at around 3400m there is a small hut with a sign "no foreigners admitted" and the people working there refused to let me past (most of the natural scenery and the temples, lake, summit path that the people at the bottom who sell you the ticket tell you to visit is beyond this point...) the people at the hut demanded 120y for a bed for the night (which they subsequently sold to someone else but thats another story...) and i was hoping that in the morning they would change their mind, since i knew other foreigners had hike up/camped on the mountain ok. they didnt. i was very disappointed.

its 160y to get into the park (100y admission and 60y for the return bus ticket...) if your idea of being somewhere natural is sitting on a bus for 2 hours with occasional stops at waterfalls and toilets followed by an hour hiking up wooden steps (or a 50y cable car ride and a 15 min hike) then go there... the scenery is stunningly beautiful,and the hut where i stayed is a great place to watch the sunrise (it will be a good sunset watching spot too once they finish building tje viewing platform) but if you want to be somewhere wild and natural, and really "hike" and actually see the places the people who promote the park recommend (they are all above the 3400m mark), i would not recommend it.
Answered by kerrie from UNITED KINGDOM | Aug. 14, 2014 22:38

0

0

Reply
the "strop"is a kind of zip wire you can use to go down part of the mountain. its 300m or so past the cable car station. theres a harness/ seat for 2 people and its 50y per person to have a go.
Asked by JonF from UNITED KINGDOM | Aug. 06, 2013 21:17

Reply
Taibai mountain about now in Shaanxi Province
Hi, What are the conditions at the summit at the moment ?
Is there anywhere to stay near Taibai - hotel, guesthouse etc ?
Where can a guide be obtained and how long does it take to get to the summit

3700m ?
Thanks
Answers (2)
Answered by Jane from UNITED KINGDOM | Aug. 07, 2013 02:26

1

0

Reply
The weather is fine and the scenery is very beautiful at the moment.
You can find hostel on the mountain, so please do not worry.
It may be hard for you to get an English tour guide at the attraction, so it is suggested to join a tour in Xi'an, so that you can travel to Taibai without any concern.
To reach the summit, at least you need about 4 to 5 hours.
Answered by kerrie from UNITED KINGDOM | Aug. 14, 2014 22:55

0

0

Reply
there is a huge restort/tourist town being built at the bottom of the mountain with plenty of accomodation. however this is not inside the national park (though it is after the ticket puchasing/bus station building.) i was told that if i stayed here i would need to buy a new bus/admission ticket for each day i wanted to go into the park (and at 160y per time for the park entrance fee/bus ticket its not cheap...) so i decided not to. if there is accomodation in the park its not clearly marked. there is one hut at the 3400m mark where people can stay but if you are foreign its 120y for a bed in a shared room.

there is accomodation above this, in small temples but foreigners are not allowed to go there. chinese people can also wild camp on the mountain.

you dont really need a guide, as the path is clearly marked, but maybe if you have a guide you will be able to go to the top of the mountain, as if you are a foreigner travelling alone you are not allowed to go above 3400m. apparently people have been allowed to in the past but on the 2 days that i visited the people manning the checkpoint refused to let me go past and said that foreigners have never been allowed to go there... one of them even said "its a chinese mountain for chinese people..."

i came back to xi an feeling disappointed and someone said i would have been better going to mt tiantai in baoji or to the red river valley instead. i dont have time to go there but maybe they are worth looking at instead.