Baoji Travel Guide
Baoji Facts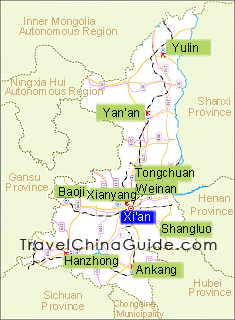 Chinese Name: 宝鸡市 (bǎo jī shì)
Location: Located in the west of Shaanxi Province, Baoji is the joint point of Xian, Lanzhou, Yinchuan and Chengdu. Xianyang is to its east and Hanzhong is to its south.

Population: 3,760,000
Area: 18,200 square kilometers (7,027 square miles)
Administrative Division: 3 districts (Weibin, Jintai, Chencang); 9 counties (Fengxiang, Qishan, Fufeng, Meixian, Longxian, Qianyang, Linyou, Fengxian, Taibai)
Useful Telephone Numbers:
| | |
| --- | --- |
| Tourist Complaints: | 0917-3651556 |
| City bus Complaints: | 0917-3220467 |
| Taxi Complaints: | 0917-3215367 |
| Time Inquiry: | 117 |
| Weather Forecast: | 121 |
| Zip Code Inquiry: | 184 |
Baoji Attractions - Things to Do
Taibai Mountain National Forest Park, Mt. Tiantai, Honghe Valley, Fengxiang East Lake, Jialing River Headwaters, Guanshan Grassland



Historical and Cultural Sites:
Tomb 1 of Qin's Duke, Yongcheng (Capital of the Qin State) Site, Zhougong Temple, Famen Temple, Fishing Platform, Zhouyuan Site
Tourism Itinerary: East Route: Fishing Platform - Wuzhangyuan Site - Taibai Mountain
| | |
| --- | --- |
| Taibai Mountain National Forest Park | Famen Temple |

Around City Route
:
Railway Station - Yandi Mausoleum - Dasanguan Pass - Yindong Valley - Jialing River Headwaters

Ecological and Recreational Route:
Longmen Cave - Guanshan Grassland - Guanshan Forest Park

Ancestor Worship Route:
Yandi Mausoleum - Mt. Tiantai - Jialing River Headwaters - Tongtianhe Forest Park - Mt. Zibai

Historical and Cultural Route:
Fengxiang East Lake - Tomb 1 of Qin's Duke - Zhougong Temple - Famen Temple - Zhouyuan Site
How to Get to Baoji
The city is the connection point linking northwest and northeast of China together. Many railways and national highways pass through it, extending to Xian, Beijing, Hangzhou, Hankou and other cities in Sichuan and Hunan provinces. The city has no airport, but quite convenient way to Xian Xianyang International Airport (XIY).

Visitors can take a bus in West Bus Station near the railway station. The city's East Bus Station operates buses to the nearby counties such as Qishan, Fengxiang, Fufeng and Meixian. There are also special tourist buses starting from the railway station directly to many famous tourist spots. More than 20 city bus lines and hundreds of taxies make it quite easy to travel around the urban city.
| | |
| --- | --- |
| Railway Station | Guanshan Pasture |
Weather
-
The region belongs to the warm and subhumid climate zone. The winter of Baoji weather is dry and cold while summer is hot and rainy. In autumn, rains always last for several days. The city has the most rainfall among all the cities in middle Shaanxi. Spring and autumn are the best seasons to visit Baoji, when it is neither too cold nor too hot. Every year in April, many tourism festivals and temple fairs are held, providing a good opportunity to know about the local culture. However, due to the continuous rains, please remember to take an umbrella if you go there in autumn.
Baoji Travel Tips

History: This place is the birth place of Chinese ancestor Yandi and the cradle of Zhou (11th century BC-221BC) and Qin (221BC-206) dynasties. It was once called 'Chencang' in ancient times. It is said that in 757 of the Tang Dynasty (618-907), a stone cock on a mountain crowed, hence the name of 'Baoji' (meaning precious cock). In 2003, it turned into a city from a county and formed the present administrative division.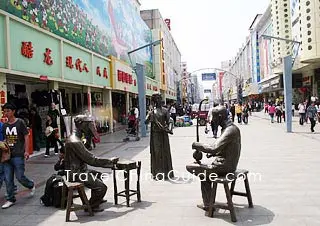 Downtown area

Physical Features: It has complex geographic features. Mountains are in the south, west and north direction and Wei River is in the middle. Mountains and hills occupy about 83 % of the whole area while the left are plains.

Local Highlights: As one of the cradles of Chinese civilization, the city has so many cultural and historical sites and relics that it is called 'Town of Bronze Wares' (

Video of Baoji Bronze Ware Museum
) and 'Town of Folk Handicrafts'. Zhou and Qin cultures are well presented by such ancient sites such as Yongcheng Site, Zhouyuan Site, Zhougong Temple and Fishing Platform. It is also where Taoism and Buddhism mix. Famen Temple is famous for the discovery of the Buddha Sakyamuni's relics. Taibai Mountain is the peak of Qinling Mountain, which is the dividing line of China's north and south areas.

Special Local Products: Handicrafts: colorful mud sculpture, shadow play, puppet, paper-cutting, embroidery, wooden painted face, straw knit, copied bronze wares
| | |
| --- | --- |
| Colorful Masks | Colorful Mud Sculpture |

Foods: Fengxian ginseng, edible fungus, red capsicum; Fengxiang Xifeng Liquor and preserved donkey meat; Qishan Saozi Noodle

Further Reading:
Hiking Adventure
: Information about hiking in Baoji for your reference