Baoji Travel Guide
Baoji Facts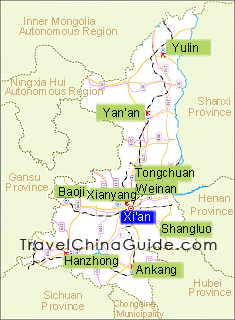 Chinese Name: 宝鸡 (bǎo jī)
Population: 3,771,000
Area: 18,117 square kilometers (6,995 square miles)
Location: in the west of Shaanxi Province, northwest China
Administrative Division: 3 districts (Weibin, Jintai, Chencang); 9 counties (Fengxiang, Qishan, Fufeng, Meixian, Longxian, Qianyang, Linyou, Fengxian, Taibai)
Area Code: 0917
Zip Code: 721000
GDP (2018): CNY 226.516 billion (USD 34.232 billion)
The Hometown of Bronze Ware & Strategic City since Ancient Times
Baoji, the second largest city in western Shaanxi, is the joint point of Xi'an, Lanzhou, Yinchuan and Chengdu. Xianyang is to its east and Hanzhong is to its south. It was a strategic city where many famous battles happened and now it functions as the railway transport hub in Shannxi. Baoji is a famous hometown of bronze ware where many high-value bronze wares were unearthed. Visitors can appreciate antique and beautifully shaped bronze wares and learn about the history and culture of the Zhou and Qin Dynasties (1046 BC - 207 BC) in Baoji Bronze Ware Museum.

Famen Temple is also a must-visit scenic spot in Baoji, known as a Buddhist holy land for the placement of the Sakyamuni Buddha finger bone sarira. It also preserves old buildings in the Tang Dynasty (618 - 907) style and many Tang Dynasty cultural relics. Besides, Baoji offers many forest parks for leisure and relaxation. Many folk arts and crafts including woodblock New Year pictures, paper cuttings, clay sculptures and straw weaving also can be found here.
Baoji Attractions - Things to Do
Taibai Mountain National Forest Park, Mt. Tiantai, Honghe Valley, Fengxiang East Lake, Jialing River Headwaters, Guanshan Grassland



Historical and Cultural Sites:
Tomb 1 of Qin's Duke, Yongcheng (Capital of the Qin State) Site, Zhougong Temple, Famen Temple, Fishing Platform, Zhouyuan Site
Tourism Itinerary: East Route: Fishing Platform - Wuzhangyuan Site - Taibai Mountain
| | |
| --- | --- |
| Taibai Mountain National Forest Park | Famen Temple |

Around City Route
:
Railway Station - Yandi Mausoleum - Dasanguan Pass - Yindong Valley - Jialing River Headwaters

Ecological and Recreational Route:
Longmen Cave - Guanshan Grassland - Guanshan Forest Park

Ancestor Worship Route:
Yandi Mausoleum - Mt. Tiantai - Jialing River Headwaters - Tongtianhe Forest Park - Mt. Zibai

Historical and Cultural Route:
Fengxiang East Lake - Tomb 1 of Qin's Duke - Zhougong Temple - Famen Temple - Zhouyuan Site
Tour Planning
Ultimate Guide to Visiting Baoji from Xi'an by High Speed Train
3 Best Side Trips from Baoji
How to Get to Baoji
The city is the connection point linking northwest and northeast of China together. Many railways and national highways pass through it, extending to Xi'an, Beijing, Hangzhou, Hankou and other cities in Sichuan and Hunan provinces. The city has no airport, but quite convenient way to Xi'an Xianyang International Airport (XIY).

Visitors can take a bus in West Bus Station near the railway station. The city's East Bus Station operates buses to the nearby counties such as Qishan, Fengxiang, Fufeng and Meixian. There are also special tourist buses starting from the railway station directly to many famous tourist spots. More than 20 city bus lines and hundreds of taxies make it quite easy to travel around the urban city.
| | |
| --- | --- |
| Railway Station | Guanshan Pasture |
Weather
-
The region belongs to the warm and subhumid climate zone. The winter of Baoji weather is dry and cold while summer is hot and rainy. In autumn, rains always last for several days. The city has the most rainfall among all the cities in middle Shaanxi. Spring and autumn are the best seasons to visit Baoji, when it is neither too cold nor too hot. Every year in April, many tourism festivals and temple fairs are held, providing a good opportunity to know about the local culture. However, due to the continuous rains, please remember to take an umbrella if you go there in autumn.
Baoji Travel Tips

History: This place is the birth place of Chinese ancestor Yandi and the cradle of Zhou (11th century BC-221BC) and Qin (221BC-206) dynasties. It was once called 'Chencang' in ancient times. It is said that in 757 of the Tang Dynasty (618-907), a stone cock on a mountain crowed, hence the name of 'Baoji' (meaning precious cock). In 2003, it turned into a city from a county and formed the present administrative division.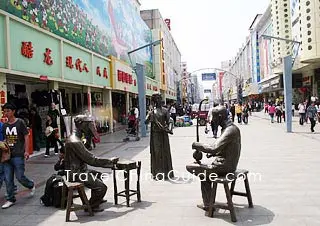 Downtown area

Physical Features: It has complex geographic features. Mountains are in the south, west and north direction and Wei River is in the middle. Mountains and hills occupy about 83 % of the whole area while the left are plains.

Local Highlights: As one of the cradles of Chinese civilization, the city has so many cultural and historical sites and relics that it is called 'Town of Bronze Wares' (

Video of Baoji Bronze Ware Museum
) and 'Town of Folk Handicrafts'. Zhou and Qin cultures are well presented by such ancient sites such as Yongcheng Site, Zhouyuan Site, Zhougong Temple and Fishing Platform. It is also where Taoism and Buddhism mix. Famen Temple is famous for the discovery of the Buddha Sakyamuni's relics. Taibai Mountain is the peak of Qinling Mountain, which is the dividing line of China's north and south areas.

Special Local Products: Handicrafts: colorful mud sculpture, shadow play, puppet, paper-cutting, embroidery, wooden painted face, straw knit, copied bronze wares
| | |
| --- | --- |
| Colorful Masks | Colorful Mud Sculpture |

Foods: Fengxian ginseng, edible fungus, red capsicum; Fengxiang Xifeng Liquor and preserved donkey meat; Qishan Saozi Noodle
- Last updated on Mar. 01, 2023 by Brenda Lian -
Questions & Answers on Baoji Travel
Asked by Farry from ENGLAND | Feb. 19, 2019 00:47

Reply
Where can l get a bus from Baoji to Xianyang airport?
Answers (2)
Answered by Daniel from NEW ZEALAND | Feb. 19, 2019 23:31

0

0

Reply
You can take the direct shuttle bus from East Coach Station to the airport. The ticket fare is CNY62/person.
Answered by Farry from ENGLAND | Feb. 20, 2019 04:16

0

0

Reply
Thank you
Asked by worawit from THAILAND | Sep. 06, 2017 09:27

Reply
How : From Baoji South Railway Station to the Hotel : Hanting Express Gaoxin Avenue Branch?
by public transportation and how long does it take?
if I take taxi how much it cost?
I would like to spent all day in the city where is I don't miss?
Answers (2)
Answered by Edgar from IRELAND | Sep. 06, 2017 21:19

1

0

Reply
They are only 2 km apart. Take bus no. 28, 55 or 70 to arrive within 10min passing two stops. Personally, it is best to take a taxi for such a short distance, which costs CNY7.

There is not much to see in downtown area. Anyway, I recommend the Jingyi Road Pedestrian Street to you. Go dining and shopping, and you will have fun. From the hotel, walk to Gaoxin People's Hospital bus stop and take bus no. 51 or 71 to get off Main Railway Station within 30-40min. Then walk to the street within 5min.
Answered by Miller from NETHERLANDS | Sep. 06, 2017 21:24

1

0

Reply
Hey there, I visited Jingyi Road Pedestrian Street and there were many great snacks. You will like it.

Apart from that, you can also visit the Shi-ku Garden which is within 4km away from your hotel. Take a taxi to reach there with the fare of CNY7. At the foot of Shi-ku Mountain, you will also find many snacks. Near the garden, the Bronze Museum is also worthwhile.
Asked by Nicola from ENGLAND | Sep. 18, 2016 21:26

Reply
Which city bus numbers go to Baoji train station?
I need to get from the south station to the central station
Answers (1)
Answered by Lee from GERMANY | Sep. 19, 2016 04:55

1

0

Reply
You can take bus line 7 to reach Main Railway Station from South Railway Station directly. The trip takes about 50 minutes, and the fare is CNY 1. :)
Asked by Jennifer from MALAYSIA | Aug. 17, 2016 08:11

Reply
I will be in Baoji on the 13th of October. I would like to visit mount Taibai. How's the weather?
Answers (1)
Answered by Lee from UNITED KINGDOM | Aug. 17, 2016 20:53

0

0

Reply
The temperature may range from 50 F to 60 F during that period of time. There may have several cloudy days. And the climate would be a little bit cold. You are advised to bring overcoats, thick long sleeved shirts and pants. Have a nice journey!
Asked by Mike from USA | Jan. 09, 2016 19:27

Reply
Length of Train Ride
How long does it take the train to go from Xi'an airport to Baoji, and approx. how far is it in miles?
Answers (2)
Answered by Sarah from IRELAND | Jan. 09, 2016 20:54

1

1

Reply
It is about 120 miles between the two places. The train ride is about 1 hour for the bullet trains, and 2 – 2.5 hours for the normal speed trains. I want to remind you that there is no train available at the airport, you need to go to the main railway station for fast train, and North Railway Station for the bullet train.

Just in the airport, there are direct buses going to there, you can take one. It is the easiest mode. The bus schedule is 09:00, 10:00, 11:00, 12:00, 13:30, 14:30, 15:30, 16:30, 17:30, 19:00, 20:00 and 21:00. The bus fare is CNY61.5, and the bus ride is about 2.5 hours.
Answered by Mike from USA | Jan. 10, 2016 05:25

1

0

Reply
What a complete and thorough answer! Thank you very much, Sarah! Mike