Yan'an Travel Guide
Yan'an Facts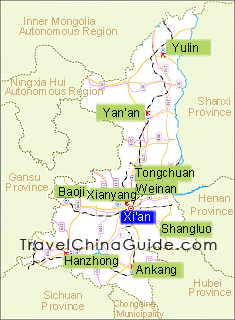 Chinese Name: 延安市 (yán ān shì)
Location: Situated in Northern Shaanxi Province on the Loess Plateau, Yan'an overlooks the middle reaches of the Yellow River, the cradle of Chinese Civilization.

Population: 1.96 million
Area: 36,713 square kilometer (about 14,175 square miles)
Nationalities: Han
Area Code: 0911
Zip Code: 716000

Useful Telephone Numbers:
Municipal Government Hotline: 0911-2136000
Tourist Complaints: 0911-2122742
Tourist Inquiry: 0911-2138211, 0911-2317305
Public Bus Complaints: 0911-2497000
Taxi Complaints: 0911-2494344
Consumer Complaints: 0911-2336315



Video
The city has as many as 140 revolutionary sites, including Wangjiaping Site, Yangjialing Site, Date Garden, Pagoda Hill, Nanniwan, etc. It has also a number of historical sites such as Huangdi Mausoleum, Zhongshan Grottoes as well as natural scenic spots including Hukou Waterfalls of the Yellow River, Fenghuang Hill and Wanhua Hill. There truly is something for everyone to see.
Recommended Tours
Hiking Adventures: Information about hiking in Yanan for your reference
Yan'an Tour: visit Baota Hill, Yangjialing Village, the Revolutionary History Museum, Hukou Waterfall.
| | |
| --- | --- |
| A bird's eye view of the city | Hukou Waterfall |
It used to be a poor city but, in recent years, it has seen great changes including economic advancement, especially the development of some tourism-related industries and infrastructure construction. As a result, transportation in the city is convenient today. It is easily accessible by air, train or coach. As well, buses and taxies facilitate easy transportation within the city.
Being of a temperate continental monsoon climate, Yan'an is an ideal place for you to visit all year round especially in summer.
Yan'an Travel Tips

History: Called 'Yanzhou' in ancient times, it has a history stretching back about 1,400 years and it has long been the political, economic, cultural and military center of North Shaanxi. Nowadays it is a city which boasts one district and twelve counties. Holding a prominent place in Chinese military history, it is a revolutionary holy place in China. It used to be the military headquarters during the Chinese Anti-Japanese War (1937-1945) and China's War of Liberation (1945-1949) and was the location of the Central Committee of the Chinese Communist Party.



Local Highlights: This checkered past means that those who are interested in Chinese modern revolutionary history and the Yan'an Spirit which was exhibited in 1942, and is still evident today, or those who want to examine the colorful folk customs and culture of the Loess Plateau, should make sure that they visit the city. The accommodation in the city is generally considered to be inexpensive, convenient and comfortable.



Local Products: The abundant special local products, delicious local snacks, distinctive folk customs and various folk art forms of peasant painting, paper-cut, drum art, and folk songs are also appealing to visitors. You will no doubt find your trip to Yan'an very special and memorable.



Bank of China
Yan'an Branch: Beiguan Street
Dongguan Street Branch: Dongguan Street
Yan'an University Branch: Zaoyuan Road



Post Offices
There are four main post offices in the urban area. These are at Zhongxin Street, Dongguan Street, Nanguan Street, and Beiguan Street. As well as providing the basic business and services, tourist post cards are sold at the Zhongxin Street branch.



Hospitals
Affiliated Hospital of Medical College of Yan'an University
Address: No.250, North Zhongxin Street
People's Hospital
Address: Qili Pu



Famous University
Yan'an University
Location: Yangjia Ling



Further Reading:


Dining

Shopping & Nightlife