Yan'an Travel Guide
Yan'an Facts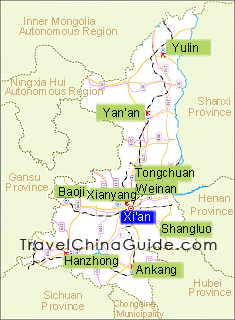 Chinese Name: 延安 (yán ān)
Population: 2,255,700
Area: 37,037 square kilometers (14,300 square miles)
Location: in the north of Shaanxi Province, northwest China
Administrative Division: 2 districts (Baota, Ansai); 10 counties (Huangling, Huanglong. Yichuan, Luochuan, Fuxian, Yanchang, Ganquan, Yanchuan, Wuqi); 1 county-level city (Zichang)
Area Code: 0911
Zip Code: 716000
GDP (2019): CNY 166.389 billion (USD 24.118 billion)
Chinese Revolutionary Holy Land
Situated in northern Shaanxi Province on the Loess Plateau, Yan'an overlooks the middle reaches of the Yellow River, the cradle of Chinese Civilization. Yan'an is a well-known Chinese revolutionary holy land as it once was a command center of the China's Communist Party. Chairman Mao and other revolutionaries lived here and led the Sino-Japanese War and the Chinese Civil War. Here you can understand the history of modern China and the Communist Party of China. Besides various revolutionary sites, it features the largest waterfall on the Yellow River, Hukou Waterfall. Yan'an also presents wonderful folk arts such as the bold Yan'an waist drum, high-pitched Northern Shaanxi folk songs, exquisite folk paper-cutting, and cheerful Yangko, showing Yan'an people's positive and optimistic life interest.



Video
The city has as many as 140 revolutionary sites, including Wangjiaping Site, Yangjialing Site, Date Garden, Pagoda Hill, Nanniwan, etc. It has also a number of historical sites such as Huangdi Mausoleum, Zhongshan Grottoes as well as natural scenic spots including Hukou Waterfalls of the Yellow River, Fenghuang Hill and Wanhua Hill. There truly is something for everyone to see.
Tour Planning
Best Side Trips from Yan'an: Information about side trips around Yan'an for your reference
Yan'an Tour: visit Baota Hill, Yangjialing Village, the Revolutionary History Museum, Hukou Waterfall.
| | |
| --- | --- |
| A bird's eye view of the city | Hukou Waterfall |
Yanan Nanniwan Airport, about 13 kilometers (about 8 miles) from downtown Yan'an, has opened domestic flights to/from Beijing, Shanghai, Guangzhou, Shenzhen, Hangzhou, Chengdu, Xi'an, Chongqing, Nanjing, Shenyang, Dalian, Wenzhou, Xiamen, Changsha, Tianjin… There are three airport shuttle bus at the airport, by which you can get to Petroleum Community, Zaoyuan Hotel, New District Yikang Garden Hotel.
It used to be a poor city but, in recent years, it has seen great changes including economic advancement, especially the development of some tourism-related industries and infrastructure construction. As a result, transportation in the city is convenient today. It is easily accessible by air, train or coach. As well, buses and taxies facilitate easy transportation within the city.
Being of a temperate continental monsoon climate, Yan'an is an ideal place for you to visit all year round especially in summer.
Yan'an Travel Tips

History: Called 'Yanzhou' in ancient times, it has a history stretching back about 1,400 years and it has long been the political, economic, cultural and military center of North Shaanxi. Nowadays it is a city which boasts one district and twelve counties. Holding a prominent place in Chinese military history, it is a revolutionary holy place in China. It used to be the military headquarters during the Chinese Anti-Japanese War (1937-1945) and China's War of Liberation (1945-1949) and was the location of the Central Committee of the Chinese Communist Party.



Local Highlights: This checkered past means that those who are interested in Chinese modern revolutionary history and the Yan'an Spirit which was exhibited in 1942, and is still evident today, or those who want to examine the colorful folk customs and culture of the Loess Plateau, should make sure that they visit the city. The accommodation in the city is generally considered to be inexpensive, convenient and comfortable.



Local Products: The abundant special local products, delicious local snacks, distinctive folk customs and various folk art forms of peasant painting, paper-cut, drum art, and folk songs are also appealing to visitors. You will no doubt find your trip to Yan'an very special and memorable.



Bank of China
Yan'an Branch: Beiguan Street
Dongguan Street Branch: Dongguan Street
Yan'an University Branch: Zaoyuan Road



Post Offices
There are four main post offices in the urban area. These are at Zhongxin Street, Dongguan Street, Nanguan Street, and Beiguan Street. As well as providing the basic business and services, tourist post cards are sold at the Zhongxin Street branch.



Hospitals
Affiliated Hospital of Medical College of Yan'an University
Address: No.250, North Zhongxin Street
People's Hospital
Address: Qili Pu



Famous University
Yan'an University
Location: Yangjia Ling



Further Reading:


Dining

Shopping & Nightlife
- Last updated on Feb. 28, 2023 by Brenda Lian -
Questions & Answers on Yan\an Travel
Asked by Henry from THAILAND | Sep. 27, 2018 03:28

Reply
Is it possible to make a day trip from Xi'an to visit Hukou fall and return to stay in Xi'an at night?
Can any one advise can we take high speed train (or bus) from Xi'an early morning to visit the Hukou fall, and come back to stay in Xi'an at night ? Please advise. Thanks so much.
Answers (1)
Answered by Grace from USA | Sep. 28, 2018 18:21

0

0

Reply
Dear, to be honest, it is very tight to travel in a day by yourself and you may only one hour to see the fall. You need spend about 8 hours in total on the transportation and no enough time is remained for the visit. Therefore, you are advised to book a day tour in travel agency or you can plan a two-days tour by yourself.

Asked by Friedrich from GERMANY | Sep. 23, 2017 03:49

Reply
Does anyone have knowledge about buses from yan'an to hancheng?
Answers (1)
Answered by Linda from USA | Sep. 25, 2017 04:37

1

0

Reply
Yes, as I know, two buses from South Bus Station to Hancheng leave at 7:15 and 8:30, and it takes CNY81.5/75.5 and about 4 hours.
Asked by Cherry from MALAYSIA | Jun. 15, 2016 01:01

Reply
I plan to visit Hukou waterfall in the first week of April 2017. Is it a good time to visit?
Will the fall be just as grand?
Answers (1)
Answered by Harley from NETHERLANDS | Jun. 15, 2016 21:53

0

0

Reply
Yes, generally speaking, April and May are best months to visit there. You will appreciate the beautiful scenery. However, the waterfall will always have abundant water in October.
Asked by Meghan S from CHINA/USA | Mar. 26, 2016 06:28

Reply
Hello, some friends and I are going to Yan'an to visit the revolutionary area.
What is the village near the city with cave homes to visit?

Where can we see some peasant paintings? Thank you, Meghan
Answers (1)
Answered by Joe from USA | Mar. 28, 2016 00:54

1

0

Reply
You can stay at Zaoyuan, where you can find many cave homes. You can take bus line 8, 13 or 17 to the place. or tke a taxi for an easy travel. You can enjoy the peasant paintings at the dwellings of locals. At last, in case of any problem, it is best to have a Chinese person or local citizen as companion :)
Asked by Sally Seah from MALAYSIA | Mar. 02, 2015 19:39

Reply
Tour guide in Yanan to Hukou Falls
My friends and I plan to take the bullet train D5090 from Xi'an north to YA and stay a nite there. Our plans is to visit Hukou Falls. Which hotel is recommended and can we find any tour guide in YA to bring us to Hukou falls? We need to return to Xi'an North on 11th march taking the D5091 train.
Answers (1)
Answered by Rebecca from GERMANY | Mar. 03, 2015 01:54

1

0

Reply
What's your budget of accomodation?
You are suggested to go to Longhua Garden Hotel. Warm service and good living environment will make you feel comfortable. The price is about CNY 240 to 350 per night. This hotel is located at Longhua Road, West Valley, Baota District (nearby Cultural Valley).

As for the tour guide, I'm afraid it's difficult to find one speaking English. Maybe you can ask help from the hotel staff upon arrival. Or you can find someone in the Community of this website. There maybe some people that can provide help. :-)