Top Xian Attractions
More Things to Do
Top 10 City Tours
Code: XA41
3 Days to Explore Yan'an, China's Iconic Revolutionary Base
Day 1
Pagoda Hill - Cool Hill - Yangjialing Village - Revolutionary Memorial Hall - Gate Garden
Yan'an
is located 350 kilometers (217 miles) north of Xi'an. Chinese civilization has one of its roots here. It is believed that Yellow Emperor (Huang Di) lived here. Till now, Chinese people from around the world come to Yan'an to worship their ancestor annually (Worshiping at Yellow Emperor Mausoleum in Huangling County). Yan'an is also an important land of Chinese revolution in modern times. From 1930s' to 1940s', the Chinese revolutionists like Mao Zedong, Zhu De, and Zhou Enlai, spent 13 years based in Yan'an there fighting enemies and establishing a new China.
Transportation to Yan'an is very convenient. The bullet train D5090 leaves Xi'an North Railway Station at 08:37 and arrives at Yan'an in 2 hours and 15 minutes at CNY 95.5 for a second class seat. Another option is train K8162 leaving Xian Railway Station at 08:57 and arriving in Yan'an at 12:27, costing CNY 50.5 for a hard seat. The direct bus from Xi'an East Long-distance Bus Station (Xi'an Chengdong Coach Station) to Yan'an runs every 20 minutes from 07:20 to 17:35 at CNY 90.5. The trip lasts about 3.5 hours.
Upon arrival in Yan'an, check in at a local hotel. Here we recommend the 4-star Yan'an Hotel, which is conveniently located at No.56 Central Street, Baota District. It takes around 10 minutes from the railway station or the bus station to the hotel by taxi.
The first attraction that we recommend is
Pagoda Hill
(Bao Ta Shan) by bus No. 21 in 3 stops. A pagoda stands on the top of the hill, hence the name Pagoda Hill. First built in the Tang Dynasty (618 - 907) and rebuilt in the Ming Dynasty (1368 - 1644), the pagoda is regarded as a landmark of the city and also a symbol of the Chinese revolution. Standing on the top of the hill, you will get a bird's eye view of the entire city. The admission fee is CNY 65 from March to November and CNY41 from December to February. Additional CNY 10 for ascending the pagoda.
Take a taxi (CNY 7) or walk to Cool Hill. About 2 km away facing Pagoda Hill, Cool Hill is, famous for its Ten-Thousand Buddha Caves and the Memorial Hall for Journalism and Publication which includes the sites of Xinhua News Agency, Xinhua Broadcasting Station, and Liberation Daily from 1937 to 1947. The admission fee for the hill is CNY 45 and CNY 30 for the memorial hall.
In the afternoon, visit a series of free sites of Chinese revolution. All the sites can be reached by bus 13. Walk west toward the river bank from Cool Hill to take bus 13 on the Shengdi Road. First get off at Wangjiaping Revolutionary Memorial Hall where a large number of relics, files and photos about the Chinese revolution are exhibited. Again catch bus 13 and get off after 3 stops at
Yangjialing Village
which once was the headquarters of the Chinese Communist Party from 1930s to 1940s. After 8 stops the last site is the
Date Garden
. This was the site of the CCP Secretariat during the revolutionary period.
Return to your hotel by bus 13 to Liangyuan Hotel stop.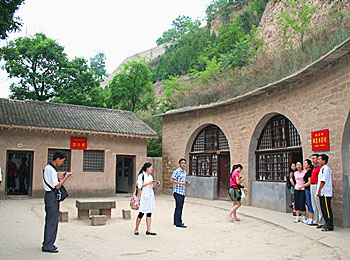 Yangjialing Village
Local people in Yan'an
Approximately 80 kilometers southwest of Yan'an, there is a fantastic scenic spot created by nature, that is, Ganquan Yucha Grand Canyon. Several hundred million years ago, a strong earthquake happened in northern Shaanxi, then a loess mountain separated a big crack, which through millions of years of sand and water erosion, slowly formed such a canyon. The canyon's geology is red sandstone. Due to the different water content, absorption and refractive index of light in different seasons, the canyon shows different colors throughout the year, which is very similar to the Antelope Grand Canyon in the United States. The magical sight is attracting more and more tourists and photography enthusiasts. If you were in Yan'an, this would be a place you shouldn't miss.

You can take express bus from Yan'an to the canyon. It departs from Yan'an Bus Station at 8:00 or Yan'an South Bus Station at 8:30. The return time is around 16:00 in peak season and 14:30 in low season. The bus journey is 1.5 hours for one way, and the round-trip ticket costs about 90 yuan.

Yucha Grand Canyon has seven Valleys, only three are opened so far, which are Shuhua Valley, Mudan Valley and One Line Sky. The entrance fee is CNY98 and the scenic bus is CNY70 per person. Usually you will need 2-3 hours for the sightseeing. After that, take the same bus back to Yan'an.
Hukou Waterfall
is highly recommended today. It is 178 kilometers southeast of Yan'an city and can be accessed only by a single daily bus (the bus fare is CNY 80.5 for a round trip) departing at 07:40 from Yan'an South Bus Station, near the railway station. The bus journey takes about four hours with two stops on the way. Enjoy this tremendous and roaring falls. Don't get too close to the main waterfall. You still can enjoy the vast and gorgeous yellow ocean of mist-covered water from a distance. The admission fee is CNY 91 per person.
Return to Yan'an city by the same bus.
Board train K8161 departing at 16:25 and arriving in Xian at 20:32 for CNY 50.5 or bullet train 5091 departing at 18:02 and arriving at 20:17 in Xian North at CNY 95.5 for a second class seat. Alternatively, take the regular buses that run every 30 minutes from Yan'an South Bus Station.
Hukou Waterfall

More Related Packages: