Vietnam Transportation
Getting to Vietnam
Air
The airports in Hanoi and
Ho Chi Minh City
are the main hubs of international transportation, which are open to more than 20 countries and regions in the world.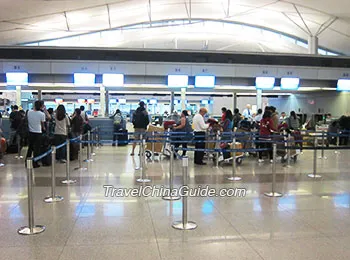 Ho Chi Minh Airport
Noi Bai International Airport in Hanoi, the capital of
Vietnam
, is about 28 miles from the downtown area. It is the second largest airport in Vietnam. Apart from domestic routes, there are flights from/to Bangkok, Paris, London, Seoul, Moscow, Frankfort, Hong Kong, Beijing, etc.
Tan Son Nhat Airport
of Ho Chi Minh City is the largest airport of the country. The airport accepts a large number of international flights from cities like Paris, London, Hong Kong, Phnom Penh, and Beijing. It is about 25 miles from the city center. When you arrive at the airport, you can take the bus 152 to the downtown with the price of 3,000 VND for one person. Taking a regular taxi in green and white run by Mai Linh will also be OK. It will generally cost 100,000 VND.
Da Nang International Airport is the third largest airport. It provides less routes compared with the above two airports. There are flights from places like Seoul, Hong Kong, Siem Reap and Beijing.

International Trains
Currently, only trains from China can reach the country. The train operating from Nanning to Hanoi across the border at Dong Dang departs at 18:06. It will take around 11-13 hours.
International Bus
There are some highways connecting Vietnam and neighboring countries such as China, and Cambodia.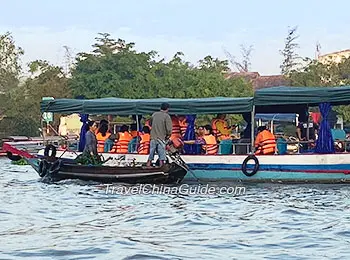 Boat Trip over Mekong River
China: The bus from China departs from Nanning to
Ha Long Bay
, taking 3,000,000 VND and 9 hours.
Cambodia: There is a popular bus route between Ho Chi Minh City in Vietnam and Phnom Penh in Cambodia. For the detailed information, you can consult some bus companies like Mai Linh, Sapaco in Vietnam as well as Mekong Express, Capitol Tour, 168 Bus in Cambodia. The addresses and phones are as follows:

Mekong Express: 275F Pham Ngu Lao Street, Dist.1 – (+84-8) 3837 3917
Sapaco Tourist: 500 Nguyen Dinh Chieu Street, Ward 4, Dist.3 – (+84-8) 3832 2038
Mai Linh Express: 292 Dinh Bo Linh, Ward 26, Binh Thanh District – (+84-8) 3929 2929

Boat
In Cambodia, tourists can also take a ferry to Vietnam over Mekong River via Chau Doc Town. The boat trip from Phnom Penh, the capital of Cambodia, to Chau Doc usually takes 5 hours. It usually departs at 08:00.
Getting Around in Vietnam – Intercity Transportation
Air
Domestic flights are mainly operated by Vietnam Airlines, which cover major cities including Hanoi, Ho Chi Minh City,
Da Nang
and
Nha Trang
. If you have a tight schedule, you can choose the plane to travel to cities of Vietnam. In addition, you can take the plane run by Jetstar Pacific Airlines or VietJet Air which are two budget airlines.
Train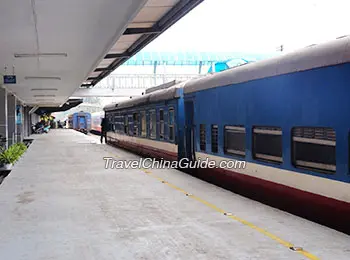 Train from Ho Chi Minh City to Hanoi
The most popular rail line is from Ho Chi Minh City in the south to Hanoi in the north. It covers about 36 cities and towns such as
Hue
,
Hoi An
and Nha Trang. The price depends on the departure time of each train and the category of the seat. Other railways include those from Hanoi to Lao Cai or Dong Dang.
See more about
Vietnam Train
Hanoi Train Station
Open Tour Bus
The tour bus is convenient for travelling between cities of the country. The bus usually travels to and fro between Ho Chi Minh City and Hanoi. You can get on and off in any cities along the way. The fare for the whole single trip is about VND 500,000-600,000. Remember to book the ticket in advance in peak seasons. Besides, you'd better confirm your seat one day early. The Sinh Tourist is the most famous company for long-distance bus with an excellent service. Other companies like Phuong Trang and Hanh Café are popular as well. The information about the offices of The Sinh Tourist is as follows.

★ Hanoi office
Location: 64 Tran Nhat Duat St., Ha Noi Capital
Phone: +84-4-39290394
★ Ho Chi Minh City office
Location: 246 - 248 De Tham St,District 1,Ho Chi Minh
Phone: +84-8-38389597
Urban Transportation
Motorbike / Xe Om
Motorbike is the most common vehicle in urban transportation. It will take you 20,000-40,000 VND for a short trip within downtown area. The rent for the whole day will be about 130,000 VND. However, the fee may be different according to the region and season. Negotiating the fare with drivers is also possible. Vietnamese always ride a motor fast. Take care of yourself when you travel through the flow of the motors.
| | |
| --- | --- |
| Motorbike for Rent | Hanoi Taxi |
Cyclo
Cyclo is a rickshaw which is operated by manpower. It has become a special and common tool in Vietnam, while other countries have seen the disappearance in it. This kind of vehicle is frequently seen around the major attractions and in tourist areas. Since the driver may don't understand English, you can bring a map and point at the destinations you want to go to. Make sure bargain beforehand in case of a rip off.
City Bus
The ticket price of the public bus is the same no matter how many stops you have ridden and is usually 5,000 VND. However, the fare may vary among cities and routes. If you want to know the detailed information about the bus timetable, you can buy a public bus guide book in bookstores. Even though, as there is no English service, you may find it difficult to get off in your desired station; so it is not recommended.
Taxi
Regular taxi companies will charge you strictly by meter. The flag-fall price usually is 12,000 VND within one kilometer (about 0.6 mile) and 10,000 VND-15,000 VND will be charged per additional kilometer. You are suggested to take the Mai Linh taxi in green and white. Vinasun is also a trustworthy taxi firm.

Further Reading:
Hanoi Transportation
How to Get to Halong Bay
Ho Chi Minh Transportation
- Last updated on May. 18, 2021 -