Vietnam Travel Tips
Visa
For tourists of most countries, they need to apply for a visa of Vietnam in advance with the validity of 30 days. A stay of 30 days is usually allowed. Passport holders of 62 countries such as Egypt, Switzerland, Turkey, Brazil, South Africa, India, and Poland are granted a visa-free stay of 15 days. If you travel from a third country or in tour groups operated by a Vietnamese international travel agency, you can get a visa on arrival. The International Airports in Hanoi, Saigon, Da Nang, Nha Trang, Phu Quoc Island are admissible for a visa on arrival.
See more about
Vietnam Visa Application
Vietnam Tourist Visa
Vietnam Visa Cost
Currency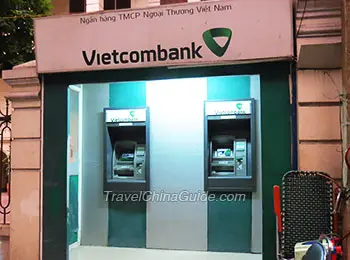 Vietnam ATM in Street
Vietnam currency is Dong. Though Vietnamese receive dollars, you will get no changes and the exchange rate is low generally. You can exchange VND in banks, ATMs and big shopping malls. Some hotels and travel agencies also offer the exchange service. There are many of them in main tourist cities such as Hanoi, Saigon, and
Da Nang
, especially in gathering areas of tourists. When using the ATMs, please be patient as they return the card first before giving cashes. In addition, nearly all the big shopping malls accept Master and Visa Card.
Price Level
The price level is not high compared with other countries in Southeast Asia. In general, a baguette with meat will cost 15,000 VND, a cup of yogurt about 6,000 VND and one bowl of rice noodles around 25,000 VND. The price of commodities in Saigon is the highest in Vietnam.
Tipping
Generally, you can give a tip of between 10,000 VND and 20,000 VND. 50,000 VND will be needed for a massage.
Accommodation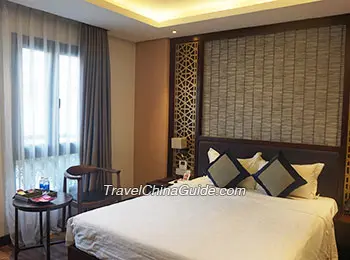 Vietnam Hotel
1,000,000 VND/room/night will be enough for a 3 star hotel in gathering areas of tourists. You can live in a nice youth hostel at a cost of 100,000 VND/night/room with breakfast. Basically, a common hostel room offers adequate equipments including independent bathroom, TV and WIFI. A good choice is to live in the tourist zones, as restaurants, shops and entertainments are easy to reach. For example, if you land on Hanoi, you are suggested to find a hotel in Hoan Kiem area, where the travel agencies, hotels and service facilities gather together.

See more about:
Where to Stay in Ha Long Bay
Accommodation in Hanoi
7 Places to Stay in Ho Chi Minh
Shopping
You can buy a tailor-made Ao Dai, which is the national costume of the country. Have a look at other special products, such as Vietnamese perfume, charcoal and finger paintings, exquisite lacquer wares. Some featured markets (See also
Hanoi Markets
) include 36 Pho Phuong in Hanoi, Ben Thanh Market and Anton Market in Saigon, Cai Rang Floating Market, Dalat Market. Make a bargain with sellers, if possible.
See more about
Shopping in Hanoi
Best Souvenirs from Hanoi
Festival
Vietnamese Spring Festival, also called Vietnamese New Year, is the most important festival in Vietnam. It takes place at the end of January or at the start of February. Lots of celebration activities are held then. Tourism is expected to have a boom. But some restaurants and shops will stop working. The ticket prices of planes, buses and hotels may have a high rise at that time, so you'd better book them early.
Taboos
Don't touch heads of Vietnamese, including children.
Don't use your left hand to deliver things.
Don't wear some inappropriate clothes like shorts, miniskirts and sleeveless shirts when you step into temples, churches and palaces.
Try to keep away from sacrifices supplies lined up in the streets in case of treading on them.
Drinking Water
The tap water is undrinkable. You'd better buy bottled water from shops or supermarkets.
Other Tips to Know
★ Power Plugs
Sockets are in European style with a voltage of 220V/50Hz. A few are in 110V/50Hz. You can bring a converter if needed.
If possible, you can buy a temporary Vietnam SIM card in airport, post offices or phone shops. There are mainly three operators selling SIM cards, that is, Viettel, Mobifone and Vinaphone. For network data, a package from Vinaphone is recommended. It costs 70,000 VND per month, including 600M of 3G data and unlimited 2G data. To make an international call, you are advised to use VOIP, like Skype.
WIFI is accessible in most hotels, restaurants and coffee shops. Even some guest hostels have WIFI, too.
You are likely to get a simplified version of a city map in the airport or some hotels for free. They will help a lot with your
Vietnam travel
. Google Map is also recommended.
Urgent care center: 115
Fire reporting: 114
Police office: 113
Area Code: 84
Zip Code: 999100

· Ho Chi Minh Central Post Office
Location: 2 Cong xa Paris, B65n Nghe, Qu67n 1,
Ho Chi Minh City
· Hanoi Post Office
Location: 75 Dinh Tien Hoang, Hoan Kiem, Hanoi
- Last updated on Apr. 21, 2021 -